---
The product was provided to me free of charge for the review purpose in exchange for my honest opinion. The review was originally posted on my
blog
, and now I would like to share it with my readers on Head-fi.
Manufacturer website:
Cowon
.
---
Intro.
While a letter naming of Plenue DAPs is still a mystery, after working on half a dozen of various Cowon audio player reviews, I'm finally starting to notice a grouping pattern which makes sense to me. From the original Plenue 1 and through the evolution of S, 2, 2mk2, and now L, I find the Plenue L to be their current summit-fi model. Many already accepted Plenue D, which evolved into D2, to be their solid entry level model. And after stepping through M, M2, R, and now R2, I think that Plenue R2 makes sense as their very capable mid-fi level model.
When you narrow it down to D2, R2, and L as their current entry, mid-fi, and summit-fi audio players, choosing Plenue DAP becomes less confusing, and I hope Cowon with continue with this trend, only bumping the corresponding model number index. Fortunately, one thing that's still very clear and unchanged about Plenue DAPs, especially mid-fi and summit-fi models, is them still featuring Cortex A9, 1.2GHz dual-core CPU, 3.7" AMOLED Touch display with 480x800 resolution, JetEffect 7, nearly the same GUI, and the same Linux based OS.
Cowon is focusing on the audio performance of these DAPs as their top priority, instead of going after the latest Android OS, streaming apps, or high res wireless. This has been their focus ever since the company started its business in 1995, and to this day they still trying to perfect the DAC/amp section of every design, making sure they are competitive in today's saturated DAP market. And while Plenue L flagship had a more subtle improvement over the previous P2 mk2 flagship release, R2 took a bigger step forward when compared to R. Here is more about it.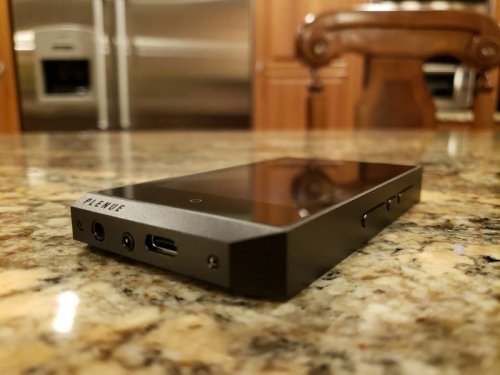 Unboxing and Accessories.
The unboxing experience of R2 is very straight forward with an all black very compact box which arrived with a traditional silver ribbon around it. The back of the box has a detailed spec in silver, though print is very small and not easy to read. When you lift the cover up, R2 is in a secure form fitted cutout on top of a few accessories underneath of it.
Cowon doesn't spoil us with a lot of accessories, especially when it comes to mid-fi models. The only thing included is a good quality USB-C cable, used for charging, data transfer, and usb dac connection. Quick guide and warranty card could also be found at the bottom of the box. I also received as a bonus a film screen protector and a leather case, both of which can be purchased from Cowon as optional accessories.
Leather case (optional).
Due to R2 being a mid-fi budget-oriented DAP, almost a quarter of PL price, leather case is optional here, but I highly recommend it. I will cover this more in Design section, but I found the lower right edge of R2 chassis to be sharp and not as comfortable, digging into the palm of my hand just like R model, so I found handling of R2 to be more enjoyable with case on.
The case is pure leather and fits the DAP like a glove, doesn't easily slide off, and doesn't hide the contour of R2 shape. The quality of the leather is softer to the touch, the same as original R leather case, pretty much identical. It has a soft inside lining to make sure R2 doesn't get scratched. On the outside, it has a neat red stitching and a stamped Plenue logo on the back.
The top is fully open, that's where R2 slides in. Left side is solid, covering uSD slot as well; if you need to remove/exchange the card, you will have to remove the case. Bottom has one generous opening for usb-C and both headphone ports. Right side also has one generous opening for the cluster of volume and playback buttons. I prefer it over being covered because you can easily slide your finger to feel every button, and the cutout makes buttons recessed so you don't accidently press it while in a pocket.
Design.
Like all the previously reviewed Plenue DAPs, R2 feels very solid in my hand, has platinum-black aluminum chassis, a rubbery non-slip back panel, and 3.7" AMOLED symmetrically positioned touch screen with an assignable home button at the bottom (like in other Plenue models). The footprint of the DAP is identical to R model, very compact, measuring 61.5mm x 112.9mm x 13.9mm and only 154g in weight. It is more compact than M/2 and P2/L, and smaller than majority of my other mid-fi and flagship DAPs. Since there is no volume wheel to worry about, you can drop it in your pocket with HO plugs facing up toward you.
The only negative (like in R) here is a sharp lower right edge which makes it not very comfortable to hold in my hand without a case. I felt a lot better when I got leather case on, making more comfortable to hold it. Plus, as mentioned before, the leather case is of a high quality, like premium Dignis cases (but this is Cowon own design).
Upon closer examination of R2, you will find on the left side at the bottom a slot for microSD card which can accommodate 256GB card and I have read other reports on Head-fi with people using higher capacity cards. Personally, my music collection is not that big, and I do stream (Qobuz), so I wasn't able to test with higher capacity cards. At the bottom, you have USB-C connector for charging, data transfer, and USB DAC connection, 2.5mm TRRS balanced headphone output, and 3.5mm single ended headphone output which also doubles as optical digital out.
At the top in the upper right corner, Cowon has a unique looking power button in a shape of a camera shutter-release. This specific power button design, including its physical placement, is now common among the other Plenue DAPs, such as PD, PS, and PM2. But what's different is Sound Source LED indicator inside of the upper left corner cavity of the chassis, underneath of that power button. It changes its color according to the sound source. Blue color whenever it's a normal lossy playback, purple color when it's HD sound with lossless file playback, and yellow-ish/greenish color with its DSD/DXD playback. Nice eye-candy feature, though I have it turned off to squeeze more battery life without causing extra drain.
Identical to R, on the right side you have transport control and volume buttons. Volume up/down is placed logically at the top and it's a combined rounded button, adjusting the volume in 140 steps, 0.5dB at a time. Play/Pause is a separate button below it with similar rounded corners, just shorter. And then you have track skip next/prev, a combined button in the same shape as volume, also multi-functioning as rewind/fast forward when you press'n'hold it. All the buttons have a clear marking on the top, very nice tactile response, and absolutely no wobbling. They are accessible to control volume and playback with screen either on or off.
The back has a ribbed non-slippery rubbery/plastic material, making it safe and secure to place on any surface. It feels nice and helps with a grip of R2, but as I mentioned before – I still prefer to dress this DAP in a leather case.
Under the hood.
R2 steps up to a new Cirrus Logic MasterHiFi line of DACs with introduction of dual CS43131 DAC. Also, like in other Plenue DAPs, you have a low jitter dual clock precision TXCO oscillator. Furthermore, you will find a proprietary CPLD (32bit/384kHz) for digital signal processing. In the heart of the DAP you still have ARM Cortex A9 1.2GHz dual-core processor since we are not running a demanding environment requiring high level of processing power. But it's plenty of power to easily decode and process any lossless or lossy audio formats, such as DXD, DSD (DFF, DSF), FLAC, WAV, AIFF, ALAC, APE, MP3, WMA, OGG, WV, TTA, and DCF. And this time R2 steps up to DSD256.
Display has 3.7" AMOLED touch screen with 480x800 resolution and deep rich colors. R2 has 128GB of built-in memory and microSD card expansion to add another 256GB (and probably higher) of storage. In addition to 3.5mm single ended HO which doubles as optical digital output, R2 also adds 2.5mm balanced HO. Per spec, the balanced 2.5mm port is rated at 4.0Vrms with output impedance of 1.2 ohms, and the unbalanced 3.5mm port is rated at 2.0Vrms with output impedance of 0.6 ohms. This is a noticeable step up from the original R spec, and I also noticed that R2 can drive more demanding full-size headphones much better than original R. No issues with multi-BAs or hybrids either.
The rechargeable battery is a nicely sized 3,000 mAh li-po @ 3.7V which you can charge in under 3hrs using 5V/2A charger. I guess due to new more power efficient DACs and despite the same battery and even higher power output, R2 boosted its playback time over original R, now giving you about 20hrs of music playback time with lossy and 18.5hrs of playback time with lossless Flac files.
R2, just like R, are the only Plenue models with Bluetooth support, though still an old Bluetooth 3.0 standard. Similar to carrying the same older processor and interface, perhaps that's a reason for using older BT chipset. But considering you only use BT in a transmit to pair up with external wireless headphones and speakers and only aptX protocol, it doesn't really matter. Yes, you get the convenience of wireless connection, but unfortunately it doesn't support HD or LDAC.
GUI.
If you owned any of the Plenue DAPs in the last 4 years, there is zero learning curve once you turn R2 on. It's one of the advantages of the closed OS where you can keep consistency in interface between different models and put more focus into the actual sound tuning and exterior design. Of course, there will be some variations driven by a different DAC or some other enhancements, but everything is easy to figure out and very intuitive even for those who are not familiar with Plenue DAPs. I already covered GUI in many of my other Plenue review, and you can read more about it
here
.
Sound Analysis.
In this test I was using R2 with 64 Audio U18t while playing the selection of my favorite test tracks, such as Agnes Obel "The curse", Sandro Cavazza "So much better" (Avicii remix), C-Bool "Never go away", Ed Sheeran "Shape of you", Alan Walker "Darkside", Galantis "Hunter", Iggy Azalea "Black widow", Indila "Boite en argent", Counting Crows "Big yellow taxi", David Elias "Vision of her", and Michael Jackson "Dirty Diana" to analyze the sound of this DAP. Also, I had about 100hrs of playback burn-in prior to starting my sound analysis.
It's never easy to describe the sound of the DAP because it will depend on pair up synergy of earphones or headphones you are using for monitoring. Thus, most of the times I derive the "sound" of the DAP based on comparison to other DAPs and while pairing it with different IEMs and headphones.
Overall, the sound signature of R2 is neutral with a more revealing natural tonality and a good retrieval of details. It won't reach the same micro-detail level as PL and you shouldn't expect the same level of sound layering as Plenue flagships, but R2 sound and technical performance is better than all the previous M, M2, and R models.
It has a good level of a vertical dynamics expansion and a dark noise-free background, literally no hiss even with Andromeda. Soundstage is pretty wide, and I do hear a little more depth than width in overall expansion of the sounds. No issues with imaging where it's easy to distinguish the placement of every instrument and vocals. Of course, this will also depend on the performance of IEMs or headphones you are using.
In terms of overall tonality, I do hear it being neutral with a slight tilt toward a more revealing nature, a little south of neutral, but it still felt natural. Also, with a number of IEMs I tested I found the bass to have a little meatier body and a little more impact in comparison to some other DAPs where the same IEM bass sounded more neutral. R2 definitely doesn't color the sound too much, keeps it more natural, and gives it a little low-end enhancement and some more clarity in upper mids/vocals.
When comparing 2.5mm vs 3.5mm headphone outputs, I hear BAL output to have a wider soundstage expansion and a more transparent, more revealing sound in comparison to SE sound having a fuller body and being a little smoother and warmer in tonality.
Comparison.
Here I tested and compared R2 vs other DAPs, volume matched in each comparison using U18t (w/Code 51 cable). I will go over R2 vs R and R2 vs L in more details, and then briefly cover other comparisons.
Plenue R2 vs Plenue R
Despite different DACs, I hear a very similar neutral natural signature with a little more revealing tonality, with R2 being just a little more transparent and a touch less colored.
R2 sound dynamics (vertical expansion) is improved, making R sound a bit flatter in comparison.
R2 black background with zero hissing even with sensitive IEMs (Andro) while R hisses with sensitive IEMs.
R2 soundstage is wider and deeper, and the imaging is more 3D, quite a noticeable improvement.
The same design, dimensions, etc.
Noticeably more power (R2), making R2 more efficient where with the same track and the same pair of IEMs I need about 18 less volume clicks (9dB improvement, considering 0.5dB per volume step).
R2 now has USB-C plug, while R is still micro-USB.
R2 supports DSD256, R only DSD128.
R2 SNR 136dB (BAL), 130dB (SE); R SNR 123dB BAL/SE
R2 Output 4.0Vrms (BAL), 2.0Vrms (SE); R 1.6Vrms (BAL), 1.4Vrms (SE)
R2 BATT 20hrs (mp3), 18.5hrs (flac); R 17hrs (mp3), 16hrs (flac)
R2 has AI, while R doesn't
Both R2 and R can run JetEffects over Bluetooth
Plenue R2 vs Plenue L
R2 has more low end impact with a stronger bass response in comparison to more neutral L bass.
In a relative comparison, R2 mids/vocals sound more organic, smoother, more natural vs L mids/vocals being more transparent, less colored, more neutral, relatively brighter, more revealing, and slightly more resolving. Treble is the same.
L soundstage is a little bit wider, but both have the same close to 3D imaging.
DSD256 playback quality is close between R2 and L.
R2 and L BAL output has the same power, identical volume setting (playing the same track with the same IEMs).
R2 battery has double playback time over L.
R2/L fw features and GUI are identical.
R2 BAL 2.5mm, L BAL 4.4mm.
R2 has USB-C, L still has micro-USB.
R2 vs iBasso DX160
- a lot of similarities in this comparison, starting with the soundstage which is identical in both DAPs. Tonal balance is nearly the same as well, being more balanced, more natural, and quite detailed. But I do hear DX160 with better dynamics (vertical expansion) and with some improvements in layering and separation of sounds.
R2 vs FiiO M11 Pro
- soundstage expansion here is very similar, in both width and depth, but there are differences in tonality. R2 is more neutral and smoother, while M11Pro has even brighter sound with more forward mids/vocals presentation and a little more crunch in treble.
R2 vs Cayin N5iiS
- when it comes to soundstage, they are close, just with R2 having a little bit more width. Tonality of R2 is more neutral, a little smoother, and more balanced from lows through mids and highs. N5iiS has a slight boost of low end and a little more sparkle in treble when compared using the same pair of IEMs.
R2 vs Shanling M6
- starting with a soundstage, R2 has a little wider staging. With tonality, both have a similar bass response, in quality and quantity, but mids are more natural and smoother in R2 and brighter and a little thinner in M6. Also, M6 treble is a little brighter and higher in quantity in comparison to R2.
R2 vs Hiby R6 Pro
- very similar soundstage expansion in this comparison. Both have very similar mids/vocals tonality and presentation, but R6Pro has a stronger bass and more sparkle in treble, while R2 sounds more balanced, a little smoother, and more natural in comparison.
R2 vs Opus#1s
– a few people asked me about this comparison, so I'm including it in the review. Both were tested/compared from BAL output, and the first noticeable difference is a wider soundstage expansion of R2, very noticeable. Tonality of #1s is brighter while R2 is more neutral and more natural. Also, R2 sounds more dynamic, more vertically expanded and layered, while #1s sound is a bit flat and compressed in a relative comparison.
Pair up.
In my pair up test, I had R2 set in high (headphone) gain and noted either BAL or SE connection and volume level in every case.
w/64 Audio U18t
(47/140, BAL) – wide, nearly holographic soundstage; natural revealing tonality with a nicely balanced signature. Bass is articulate and has a good sub-bass extension and fast mid-bass punch with a nice balance between sub- and mid- bass. Mids/vocals sound natural and very detailed, layered, resolving. Treble has a nice controlled sparkle and good extension.
w/Meze Audio RAI Penta
(49/140, BAL) - wide expanded soundstage; natural revealing tonality with a balanced signature. Bass has a good sub-bass rumble and fast punchy mid-bass, mids/vocals are a little more revealing here, good upfront presentation but the tonality a little bit brighter, and treble is crisp and detailed.
w/Empire Ears LX
(56/140, BAL) - wide expanded soundstage with sound a little more out of my head; a typical L-shape signature with a deep sub-bass rumble and a strong, fast mid-bass punch. Mids/vocals are natural, detailed, and actually quite resolving. Treble is crisp, well defined, non-fatigue, airy. What I especially enjoyed in this pair up is how well bass and mids/treble are separated without being overlapped.
w/Westone W80
(49/140, SE) - wide holographic soundstage; a laidback, natural tonality with a slightly U-shaped sig due to mids/vocals being pushed a little back and bass and treble being more elevated. Bass here sounds like it's coming from a DD, goes deep, not the fastest, more rounded, smoother. Mids/vocals are pushed a little back, smooth, natural, but not as upfront, especially with elevation in bass. Treble is well defined, natural, non-fatigue. It's not a bad pair up, but I wish vocals were a little more upfront.
w/Campfire Audio Andromeda
(30/140, BAL) - wide, nearly holographic soundstage expansion; natural revealing tonality with a very well-balanced signature. Bass has a good extension, though I hear more mid-bass punch than sub-bass rumble. Mids/vocals are clear, detailed, layered, a little bit on a brighter thinner side. Treble is crisp and airy, non-fatigue, and actually well controlled in this pair up.
w/Meze Empyrean
(76/140, BAL) - wide open soundstage; smoother, warmer, more natural tonality, overall balanced sig but with a little more focus on mids and treble. Mids/vocals are very clear and detailed, treble is crisp and airy, but the bass impact is not as strong, and I actually hear more sub-bass rumble than mid-bass punch.
w/Beyerdynamic T5p 2nd
(67/140, BAL) - wide holographic soundstage; natural revealing tonality with a balanced sig and a little more focus on mids and treble. Similar to Empyrean, bass has more sub-bass rumble, not as much mid-bass punch, which brings up more attention to clear detailed mids and crisp airy treble. The holographic soundstage expansion really stands out in this pair up.
w/Audio Technica ATH-R70x
(106/140, SE) - wide open soundstage; smoother, natural tonality, nicely balanced signature with a focus on all frequencies. Bass has a decent sub-bass extension, mid-bass punch is not as aggressive, mids/vocals sounds natural and all quite detailed and layered, treble has a great natural definition, and a very good airy extension.
Other connections.
USB DAC.
I'm not a big fan of using a dedicated audio player as USB DAC because I usually look at a DAP as a portable standalone source. If you are not happy with an audio output of your computer, there are plenty of dedicated USB DAC choices. But in some cases, when you are traveling and don't want to bring multiple pieces of equipment, using DAP as USB DAC has its advantage.
Using R2 as USB DAC was very straight forward. Device was recognized within seconds after I connected my Win10 T480s with R2 and selected "DAC" from a touch screen of R2. Also, when connected to laptop, better to select "power from laptop" option so R2 is not running off its battery. The volume during the playback was adjustable from R2 (not laptop). The sound quality of playing the same song directly from R2 vs R2+laptop was identical. And it seems that after you disconnect R2 as usb DAC, it automatically powers down since there is no way to turn off DAC mode without rebooting R2 – this is the same behavior with all Plenue DAPs.
Using R2 as USB DAC from Smartphone (my Galaxy S9) was as simple as interconnecting usb-c to usb-c ports between devices using OTG cable, selecting "DAC" from R2 touch screen and starting the playback from my phone. You can adjust the volume from a phone or R2, and the sound quality of playing the same track from my phone or directly from R2 was nearly identical. Actually, used as USB DAC from my phone the sound was a little bit more revealing.
Optical Out.

R2 vs R2 + Micro iDSD BL
- With iDSD the sound is as natural and detailed (and slightly more revealing) as when compared to 2.5mm output of R2. 3.5mm output of R2 is a little warmer in comparison. Also, directly from R2, the sound has a little more bass impact while with iDSD the bass is more neutral.
Line out.
Plenue DAPs don't have a dedicated Line Out port, and instead in their previous DAPs they suggest setting volume to the max in high gain where the HO acts as LO and there shouldn't be any distortion. While I have verified this in the past with previous Plenue DAPs, with R2 at high volume I was getting "over current protection" error message and volume was dropping from max 140 to 90. Thus, this test was inconclusive.
Call notification.
You can view phone call notifications when paired up wireless to your smartphone. You need to enable Bluetooth Phone (icon in R2 BT menu), and then search from your phone to pair up with R2. Even so it shows up paired up for Calls and Audio on your phone, you will only see an indicator of the incoming call in R2 Notification bar, no audio is being received. Keep in mind, R2 can't be used as audio BT receiver.
Bluetooth performance.
I tested Bluetooth pair up with R2 using Sennheiser HD1 M2 IEBT and was able to maintain a connection over 45ft in open space. From wireless earphones, I was able to have a full remote control of playback, skip, and volume. The sound quality was as good as being connected directly to my smartphone.
Conclusion.
I still get questions from my readers asking to recommend them a compact non-streaming DAP. Not everybody wants all the bells and whistles, and some only focus on sound performance as their highest priority. That's exactly the philosophy of Cowon, focusing specifically on sound performance, especially with their Plenue line of DAPs that still use the same processor, display, OS, GUI, and JetEffects for years. With most of the new Plenue releases, the core of the design remains the same while Cowon enhances the audio performance using new DACs, updated amplifier section, balanced outputs, and other optimizations.
R models take one step further by including Bluetooth functionality, but it's just for convenience of being able to use wireless headphones. I still hope that in a future releases Cowon will consider 2way Bluetooth connection to be able to pair up wireless with your phone to get access to streaming apps. But for now, if you are looking for a solid audio playback only device with a compact lightweight design, mature fast interface with lots of advance setting options, excellent sound quality, and some of the top sound-shaping DSP audio effects (JetEffects), Cowon Plenue R2 and their other DAPs are among the top contenders who deserve a serious consideration.