Alien Secret / Anomoibuds Predator QCC010 - Reviews
Insane quality for £16!
Pros
:
Fit, Battery Life, Passive Noise Isolation, Sound Quality, Aptx, Wireless Charging, Case Battery, Price
Cons
:
Outdoor mic quality, Case is massive!
How I review:
Sound Quality
What I measure here is the subjective and objective. I listen to a few key tracks, some FLAC, some bad quality mp3's, streaming services, audio books and tracks I know have been so badly produced they will probably clip the top or the bottom end. Usually I listen to one album in particular on FLAC, which I know very well, and also Bolero, which again I also know inside out.
I then test a few key variables such as FR and Spectral Flatness using an acoustic mic setup. Some others too, but I won't go into detail unless it's necessary.
I do this just for confirmation of what I'm hearing. I'm not Scarbir, I'm not The Sound Guys. I have a demanding day job, study, and have three kids, so no long essays in these reviews.
Microphone Quality
I conduct a few different tests, as follows:
Indoor, static, silence
Indoor, static, ambient noise 40-60 dB-A
Indoor, static, high frequency ambient noise
Indoor, static, low frequency ambient noise
All of the above but moving
All of the above moving away from the receiver
Outdoor, static, ambient noise 40-80db
Outdoor, moving, ambient noise 40-80db
Outdoor, under a nearby railway bridge where lorries pass through
All are recorded for 1-3 minutes for future comparisons. I look for voice clarity, voice clarity among noise and glitches.
Tips
Stock tips
Spinfit Silicones
INAIRS foam tips
ikko i-planet foam tips
ANC (where applicable)
As per the call quality tests, I usually test the ANC at the same time, looking for low and high frequency performance as well as my pet peeve, vertigo and jawache.
Comfort
I use earbuds in four activities - calls, exercise, commute and relaxing. All three are taken into consideration to try to find the use case, as finding the perfect earbud is, lets face it, never going to happen.
Connectivity
I find most perform almost identically, but do the usual walk test, especially around congested 2,4ghz wifi areas. I leave a router on 40MHz just in case it messes with it, why the hell not?!
Ok, so onto the review:
Model
: Alien Secret Predator QCC010 also known as Anomoibuds QCC010
Price
: £16
Vendor
: Aliexpress
Link
:
https://www.aliexpress.com/item/4000794311475.html?spm=a2g0s.9042311.0.0.452b4c4dvwcvmK
Manufacturer Blurb:
The Alien Secret true wireless earbuds deliver an impressive list of key features in a sleek and stylish package. You deserve audio that is rich, powerful and balanced, and with Alien Secret, you don't have to sacrifice an ounce of quality by going wireless. They utilize the latest Bluetooth 5.0 technology for perfect connectivity that never lags or drops — and connecting to your device is a breeze. Twist and lock to fit each earbuds in your ear, and get 80 total hours of on-the-go listening thanks to their portable charging case. Whether you're running a marathon (don't worry, they're sweatproof) or commuting to the office, you'll enjoy crisp highs and deep lows without wires getting in your way.
Specification:
Bluetooth Chipset: Qualcomm QCC3020
Connection Distance: > 10m ( > 32 feet)
IP6-rated sweat & waterproof
Drivers: 6.2mm carbon nanotube
Driver Diaphragm: 2098 Graphene Micro-Film Membrane
Driver Unit: Custom-Made (6.2mm) High-Fidelity MicroDrivers
Frequency Range: 15Hz - 22Khz
Sensitivity at 100Hz: 102dB SPL/1mW
Magnet Driver Type: Neodymium
Earbud Charging: < 40 Minutes
Power Case Charging: < 1 Hour
Single Charge Playtime: 8 Hours
Total listening time (with charging case): 80 hours
Earbud Battery Type: Varta CP 1454 Lithium-Ion Micro-Coin
Earbud Battery Capacity: 50mAh
Power Case Battery Capacity: 1000mAh
Earbud Weight: 6.3 grams (each)
Power Case Weight: 62 grams
Compatibility: Bluetooth-compatible devices
Includes:
1 pairs Wireless Earbuds
1 battery charging dock
3 sets of 2 silicon ear tips
1 Type-C USB charging cables
1 User Manuals
Real Life Experience

The Unboxing - 6/10
This is not going to win any awards in the unboxing category. Basic box with a very flimsy set of instructions. Seller advertised free foam tips but they weren't included.
It's also worthy of mention that the Alien Secret are pretty generic looking - and that's because they go under several different names. Anomoibuds is one, whether they are packaged differently, who knows!
The Case - 8.5/10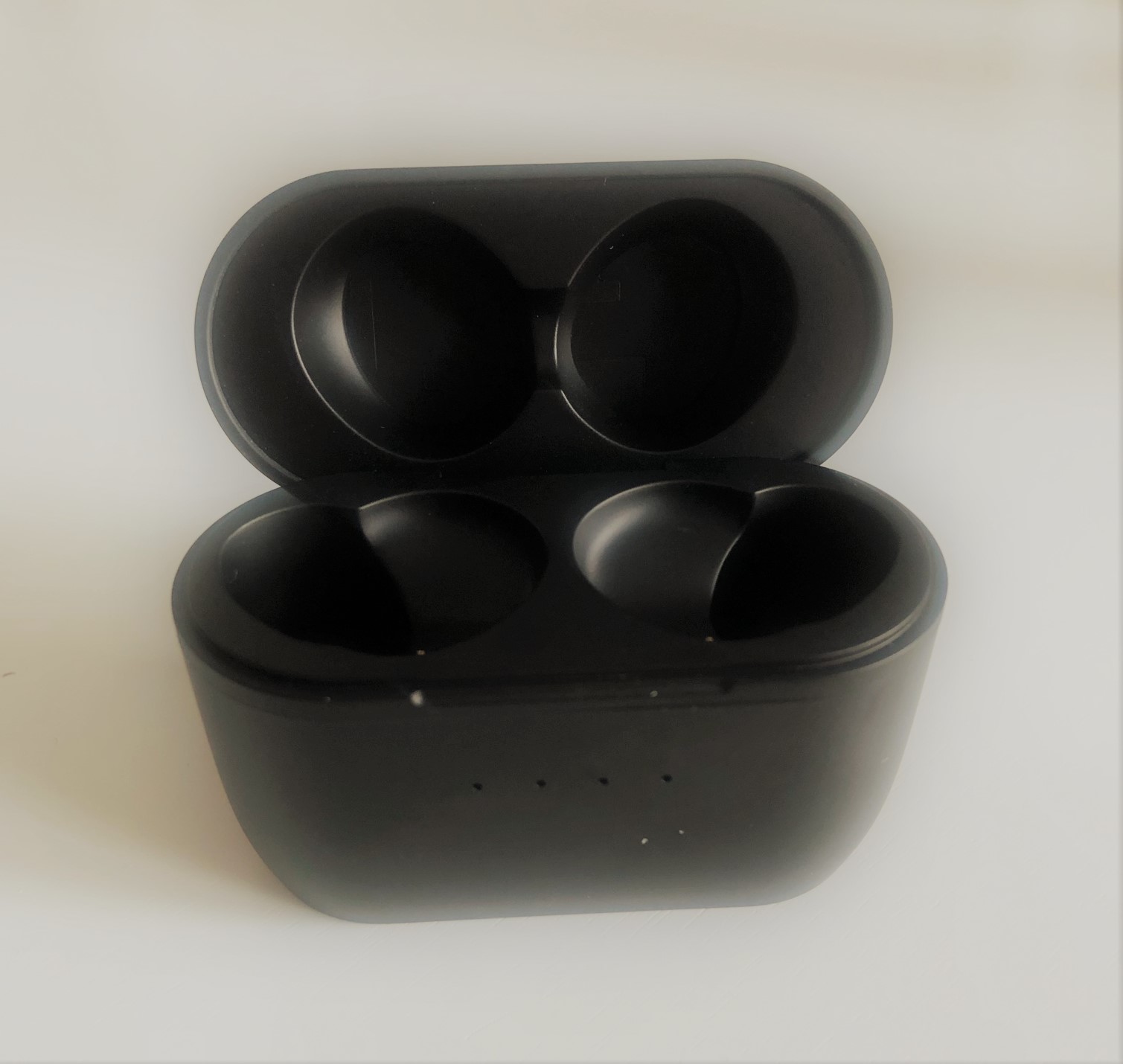 Well, as you can see we almost broke the record for the tallest case! Only the Whizzer E3 is taller, and it measures twice the height of the FIIL T1XS.
At 60mm wide, 40mm high and 25mm depth, the case is still portable (unlike the Whizzer pebble) and the height is forgiven when you discover not only does it support wireless charging, it provides a whopping 9 times as much charge as a single playtime - a total of around 63 hours
powered by USB-C.
In reality I got around 6 hours out of them, still not to be sniffed at, which would equate to 54 hours. Still very respectable.
The lights on the front represent percentage rather than number of charges left, but 4 lights is always better than one.
The lid is firm but could be a weak point as you would expect with the case being being bottom heavy, but the magnets are very tight. These ain't falling out in the road unless it's out of brute force trying to prise them out!
The Ergonomics - 7/10
The Alien Secret arrive with stickers over the battery and mid sized buds on.
They come with a smaller and a wider set of replacements.
The fit is super tight. Strangely, just a minor adjustment can completely change the soundstage.
The design is similar to the Tronsmart Onyx Free with tactile, albeit smaller and more fiddly, touch control buttons.
Microphone, like the Tronsmart, is on the bottom.
The right angle style design pushes them deeper into your ear and can feel a little overwhelming at times. There's a seal and then there's feeling your brain rattling around...definitely recommend playing around with the tips to get the right option. When you do, you will notice a solid isolation that is as effective as some of the poorer ANC options on the market.
Sound Quality - 10/10 (for the price paid), 7.5/10 (raw score)
It is always a difficult balance reviewing raw sound quality against intermediate sound quality (i.e. sound quality against price). Here, I wasn't expecting much given the low cost. How wrong was I?!
The frequency range is advertised, like the FIIL I recently reviewed, as 15Hz to 22KHz, and objective testing revealed a heavy subbass rumble reminiscent of the Tronsmart Apollo Bold that was noticeable with the mini tips. This seems to dissipate with foam tips or medium silicon ones. This was only offensive on a few tracks and at high volume - the max volume on these seems to be lower than most. The treble notches short of the advertised, and the sound profile is somewhat W shaped, but it never feels that way.
The trebles and high mids can come across a touch harsh at times until you play around with the fit. Eventually, you can get a very balanced sound that puts space between you and the soundstage. Which is a good thing because any closer and they will be tickling your hypothalamus! They would get an 8 raw but for the wildly inconsistent sound profile dependent on how they are angled - I expect a bit of variation but they went from tinny to bassheads with a flick of the ear.
They kinda need foam tips or wings to offer consistency. The former involved delicate surgery to prise the leftover foam from half way to my grey matter after they decided to detach from the buds. Not the first time I've had to do that and I'm sure it won't be the last. Indeed, even with silicone buds you feel like you're pulling out your pre-frontal cortex at that killer moment of disembarkment. These guys just love a snug fit, no, they
need
a snug fit. I managed to fit an old set of wings from an old set of Soundcore Liberty Duo and they sat in perfectly. Sadly, they have to be removed to go back in the case.
When you get that ideal fit they are no slouch, in fact, they are really very good!
At that point whatever I threw at it - from Jonas Blue to Saint Etienne to John Legend - all the tracks that usually betray flaws - were handled without any problems at all. In fact, they handled them so well it begs the question....if Alien Secret can make a £16 set of buds sound acceptable, how come Mpow, Anker, Taotronics, Nillkin, Aukey, Soundpeats and all the other garbage I've stuck in my ears over the last few months get it so wrong?!
Don't get me wrong - they lack a little finesse that is evident when you listen to the FIIL straight after - but you can easily spend triple this and get nowhere near this standard.
Using aptx on windows with various FLAC files, they effortlessly separated the low and high mids - the sign of a good sound signature. With cheap earbuds I've lost count of the number of times the vocals have either got lost or caused the bass guitars to become indiscernable. No such problems here. I have an EQ setting on my sound bar called 'concert' and it's like these are set to that by default. A joy to listen to.
Call Quality - Indoors - 7/10, Outdoors - 3/10
These are very much in the 'let everything through' camp. There's no noise cancelling going on in the mic 'array'. By array, I mean a questionable hole at the bottom of the button.
That makes background noise omnipresent, but your voice does come across very clearly, even bassy, when the scene has a normal ambient noise level, so indoors, you can have a decent conversation, putting them above many sets I've reviewed of late.
Outdoors becomes the usual sham that is associated with low cost earbuds. The wind and traffic quickly overwhelm your voice. Don't expect to make calls, and you won't be disappointed.
Connectivity, Controls and Other Features - 7/10
Connectivity is OK. The usual 8-10m indoors and no real interference issues. However after disconnecting from Bluetooth Tweaker, they really didn't want to reconnect automatically. Strange, as every other set I've ever reviewed has. One thing I do like, is that holding down the buttons switches them back on or off. This saves fiddling around with the case.
Controls are straightforward. Single touch to answer, hold to reject. Single touch to play and pause, double tap left and right to go backwards and forwards respectively. Three taps calls your voice assistant. No volume control sadly.
The small button takes a bit of getting used to, but is better than having a touch control screwing around with your audio the moment you rest your head down. This makes them ideal for relaxing and bed listening.
Aptx means latency is acceptable. It also supports AAC and a bitrate of 293k, so whilst I couldn't get a latency measurement, it's the usual fare of around 130ms. Watching YouTube on Windows revealed the strength of the AAC configuration - latency was not obvious. Netflix was even better.
Wireless charging is a plus.
Battery Life - 10/10
Outstanding. Comfortably 6 hours and the case offers a further 9 full charges!
Final Comments
I had little expectation for my final review for September. At such a low price I was expecting MPow quality sound. Instead, the Alien Secret were more like the Spunky Beat - a very pleasant surprise.
For android users the presence of the aptx codec make these a good option. The IPX5 waterproof rating makes them suitable for workouts, but the passive isolation is so strong I probably wouldn't recommend running in them.
The sound quality is outstanding for the price, but get the right fit, otherwise you will be either disappointed or overwhelmed. When you get it right, they are strong in every department.
Mic quality outdoors is a no-no, so don't get these for the daily commute.
Overall, I can't believe the quality for the money. I've gone through enough rubbish earbuds this year to know a duffer - these are unequivocally not one of them.
These are the best sub $25 earbuds you will ever buy. A total bolt out of the blue!
Price Weighted Score: 90%

Raw Score: 76%
Last edited: