Review Contents
Preamble
Photos
Design and Function
Fit
Sound
Conclusion
Preamble - The Skippable Rubbish
I bought the 1More EB100 as a gift but decided to review it first since no in-depth reviews exist. It can currently be found on
AliExpress
,
GearBest
and
Newegg
.
For most of my audiophile journey I, like many others, scoffed at Bluetooth headphones citing the typical tropes we're all guilty of spewing. Loss of fidelity, lack of extension, blah, blah, phooey, phooey all the while with a half-pound fusion of phone and DAC tugging at the pant waist as a cable snatches a passing stranger's purse yanking out my IEMs a I try to transition from subway car to station platform. For the athletes out there, especially martial artists, parkour enthusiasts, dancers and the like, even sports oriented, cabled headphones are susceptible to being tugged and pulled with the added bulk of an armband or pocketed device constantly reminding you that a fall may both harm you and your expensive smartphone/DAP. The new wave of Apple and Android Pay users will appreciate the absence of a cable interfering during a simple transaction.
I'm not an easy chair recliner, tube-amplifier strapped, sit back and zone out listener. I'm an active, city faring, urbanite who kicks Tae Kwon Do paddles and does muscle ups in his free time. Dropping $200+ headphones on the ground due to cable snags or scratching an ear cup after whacking myself in the head with a bamboo pole was just an unfortunate part of my active, audiophile life. Now that I've experience la vida wireless I regret not making the jump sooner.
Sights:
Box.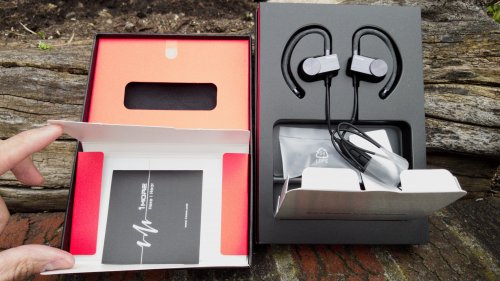 Insides.
1More EB100
Insights:
The 1More EB100 is built for the active. They can be inserted and removed at a moment's notice, keep you pumped through a strenuous workout, take phone calls, and continue to provide emotional enrichment even when caught in a downpour without an umbrella or waterproof sombrero.
The housings are made of plastic but do a wonderful job imitating brushed aluminum. The ear hooks have a soft silicone texture and are moldable to better fit your ear. The cable is soft and pliable with smooth texture that resists sticking to your skin and the included cable clip lets you cinch up excess slack.
The battery is claimed to last 10 hours and while I haven't timed my usage the EB100 gets me through a day of listening with energy to spare. Charging takes around 2 hours or less with a red light = charging/no light = charged design. A blue LED lets you know when the unit is turned on, in pairing mode, or connected to a source. Most other information is provided via voice prompts. "Battery High. Pairing. Connected." The Bluetooth Lady knows things and speaks with a pleasant, kind of British accent that atones for the jarring, metallic, baby demon "One Mooooore!" that greets you when powering on. Is it possible to have vocal samples recorded in hell and rendered in 4-bit/8khz?
They are waterproof rated IPX4 meaning splash, but not spurt, resistant and dropping them into the toilet is a no-no, which should be the case with everything. Unfortunately I haven't been caught in any recent rainstorms but I did take a few showers while wearing them and they still work. How else does one get through a 6-hour podcast? Dan Carlin's Hardcore History, anyone? Anyone?
The control module/microphone, while perfectly functional, is awkward. The buttons are stacked together with volume+ on top, multi-function in the middle and volume- on the bottom, but they are small making the middle button hard to distinguish. I've gotten better with practice, but it's a high learning curve for something that should be intuitive. Weirdly, long pressing volume+ goes to the previous track while long pressing volume- goes to the next track. I think it's the work of the demon baby.
Wireless range is decent outdoors allowing me to step 30-40 feet away from my phone before losing signal. Indoors the range is cut in half by home necessities we all have like walls, furniture, WiFi signals and a massive collection of other headphones that fill a shelf or corner somewhere. I also experience cut outs when I have the phone in my front pocket, either one, and place my hand in the same pocket over the phone. This problem is not unique to the EB100 since I get the same issue with the Mifo U5 Plus. Maybe it's unique to my phone.
The EB100 supports multi-point pairing allowing for connection to 2 devices simultaneously. Playback is determined by whichever device is played first. When you want to switch devices then you stop playback on the current device and start playback on the other and for the most part this feature works but it is not without flaws. For instance, if I start playing music on my smartphone doing anything on the laptop, like web browsing or opening apps and documents can cause cut outs and interference. Halting my activity on the laptop stops the cut outs. It doesn't always happen, but when it does I just unpair the headphones from the laptop.
Phone calls ring clear, although the mic is susceptible to wind noise.
Ergonomics:
I like my IEMs deep. I insert until I feel my eyeballs move and then I pinch my nose and blow. 1More has different ideas about this. The 1More Triple Driver also has a relatively shallow fit but I don't mind because even with the stock tips it sits well and seals without issue. The EB100 however is a rude, picky bastard. Whether it's silicon, rubber, foam or hybrid any form of activity will eventually destroy the seal. I thought it was my glasses, but taking them off worsened the issue. It is nearly impossible for me to get a consistent seal using any kind of tip because of how shallow they linger the canals which is strange considering their sporty inclinations.
The fix came from cutting the bores out of some unused silicon tips to make a spacer/o-ring around the EB100's nozzle. Once the extra 2mm of headway were in place I could seal like Jiraiya and had no further issues even when engaged in intense martial arts debauchery. The adjustable ear hooks do a good job of keeping the headphones on your ears.
.gif images. Click to play.
The short cable is meant to be worn behind the neck lest you prefer it dipping in your afternoon tea. The control module tends to shift the cable weight to the right, but using the included cable clip addresses this.
Isolation:
Below average for an IEM and disappointing depending on usage. A jogger, whether it be on the city streets or a desolate woodland, might appreciate the environmental awareness. A person in a crowded dining hall, a jam-packed gym or a public transport vehicle will find the isolation lacking. One could always just turn up the volume to compensate, right? Keep reading.
Sounds:
Uncharacteristic for a sports headphone the 1More EB100 has a bright, treble and mid focused tuning. While they share a physical resemblance to Apple's Powerbeats, their sonic abilities are more akin to the Grado Labs sound.
Treble
:
I hope you like some music with your treble. It's emphasized and at times can sound peaky. Snare drums like to take center stage here. You must feed these headphones well-recorded music because poor recordings can sound harsh. Ironically using a non apt-X source can help here since the Bluetooth compression keeps the higher octaves at bay. Foam tips tame the treble somewhat, but even heavy EQ isn't enough to dull the sharpened edge of these blades. Burn in has helped, but this is definitely not for the sensitive.
Mids
:
The mids sit behind the treble and slightly in front of the bass. There is an upper-mid bias that that is a bit aggressive. Sibilance comes out to party with Nate Reuss' vocals in the poorly mastered album Some Nights and even pops in for a quick drink with Diana Krall in the well mastered album Turn Up the Quiet. Dan Carlin's excellent retellings of famous battles in history slice with the same sharp, steely iciness of the swords and spears he describes. The EB100 is not forgiving, but good recordings will reward you with a hyper-detailed, engaging listen. Daft Punk's Random Access Memories, Muse's The 2nd Law, and twenty one pilots' Blurryface all sound superb.
Bass
:
The bass is slightly recessed and doesn't extend very deep. It may sound lacking in finer texture and detail, but that may be due it being overshadowed by the higher frequencies. Louder environments can easily drown out the bass and increasing the volume to compensate elevates the piercing highs. I would have liked just a bit more here.
Sound stage
:
Despite the peaky treble, which can give the illusion of airiness, the sound stage is narrow in both width and depth and stays well within the bounds of your head. Stereo separation is of the 3 blob variety with distinct left, right, and center clusters without much happening in between.
Imaging
:
This is very much a 2D listen that can sound congested when there is a lot going on at once. The music is right in your face and it likes to stay there.
Conclusion:
For my first Bluetooth headphone the 1More EB100 surpassed expectations. The convenience and usage scenarios it opens up, like exercising, doing housework, taking phone calls in the shower, have allowed me to have longer, more productive listening sessions. They sound good, are well-built and are comfortable to wear for extended periods. My only gripes come from the shallow fit that took some tooling to fix, the strange connection issue when I put my hand in my pocket and the brighter, bass-light tuning. In the end, the EB100 signature is not for me. I have since purchased two more Bluetooth headphones and have been pleasantly surprised with the sound quality of both. Perhaps the Bluetooth paradigm has changed since the early days when their poor reputation was earned. If you haven't tried any recent Bluetooth offerings I encourage you to do so, especially if you're the type to take your Grado SR60's with you on a morning jog.