1More deliver solid all-round semi-in-ear at an affordable price (in China)
Pros
:
Fit, Ergonomics, Case Portability, App Support, Sound Profile, IPX5
Cons
:
Hollow and echoey mic indoors, Cumbersome Firmware Upgrades (improved from app update 3.8.5)
How I review:
(See Previous Reviews)
Model
: 1More Comfobuds ESS3001T
Price
: MSRP $58.99
Distributor
: Amazon UK, 1More USA, Aliexpress
Vendor Website
: 1More
Manufacturer Blurb:
Model: ESS3001T
Earbud Weight: 3.8 g
Case Weight: 28.9 g
Gross Weight: 36.5 g
Earbud Dimensions: 39.25 x 17.92 x 18.7 mm
Case Dimensions: 68.7 x 30 x 25 mm
Earbud Battery Capacity: 35 mAh
Case Battery Capacity: 410 mAh
Earbuds Charging Time: 85 Mins
Case Charging Time: 80 Mins
Audio Format: AAC / SBC
Music Playtime: 4 Hours*
* Earbuds and Case Fully Charged
Music Playtime: 18 Hours*
Speaker Impedance: 30 Ω
Bluetooth Range: 10 m
Bluetooth: Bluetooth® 5.0
Bluetooth Protocols: HFP / A2DP / AVRCP
Input: 5V 0.5A
Working Temperature: 0 ℃ ~ 45 ℃
Frequency Range: 2.400 GHz ~ 2.4835 GHz
Includes:
1 x Pair wireless headphones
1 x USB Type-C Charge Case
1 x USB Type-C Charge Cable
1 x User manual, warranty card, sticker
Real Life Experience
1More decided to upset the applecart slightly here with a release designed to cross the bridge between slippery semi-in-ear buds and the discomfort of using silicone in-ear for prolonged periods with the aptly named Comfobuds.
This is the third set of 1More buds I've reviewed, fourth if you count the Omthing Airfree, which 1More tweaked and released as the Pistonbuds. In the US and China 1More buds are actually rather well priced and good value - here in the UK they are expensive. The Comfobuds in the US retail at around $50 which equates to £35. This is the same in China. In the UK, Amazon sells them at £64.99 - almost double the price.
I'm not sure why these huge discrepancies exist, but it makes reviewing 1More products quite difficult, because typically you are measuring bang for buck within a review - and what you expect at £35 is very different to what you expect at £65.
I paid around £35 through Aliexpress after testing the black through Amazon (only black is available in UK) to check if the fit was good (which I then returned - the joys of Prime!). After the first set failed after a week, which happens, 1More support were excellent, agreeing to take the faulty goods back and refund no questions asked, although I did send them full details of the fault.
I was excited for the Comfobuds because at the time I struggled with semi-in-ear, and still do from time to time, so the added traction from the textured ends would make them a good solid addition to my ridiculous collection, providing the sound matched up of course.
The Unboxing - 7.5/10


1More always deliver a premium feeling box, and the Comfobuds are no exception, with clearly outlined key features on the front, and a lot of writing on the back that was too small for me to read.
Once inside the box, you get your first taste of how tiny the case is. The USB Type-C Charge cable is located in the rear of the cardboard enclosure.
The user manual is in a number of different languages: Simplified and Traditional Chinese, Korean, English, French, German, Spanish, Italian, Russian and Ukrainian.
1More also include a cute little sticker and QR code for warranty purposes.
The Case - 9/10
Make no mistake about it, the case is beautiful, in both colour schemes: pearlescent white, and gloss black.
It is advertised at 36.5g - close enough by my measurements. This is the one of the lightest cases I have tested yet - the SoundPeats TrueAir2 comes in at 33.5g and the QCY T10 at 36g, but after that there's a bit of a gap up to 40g and above.
The case dimensions advertised matched my digital calipers exactly, making this slightly longer then the likes of the FIIL T1 Pro, slightly taller than the SoundPeats TrueAir2, and slightly girthier than the QCY T10 - but beating all of them for portability - the shape makes it perfect for slipping in trouser pocket - the ultimate commuter shape.
The case features hall switch mode, immediately connecting once the case is open. Another area where the case shines is the simplistic single light with red/amber/green colour scheme denoting the level of charge in the case. Charging is very quick - an hour gives you full charge (although it states 85 minutes) and whilst quick charge is not advertised, they do seem to support it, with Windows indicating 100% charge after 15 minutes in the case.
The battery charge is controlled by the Chipsea CSU32P20 microcontroller, with a battery pack manufactured by Chongqung Zijian, offering a capacity of 410mAh. The case charges the buds a further 4 times.
The traffic-light colour scheme is very clear on how much charge you have left, and reminiscent of that used by Samsung. The charge case uses the Micro-Source LP5306 for over-voltage and overcurrent protection and the light indicator is delivered courtesy of the Yutai ETA9084, which also offers battery charging and discharging protection.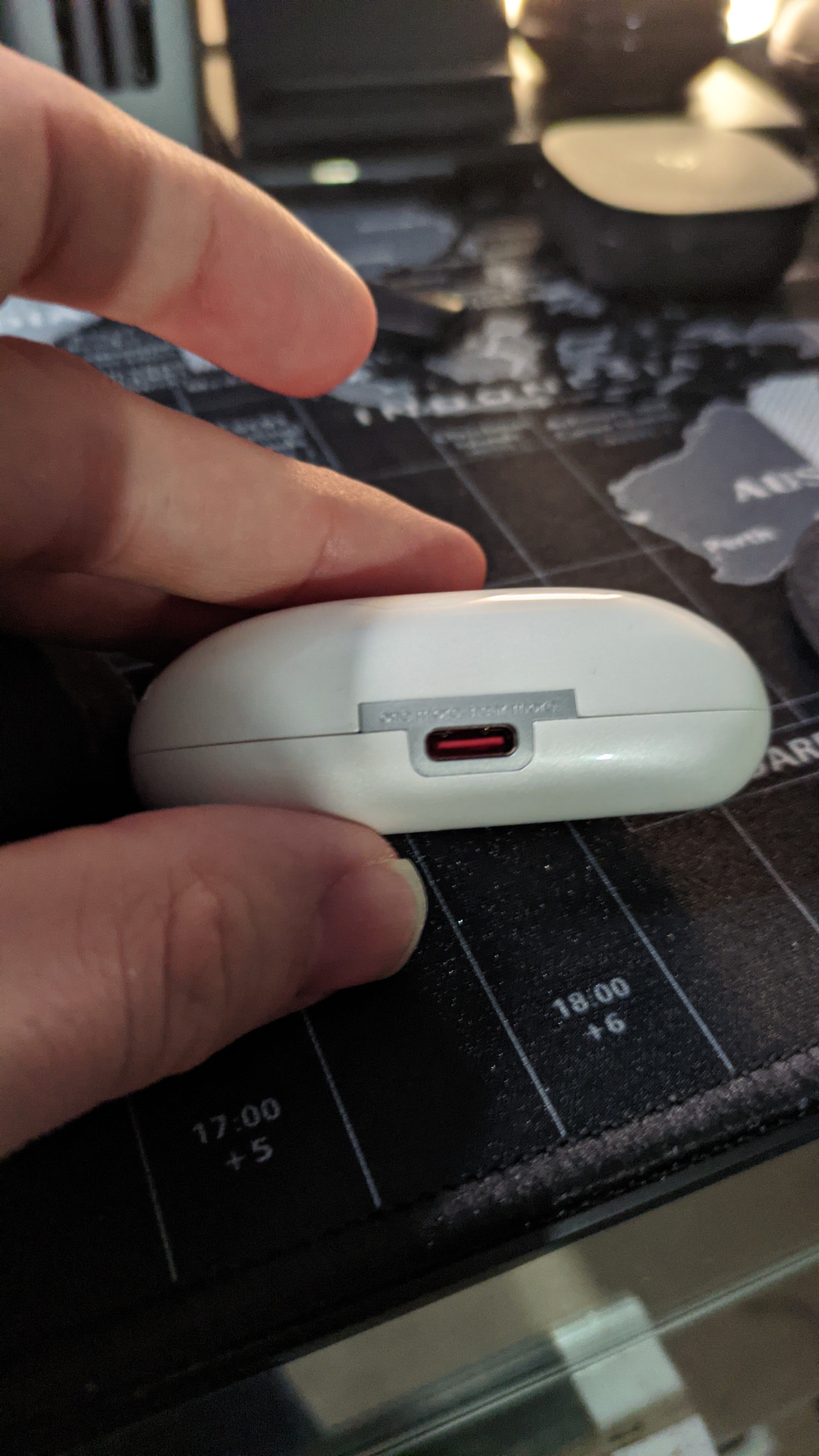 Charging is with USB-C only (no Qi)
The Ergonomics - 9/10, Build Quality - 8.5/10
Firstly, at 3.8g these are very lightweight, coming in much lighter than the FIIL CC2, but well proportioned to prevent them falling out of your ears. The curvature around the neck is nicely finished and the Comfobuds really do live up to their name.
The USP of the Comfobuds is the texturised finish to the edges. This is kinda like the little sleeve thing Samsung send you if you ask nicely enough for the beans, but much more effective. You can see above compared to other semi in ear buds, they clearly try to bridge the gap between this style that hang in your ear and the intrusiveness of silicone in ear. As I said earlier, this is what attracted me to them, and why I was so excited by them, as I've gone so long using silicone buds, expecting Apple Airpod style frustrations for any semi in ear, that when I do wear them and they fit pretty well, I do sometimes forget and push them to their limits.
I'm happy to say 1More nailed it. The rubberised tip and slightly less contoured edge than the FIIL means they cling on to your concha rather well, and they pass the shake test better than any others I've tested.
Even a full 90 degree turn did not see the buds fall out. This is extremely rare for buds of this type.
The stem length is comparable to their peers, and very well proportioned. The Soundpeats here is listed at between 38 and 37.5mm - my digital calibers averaged them at around 37.75mm.
The aesthetics are not dissimilar to Apple Airpods, albeit with colourful ends flashing blue and red when pairing. IPX5 water resistance elevates them above the likes of the SoundPeats in this respect, so again they marry up nicely as commuter buds, and whilst I wouldn't recommend them for workouts, sweat won't invalidate the warranty. Taking them apart reveals why - most of the components, such as the MEMS mic modules, are protected by mesh and metallic covers, which is excellent, and the ones that aren't are flooded with glue - not exactly precision engineering here, but better than most of the baffling assemblies I've witnessed around this price point.
Audio Quality - 8.5/10 (for the price paid), 8/10 (raw score)
1More are no slouches when it comes to delivering quality audio with a nice balanced sound signature. They make no secret of Luca Bignardi's involvement in helping to tune their devices, and there's a really nice article on their blog that discusses the challenges of translating this into universally appreciated sound:
here
With 13.4mm drivers and a good pedigree, I was expecting a very nice flat sound profile that is in-keeping with my own personal tastes, and was not disappointed at all. Despite 1More advertising these as 'Bass Monsters' - they may boost the bass by semi-in-ear standards, but they aren't tiring in the way the Soundpeats Sonic are.
It is clear that to try to overcome the form factor constraints, the low ends have been boosted somewhat compared with 1More's typical sound signature, and for someone whom the Comfobuds fit perfectly, this is a treat.
The mids are typically elevated especially the high mids, where falsetto vocals are easily distinguishable from pianos and organs. Baritones are less well represented, with the vocal occasionally lost amongst bass guitars, but this is not surprising and not atypical in the bluetooth TWS world.
I have seen some reviews less complimentary about the sound of the Comfobuds, and usually when I do see very varied experiences I try to find out why. Often it is simply subjective - maybe a preferred sound signature or fit simply offers an alternative experience. In the case of the Comfobuds, as expected I found adjusting the buds inevitably impacts upon the sound, and can imagine that if the fit isn't perfect then it will result in the variation people are experiencing. Again, this is not atypical - see reviews on the Buds Live for evidence of that - but for me where the fit is great, they sound well-balanced and with decent instrument tonality and separation, and I think the Comfobuds will appeal to a wider fit range than the beans, so don't let this put you off.
Windows does not use HD SBC and 1More, like FIIL, have been rather selective in their implementations of both SBC and AAC to keep the latency down. At 189Ms on Windows, the Comfobuds are impressive for lipsync, but sound quality in SBC is glitchy and battery life suffers drastically.
Call Quality - Indoors - 7/10, Outdoors - 7/10
The Comfobuds have 4 MEMS silicone microphones, with a metallic protective cover around the ambient mic, and a similar construction around the MEMS mics at the tip, with an additional mesh, and mathematically related algorithm to try to seperate human and environmental noise.
Surprisingly, the call quality is a little disappointing. After the Omthing were an absolute work of art, the Comfobuds lose naturalness from your voice and compress it, sounding at times robotic, echoey and surprisingly quiet (the Colorbuds absolutely boomed by comparison).
However where it excels compared to the Colorbuds is the noise suppression. Background noise is nicely muted both indoors and outdoors. I tested with a fan indoors and that was removed completely. Outdoors passing traffic is clearly audible but your voice is elevated slightly. If you're working in air traffic control, you're probably sat at home at the moment, but you wouldn't be able to have a conversation with these if you were on the runway.
Unfortunately, when using Wifi-call, Google Duo, Teams or Zoom it was especially bad. I recorded a session and the volume was noticeably quieter and glitchier than using an iPhone 11 XR or Poco X3.
Connectivity, Controls and Other Features - 7/10
The 1More Comfobuds offer the industry standard 10m LOS. In short-range use they don't suffer much with dropouts or interference even where there is congestion. 1More use the Luoda AB1536 Bluetooth 5.0 chip, the same as FIIL in the CC2, and this relative newcomer offers solid connectivity whilst combining low latency and more stable streaming. The range is marginally shorter than some of the devices I've tested recently, such as the FIIL CC2 (which is odd as they use the same chip) & Taotronics TT-BH80.
Controls are fairly straightforward, and the position of the sensor means you can adjust without setting the controls off accidentally.
You can also adjust the scheme in the app - although you have to trade off volume for voice assistant - you can't have both.
On the subject of the app, it is a welcome feature at this price point, but it can be frustrating. On every occasion, firmware updates failed, and when they worked, took significant time to complete, and the buds have even failed to register at times. Again, these arrived with 6.03, so an update was needed, and took 5 minutes in total.
EDIT - As of 23.03.21, 1More rolled out version 3.8.5 of the app, and have mitigated this to an acceptable level.
The main screen also allows smart playback to be removed, and denotes the battery life and a quick guide. You can also choose to burn the earbuds in, and have a mini-tutorial at the beginning. There is no EQ'ing, but if you do want to touch the profile up, Wavelet is available on Android.
With no aptx support, ANC or wireless charging, as well as not supporting BT5.1/5.2, it lacks some features that others do support at the price point in the UK. This is partially down to the well-documented issues Qualcomm have with supply and vendors looking to alternative supply-chain partners, although 1More have little history of using Qualcomm anyway.
Battery Life - 6.5/10
4 hours from a single charge. Case adds an additional 4 charges. Perfectly adequate for this form factor, and much better than their Pistonbuds.
Charging power is around 1.5-2w - the case uses a Chongqing VDL 682723 Li-ion Battery, advertised as 1.588Wh, 410mAh and a nominal voltage of 3.8v.
Over time, the battery has not proved to be especially strong in longevity, often failing to meet the advertised 4 hours by some distance.
Final Comments
The unique form factor makes the Comfobuds an ideal choice for me, and especially for those who struggle with silicone but also can't keep semi-in-ears in with excessive movement.
The balanced sound synonymous with 1More gives a nice, airy feel that translates well to most music genres. The case makes them ideally portable for the daily commute, and the mic, which seems to perform better outdoors than indoors, and fair battery life, makes them a solid choice for those hopping on and off trains, taking calls and listening to music.
1More will soon release the Comfobuds Pro, although it appears they have gravitated back towards silicone tips - so the original Comfobuds have their own niche, and will remain in my collection for this very reason.
Price Weighted Score: 85% (At US/China prices)
Raw Score: 83%
Last edited: