....
Foobar2000
is a media player very popular in the world of Head-fi for good reason. If you're reading this it is assumed you know more or less what it is. This is meant as a guide to get a functioning and reasonably good looking foobar up and running with minimal fuss. I don't pretend to know half of what foobar is capable of but I was prompted to look for an up-to-date guide, and I couldn't find one. The online resource for foobar2000 is at
Hydrogen Audio
. Any specific problems have probably already been answered there.  
This guide is far from finished, there are many subjects which still need to be addressed. Due to the amount of editing/formatting that has gone into this article I have switched editing to a list of allowed members, if you'd like to be added do send me a PM. Please keep it in the spirit it was intended, an easy to understand basic guide.  
Contents:
The Guide
Layout Editing
Optional Customisation
Install an optional component
Output plugins
mp3 player management
Album Art
The Guide
Like a lot of freeware and open-source programs, foobar2000 downloads as a .exe file which is an executable program, depending on the firewall/virus software you have on your system, your computer might not like this, it's generally just a pop-up saying "this file could be harmful to your computer" Scan it if you're worried but you needn't be.  
When you run set-up you'll get two options. Install the full version or in "portable mode". Portable mode is useful in that it allows you to have an older version of foobar installed properly while you get used to the new one in portable mode, also it means you can put the whole program folder on a pen drive and take it to work if you wish. I doesn't integrate properly with windows though, specifically, windows won't recognise it as a program fit to be assigned file associations. Some plug-ins don't work as well either, they will work, but the menu for their controls, for example, will not appear. It is possible to overwrite a portable install with a full version though and in doing that you will retain your settings, you may just have to re-install some additional components.  
Components Included in the Download:
Foobar2000 – Basic player with controls, customizable display
Audio CD support – Self explanatory,
Album List – Customizable media library tree,
Standard DSP's – Resampler, Equalizer, Upmixer, Basic effects,
Replaygain Scanner – Volume matching,
Converter – A very basic file converter
File Operations – Rename, Move, Copy, Delete etc. (default off)
Archive Reader – Read files in a compressed archive (default off)
Freedb Tagger – Retrieve tags from the freedb service
When you install you'll be faced with this screen and window: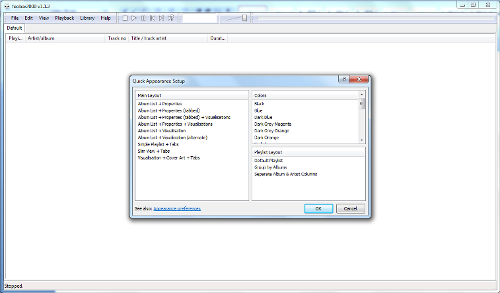 As you click on each option on the left a preview will appear. Pick the one you like the look of most. You can change it later. You can also pick a background colour and playlist layout at this stage.  
When this has loaded click the button – "Nothing to Show – Configure Media Library First". The following window will appear:
(it's part of the preferences menu (see below), the most useful menu in foobar)
Click add and select the folder(s) you want to be a part of your library. Foobar will monitor any changes in those folders and update your library accordingly. Also, if you'd like to always have available a playlist which shows your whole library check the box marked "library viewer selection playlist enabled". Click apply, Ok. This can take a long time first time if you have a large library.  
Now you should have a foobar2000 which functions as a good player. Any other customization is up to you, there are a lot of options but none of them are necessary. Any other customization can also be reversed if you don't like the changes.
[back to top]  
Layout Editing
So, you have a nice looking version of foobar up and playing all your tunes, but it still looks a bit boring. The first way you can change the looks is in foobar's own layout editing options and there are a lot of them. To change the layout you need to go to View > Layout > Enable Layout Editing mode. Now you will be able to resize each of the panels individually, lock panels to certain sizes regardless of the window size and replace any panels with others you prefer.   
If, for example, you don't want a Spectrogram, Spectrum and VU meter but want album art, then right click the panel bar and click "cut UI element". That tab will disappear. For replacing any panel with another or another arrangement click "replace UI element". The following window will appear:
If you have a single panel you'd like to replace with two behind each other then click "Tabs". You can then replace each blank tab with another option, or add other tabs from the panel bar. In this case I'm going to replace all three visualizations with an album art viewer. If you want to split a panel up either horizontally or Vertically, on replace UI element, click on of the "Splitter" options. I have done this and some other of the options to the main panel in the screenshot below:
Remember to turn off the Layout Editing Mode when you're finished, there's no practical use keeping it on. If you can't get a layout you like the look of that's when you can turn to third party components, i.e. skins. There are lots of them and covering them is another section of this guide in itself. I have not covered skins yet but when I get round to it i'll add a section.  
[back to top]  
Optional Customisation
Customizing virtually everything in foobar2000 is done via The File > Preferences menu. There has been less and less need of it in more and more recent versions of foobar2000. However, some things never change.  
Components: Simply a list of installed components. Also the place to install new ones if you're unfamiliar with Windows' folder structure.
Display: Alter virtually everything about the way foobar looks, including fonts/colours and custom columns etc. (maybe playback statistics)
Keyboard Shortcuts: Look them up or add new ones to your heart's content.
Media Library: Monitored music folders, restrict file types.
Networking: Hocus Pocus as far as I'm concerned, I never use it.
Playback: Replaygain options, total playback time, general options, DSP manager, all fairly simple, also output options, DAC or soundcard? Buffer length, if playback stutters or is delayed, adjust the buffer length.
Shell Integration: File Associations, Restrictions etc.
Tools: Which one's have you installed? iPod Manager, Send to Device, Tagging etc.
Advanced: A lot which doesn't need to be touched. Some options are very useful to know for certain things though.
It's now a case of asking what you want foobar2000 to do. There are loads of options. For example:
Do you want the best possible output to your expensive DAC?
Do you want to manage you mp3 player?
Do you want playback statistics in your library?
Do you want to create lots of specific playlists?
Do you want the best looking player possible?
What do you want?
All those things work well given the right components/options. I'll try to cover some of them at some point.  
[back to top]  
Install an optional component
Most optional components for foobar are found
here
. As a general rule they will be a file downloaded as: foo_name.dll. There are decoders and support for just about every file format, converters, taggers, media library options etc. When you've downloaded the file transfer it here:
If foobar is open you'll have to restart it, after that it'll be ready to use.  
[back to top]  
Output plugins
Normally when sound is produced by a computer program, the sound is sent to the windows mixer and then on to your soundcard. Foobar has several downloadable plugins which bypass this mixer in order to output a bit-exact signal to your DAC/soundcard. The sound quality difference is questionable but many people prefer it, or at least the idea of it.  
There are three main plugins available:
Kernel Streaming
,
Asio output
,
WASAPI
. Windows audio Session API (wasapi) was introduced as a new output method in Windows Vista, if you use an older version of Windows look up the others. It also mutes all other audio sources. Asio output needs to be sent to an asio-compatible soundcard, if you use a usb dac with a windows older than vista, Kernel streaming is the component to download. If you start using any of these plugins (I noticed it with wasapi) you may experience interupted playback in which case you should adjust the buffer length in the preferences menu.  
Whether you think the supposed sound differences are worth some of the potential problems you get from these plugins is entirely up to you but if you change your mind you can have the component installed without using it. Most of the pros and cons are explained on
this page
.  
If you have downloaded one of these components, say wasapi, and want to try it then go to the Preferences menu and at the top of the Output page under the Playback sub-menu there will be a pull-down menu. As well as "DS: your soundcard" there will now be "WASAPI: your soundcard" as an option. When you select that the output format options won't be grayed out and you'll select a bit-rate. Typically the bitrate will be the highest your soundcard can support, if it's USB it's likely to be 16-bit, maybe higher if it's a very expensive one or via S/PDIF/Optical, if the option you selected is not supported foobar will let you know probably with a pop up message but maybe with a lack of sound. After changing settings retstart the program.  
This is my output setting to my DIY usb dac:
[back to top]  
MP3 Player Management
(Note: this is for a drag&drop player, not ipods or Sonicstage sony's etc. ipods have their own component which i'll cover later and Sonicstage players are not supported)
So, you have foobar installed, it looks good and you're starting to get used to it. In the meantime though, you're starting to get a bit tired of some of the tunes on your Drag&Drop mp3 player. Solution: The foobar components page and download: foo_sendtodevice.dll. Move the file into the components folder in the foobar directory and restart foobar.  
Now when you plug in your mp3 player it will be recognised as a removable storage drive, probably with a name. Depending on which version of foobar you are using the next step may be slightly different. This component isn't officially recognised as being compatible with foobar v.1.1 and later.  
The way this component works is a very simple concept. You highlight (for example) an album, right click, then click Send to Device (or "Legacy Commands (unsorted)" ):
My version of foobar is a fairly new one so it says Legacy Commands. The following window will pop up:
Where: 'I' is the drive my computer has allocated to my mp3 player and everything after that is a standard code for the player to sort out which folders the files go in. The one above puts all the files in the 'Music' folder, separates them by artist, within that separates albums out. This all means when you play your mp3 player, your library should make sense.  
An important note
Many mp3 players, for example, my Sony one's are incompatible with a tagging system known as 'idv3 2.4' which, by default, foobar writes tags in. This means when you transfer files which have tags you've written in foobar to an mp3 player, no tags will show up. There is a way to force foobar to write in 'idv3 2.3' which your mp3 player will be able to understand. Go to the advanced section of the preferences menu, click the drop downs under tagging and mp3. On older versions of foobar the options are different again but on any version there should be a 'compatibility mode' under a heading of 'Preferred tag writing scheme'. Click apply/ok and you are ready to go enjoy your music out and about.
[back to top]  
Album Art
If you have enabled an album art viewer in your version of foobar it's highly likely that you won't want to see an empty box with [no image] written in it.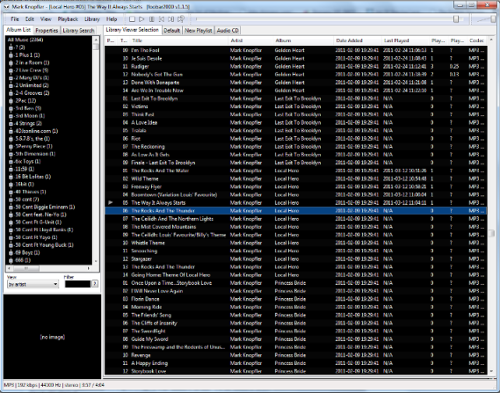 Unfortunately there's no easy way to embed album art within the file using foobar like there is on some other programs. It is, according to a few sources at least, possible when you are using the converter but there are problems with it and I had limited success even with mp3 files when I tried it. Embedding within the file is only one way to show album art however.  
The easiest way to show album art in foobar is to browse online for an image of the album art. There are even websites dedicated to the cause, like
albumart.org
. When you've downloaded it, place it in the folder your album files are in under a foobar recognised name. These are shown in the window of the preferences menu below under search patterns:
So, for example, if you right click on your album art panel and select Front Cover as the art to show and you have a file in the folder named as above your previously blank box will now contain your cover art, that's all there is to it. Naturally the same applies for other elements too.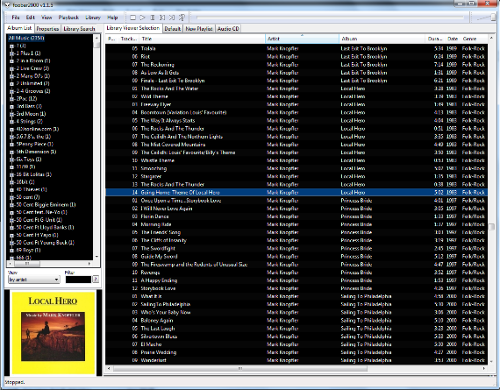 [back to top]
Components I plan to cover:
foo_dop.dll
foo_fileops.dll and playback statistics.
Tagging components.
Facets.
Skins.
An explanation of Columns_ui.