SUYAMA Private 333 is a 3way custom IEM that is made in Japan. SUYAMA fit-ear is primary a hearing-aid manufacture and all of my ear-impressions for my custom IEMs are molded by Suyama.
Click picture to see larger.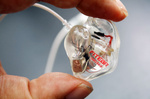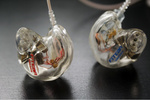 Suyama Private 333 is their latest product and mainly focused on consumer market. 333 is not officially released yet, I am something like a beta-tester. The details are subject to change.
However, 333 is very close to the final and some amount of pairs has been provided so far.
Suyama fit-ear official page (Japanese)
FitEar for Sound and Music
SUYAMA custom IEM has been numbered such as 435 or 224. This represent the configuration of drivers. This 333 means 3 way, 3 units, 3 drivers. Because there are some BA units which have two drivers(receivers) built in to the same unit. For example, Westone ES3/ES3X would be named 333 in the style of SUYAMA. However, westone3 would be named as 323, as high and mid drivers are incorporated into one unit(Knowles TWFK). This is clear and non-misleading naming convention I think. So Private 333 employs 3 separate units/drivers.
Fit and built
As for fit and build quality, 333 is very nicely done. I think the fit is the best among my custom IEMs. They sit perfectly in my ears and it will not slip any whether if I am moving or open mouth.
Build quality is also top notch. The shell is very clean.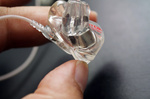 Private 333 also features separated three sound ports(bores) for each drivers against the others usually employ two even if they are 3ways. You will see them on the above picture. Beside, you can see a small notch where my thumb nail pointed. This notch makes removing shell easy. Well elaborated manufacturing I think.
Sound impression
Sound-wise, 333 is transparent and clear like its shell. Overall SQ is well comparable to other fine custom IEMs.
Speaking of sound signature, 333 has its own sound characteristic. As the name implies, the private series are focused on consumer use. So the 333 sounded like something exaggerated compared to other monitor like custom IEMs. 333 is not flat, bass is a bit enhanced though well detailed. Highs are sharp, detailed and bright in a good way, while the sound is not so hard. If you hear pops or rock often, you will like this dynamics.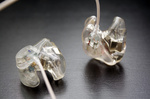 333 also has a good ability to reproduce Jazz or Classical. Music instruments are clear and crisp. In addition, the highlight of 333 is layering and well separated sound tones, possibly be due to the separated three ports. The music instrument notes from 333 are not too much blended each other and clearly separated. This is impressive.
333 has a good synergy with P-51/ALO SXC/iMod. 333 sounded lively and
vivid. Bass is not so tight like JH13 but ok with P-51.
SUYAMA is working on to the official release, they need more time.
I will update if they accept oversea order.