The following is my review of the WooAudio 6 tube amp. First and foremost, I am not an audiophile or in the business, just a discerning listener. I was attracted to this tube amplifier after a friend, Martin Sägmüller from abi >>, described it to me over #anythingbutipod irc which prompted me to begin reading about it on the net and on Head-Fi. The views expressed here are mine and I came to these conclusions using my own purchased equipment, listening while taking notes and enjoying every minute of it.
I did all my testing with my Sennheiser HD650's, but I don't want to turn this into a HD650 review, as I also used other phones and canalphones. Besides, so much has already been written about the HD 650's, let me just say that they are by far the most comfortable headphones I've ever tried and at the bottom of my observations I've posted spec's from Sennheiser's web site for interested parties.
When the amp first arrived at my door, I noticed that the packaging job was phenomenal, no short cuts taken to protect your new investment, well thought out. No dings/dents and everything worked perfect as intended out of the box. Since this is my first tube amp, as I opened the package containing the WA6 I thought I was looking at some Star Trek transporter or a beam/particle generator device, heh … too much Sci-Fi … only joking. When it is plugged in and the tubes are lit up (glowing) the only description is …
"The Woo6 Looks Intense."
Its overall look has a classic fundamental form with a clean ageless design; the chassis with the tubes erecting out of it is stunning to say the least. Although it may appear to be very complicated, trust me it's functional and once you dive in, it's not intimidating to a new user. The only set up is to plug in the tubes, power cord & source ... now your ready to rock. The WA6 has a very durable build quality, although it may appear heavy at 13 ½ pounds but in my opinion this only adds further testament to the overall build quality & durability. It's available in silver or black; naturally I chose black, my favorite color.
The front side of the amp follows the same overall clean design with a ¼ inch headphone jack (that's smooth as silk when plugging in/out), a whole aluminum volume knob, power button and power indicator light (easy enough). Both the volume knob and power button have a very smooth operation. Her rear side houses a 115/230 volt switch, the power receptacle (power cord and interconnection cables are not included), a toggle switch for 100 – 600 Ohms (up) or 8 – 99 Ohms (down) and gold-plated right & left RCA jacks. The lower Ohms setting is nice as it allowed me to test all my canalphones. The underside belly has chassis feet, which helps the vented design along the bottom as well as the rounded edges of what I call the high hat on the back of the top side. Our boys say it looks like the engineers cabin on an antique locomotive, heh. The top side houses 3 tubes with the transformer in the enclosure right behind them. On the front of the top are two Sylvania 6DE7 drive/power tubes and one 5U4G rectifier tube.
As you turn it on, you can see the tubes turn on and begin their heating process. I let it warm up for about 5 minutes before I began to listen on my HD650's. Before starting the music and during play time I attempted to pause and listen for any sound and to my delight … nothing but puro silence \0/ … I tried this same test on each source: CD deck, iAudio7, Sansa Clip, Sansa e260 and my PC (Creative Sound Card). The only source that I had issue with was my sound card from my pc, bad hum at full volume, now I know for sure I need a new sound card
Equipment Used
Source: SONY CD Deck
Headphones: Sennheiser HD-650
Headphone amp: WooAudio 6
My Listening Opinion:
Finally the fun part and the only reason you would invest your hard earned dollars into a tube amp … strictly for the listening pleasure. I really don't want to bore you with my take on each track so I'll stick to my main or most notable observations.
I don't know if it's just me, but this amplifier is completely noiseless with 2 headphones and 4 iem's I tested as well as various sources, various music formats (CD, Mp3 VBR 192 kbps & CBR 320kbps). The warm sound fulfills your hearing sensations as smooth as a 15 year old bottle of Añejo Reserva Excllusiva fulfills your taste buds.
Music I Used:
from Reggae, Progressive Rock, Rock & Roll, Mellow Rock to Classic Cuban music the woo preformed like a true title holder. Across the spectrum the range of sound and clarity are very natural, thrilling and delightful to hear.
Black Uhuru – Red
Pink Floyd – Animals
Bob Seger & The Silver Bullet Band – Live Bullet
Eric Clapton – 461 Ocean Boulevard
Cuba Es Música 1
Bass:
The woo6 delivers as I would say a basso profondo or in English - a wide dynamic deep down bass, a respectable full body of rich unfathomable sound like the lower harmonics of
Tuvan throat singing
. Artists that particularly stood out to me and help me form my opinion were Black Uhuru, Pink Floyd & Bob Seger.
Midrange:
I could be wrong, but from all that I've read midrange is supposed to handle the most significant part of the audible sound spectrum the many basics emitted by musical instruments and human voice. Midrange contains most sounds which are the most familiar to the human ear, and any discrepancies from the woo6's faithful reproduction would be easy to observe. Here the woo6 did not disappoint, while listening to Eric Clapton and Cuba Es Música 1 the sound was precise and clear. I could hear instruments, sounds and voices in the background, for example: musicians talking with each other, claps, cow bells, and percussion instruments like congas & bongos.
Treble:
I would not say that the woo6 is a treble mammoth but in my opinion this is fine as I do not like too much treble any way. But what it can do is fabricate a clear detailed definition of highs on a more natural level to heighten the overall listening experience. With the wind instruments used in Cuba Es Música 1, I closed my eyes and felt the music as if I was really there. No high or acute pitch only an unpretentious reproduction of what we normally hear.
Final thoughts:
The soundstage or spatial placement of sound is excellent, but in my opinion this is also dependant on the music, recording quality and headphones used. Overall clarity is excellent, it sounds natural and the sound is clean/undistorted without a morsel of off sound or graininess.
Closing:
Rather than getting into a Pluses and Minuses tally, I rather end with my overall impression saying that I truly enjoy my listening experience on the woo6 and I would highly recommend this amp to any discerning listener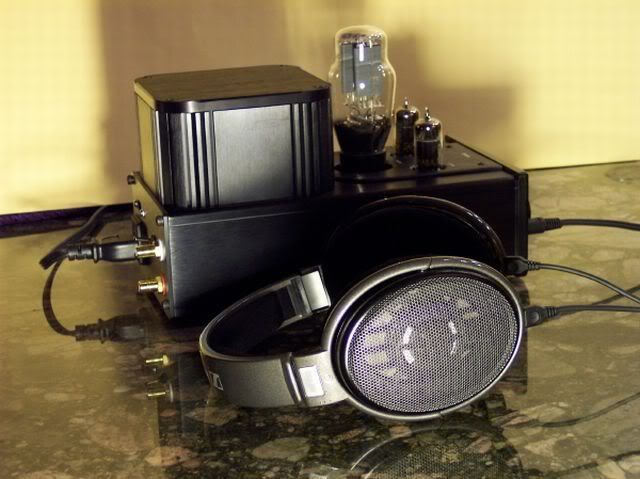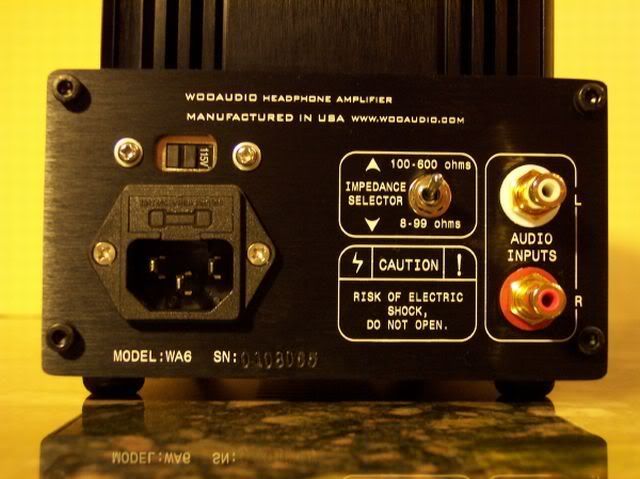 Quote:
From
WooAudio
Technical Specifications
Headphones impedance : 8-600 Ohms
Input impedance: 100 Kilo-Ohms
Frequency response: 10 Hz - 50 KHz, -3dB
Signal/Noise: 93 dB
THD: <= 0.3%
Pre-amp Gain: 10 dB
Power output: 2 Watts
Voltage: AC 110/220 V, 50/60 Hz
External dimensions 6" (H), 5 ½" (W), 13" (D)
Weight 13.5 lbs.
Standard Features:
Point-to-Point wiring
Two 6DE7 drive/power tubes
All tubes, no semi-conductors in the entire circuitry
High or low headphone impedance switch
One ¼" headphone jack
80 watts specially made toroidal power transformer.
Full aluminum die-cast chassis, alodinze finished
Whole aluminum volume knob and power switch button
Gold-plate RCA
Alps potentiometer and power switch
Dale and Vishay high precision resistors
Teflon wires
Power cord and interconnection cables are not included.


See WooAudio for more details
Quote:
From Sennheiser's web site:
Features
Systems with narrow tolerances (± 1 dB), hand-picked in pairs
High-quality titanium/silver finish
Specially developed acoustic silk for precise, uniform attenuation over the entire area
Specially modulated connecting cable (detachable) made from highly conductive OFC copper, Kevlar-reinforced, with very low handling noise, i.e. low structure-borne sound sensitivity
Extremely lightweight aluminium voice coils ensure excellent transient response
Exceptionally comfortable to wear due to elliptical design adapted to the shape of the ears
Can be directly connected to stationary hi-fi components of the highest quality, in particular SACD, DVD-A and CD players
General Specs
Frequency Response - 10 - 39,500 Hz (-10dB)
Nominal Impedance - 300ohms
Weight - 260g
Contact Pressure - approx. 3.4N( ±0.3N)
Transducer Principle - Dynamic, open
Headphones Specs
Transducer Principle - Dynamic, open
Weight w/o Cable - 260g
Ear Coupling – Circumaural
Distortion - less or equal to 0.05%
Connector - 6.3mm stereo jack with 3.5mm adapter