Previously known as "FyreAudio"
TRN BAX- Bloatmaxxing to the Moon
Cons
:
EXTREMELY bloated bass

Driver flex

5K peak

QC issues
After a supposed 5 years of development, TRN has released their first electrostatic iem. It's an obvious mockery of DUNU's EST112, BAX even uses the exact same Sonion EST65DA01 dual-tweeter unit used in the DUNU, only the TRN is $200 cheaper.
Regarding it's internals, It's two-way frequency division, the EST is a genuine Sonion unit and the back vents are all real.
As for sound:
When i first put these in my ears, i was greeted with what sounded like plastic cups getting crushed. My pair has TERRIBLE driver flex on both sides..
When i pressed play, my ears got promptly BLASTED with bass. Bass that dominated the entire listening experience. I switched to wide bore tips to reduce some of low end, i then settled on KZ starlines for the most listenable experience.
The sub bass on these is bigger than every other iem i own. There's more bass on these than VE Bonus IE, CCA CA24, KZ ZAS. It's absolute eardrum torture.
Regarding the mids and upper mids, things sound fairly clean with the exception of a 5K emphasis that gives an artificial airy quality to the sound. This can easily be reduced with EQ to give the upper mids a softer tone.
The highs and upper treble is actually quite good. treble sounds uniquely crispy, instrument separation is great, treble rolls off smoothly but maintains blistering microdetail.
Unfortunately for me, the BAX's good qualities are pretty much entirely masked by it's GLARING oversights.
Driver flex on a $300 iem is INEXCUSABLE. And this bass response should have never come off the assembly line.
As for sound comparisons, there isn't really anything i own that can match the unique electrostatic treble of the BAX
The CVJ Mirror has much more pleasing bass, better tuned mids, and two BA tweeters in the nozzle as opposed to the BAX's two ESTs. It's a sixth of the price of BAX and offers an immediately better sound experience.
The Whizzer HE01 is a single DD iem with punchy bass, well balanced mids and very extended treble. based off the FR graph alone it's a better pick, but it's not a tribrid, and the separation, speed, and microdetail is audibly superior on the BAX.
The KZ CRN is a super affordable tribrid with tight, deep bass. neutral mids and rather smooth treble. stereo separation is also particularly good on these, maybe a step below the BAX. The CRN costs a TENTH of the price of BAX and uses low-voltage magnetostatic drivers.
All this makes BAX a tough buy, and i cannot recommend this iem at all.
$300 can buy alot of food.
Last edited:
Super-Swagger
Pros
:
Big-fast moving authority
EST upper-details
Dynamic Driver punch
All tied together with a single Knowles Balanced Armature....….seamlessly
Gargantuan soundstage and presence
Romantic and charming
Spacious imaging
Fast transient response
Fast speedy bass response
Real-life instrument tone and timbre
Visceral and emotional
Surprisingly well balanced
Realistic reverberations and decay
Detailed yet musical
Clean sounding
Cons
:
#304 stainless-steel faceplate shows fingerprints
Can offer slightly too much intensity at times, though rare
Super-Swagger
TRN Bax
Redcarmoose April 7th, 2022
TRN's latest flagship model Bax comes with two Electrostatic Drivers from Sonion, one 29689 Balanced Armature Driver from Knowles and one 10mm Dual Magnetic in-house Dynamic Driver.

The above statement is informative, but truly there is more to the story. TRN is throttling-up to a whole new level. This is the most expensive model they have ever produced. They have never implemented a Sonion Electrostatic driver before, let alone two! They have never used a Knowles 29689 BA driver before; and they currently make 23 different IEMs. The faceplate is #304 Stainless Steel and the IEM body….a combination of magnesium and aluminum. Add to that……….a totally in-house redesigned proprietary TRN third-generation dual-magnetic 10mm Dynamic Driver. This Quad-driver Triple-hybrid design sits in a completely open-back metal shell to minimize any threat of Standing Waves or Driver Reverberation. Simply stated………..it's exactly like a full-size open-back headphone in design………………but in an IEM the design reduces ear-pressure to the eardrum, as well as air-pressure in the external IEM cavity.
All the above would be simply "OK", except the Bax was professionally tuned to utilize the high density detail-resolution inherent to electrostatic drivers. They blended the characteristics of Balanced Armature, Dynamic Driver and Two Electrostatic Units to achieve a balance in tonal reality. Simply stated, TRN utilized the best technology available then created "audio-art" by finding the correct frequency response.
Add to that a swappable-tip cable with 3.5mm, 4.4mm balanced or 2.5mm balanced. Included is a choice of one tip, though of course you can purchase the other two sizes. They also didn't just included any cable…………the Bax comes standard with 16 stands, silver-plated, single strand 22 cores making a total of 16 strand 352 cores! After trying my favorite "boutique" cables, I found the included cable worked best.
All this for $312.88
If you purchase from Linsoul you also get free world-wide shipping, and a 1 year warranty.
Linsoul website:
https://www.linsoul.com/
Linsoul Aliexpress Store:
https://ddaudio.aliexpress.com/store/2894006
Linsoul USA Amazon Store link:
https://www.amazon.com/s?i=merchant-items&me=A267P2DT104U3C
Disclaimer:
The TRN Bax was sent to me by
Kareena Tang of Linsoul in exchange for this review.
Dongguan Zuodu Acoustics Technology Co., Ltd.
The TRN brand belongs to Dongguan Zuodu Acoustic Technology Co., Ltd. A high-tech enterprise engaged in Hi-Fi (High Fidelity) headsets, sports Bluetooth earphones, TWS Bluetooth earphones, and related fields. Now it integrates self-owned brand products, ODM and OEM. Each TRN product has earphone enthusiasts involved in the development process to ensure that it has the best performance and durability.
"TRN" makes 23 different IEMs. Right now, twenty-three. I'm not going to list what each does, how they are made, or what they cost.....simply to shorten this review. You'll thank me later. They currently make a series of 3 different TWS driver modules, you know those things you add to any IEM to make it "TWS". They offer a special decoding cable device as well 10 completely different cables at the moment. In addition they make 3 different TWS IEMs.
The Bax model is their single TOTL Flagship.




Electrostatic Drivers:
Electrostatics operate on a completely different principle than the conventional dynamic technologies. They work by applying a static electrical charge to a thin film which floats between two perforated metal plates; when audio signals are applied across the plates, the entire film membrane moves back and forth due to electrical attraction and repulsion. It's the same principle as condenser microphones use to capture sounds, but in reverse.


The Step Up:
Don't know if you have noticed but this is the company of TRN stepping up its game. While the list of products they offer is long and complete, for TRN the release of the Bax is somewhat of a watershed event.
The amazing TRN Hybrid releases currently:
The TRN TA1, TA2, ST2, STM, V10, V20, V30, V90, V90s, VX, VX Pro and TRN M10
Now along with the Bax, that's just their Hybrid offerings! 13 of them!
The Balanced Armature offerings currently are:
TRN BA8, BA15 and X7 Three of them!
Dynamic Drivers:
TRN CS2, H2, MT1, MT1 Pro, That's four!
There are Bluetooth IEMs:
TRN BT1 and T300, both Hybrid TWS IEMs.
The TRS DD the AM1.....that makes four TWS IEMs.
They make 3 different sets of TWS Modules:
The BT20, BT20S Pro.
The above is not TRN history but all currently made headphones.

They also make 10 different styles of cables, with the included cable near the top of the food-chain. TRN Bax comes standard with sixteen strands of high-purity silver-plated interchangeable plug wires. Single strand 22 cores, sixteen strands total 352 cores. Upon your purchase you can chose a 3.5mm, 2.5mm balanced or 4.4mm balanced.

The cable included has only one model above it, the Gold Plated....TRN TX model.

They make the....
TRN A1 TC Decoding Cable
TRN A2 Cable
TRN T2 PRO Cable (I think this is closest to the included Bax cable?)
TRN T3 Cable
TRN T4 Cable
TRN T8 Cable
TRN TN Cable
TRN previously mentioned/The Gold Plated TRN TX Model
So you can see they offer a wide range of products for a wide range of customers wants and needs. But......the Bax is the ultimate IEM, with almost two years of recent research and development! The Bax offers refinement in every area of sound design, including.....
Professional Acoustic Tuning
Electrostatic Tweeter
Knowles BA #29689
3rd Generation "Dual" Magnetic DD Driver
#304 Stainless Steel Faceplate
Multiple Choice Plug 2.5mm/3.5mm/4.4mm
Re-Engineering of 2 Pin Plug
Ergonomic Redesigning of Form-factor
This results in a Quad-driver Triple-hybrid Design:



Specifications

Brand-TRN

Product model-TRN BAX

Transducer type-Quad-driver Triple-hybrid

Frequency response-7Hz-40000Hz

Impedance-22Ω

Sensitivity-118dB

Connector type-2Pin

Jack type-3.5/2.5/4.4mm

Wear-Ear hook

Cable length-1.2m±3cm

Colors-Silver
The included cable may be just like the TRN T2 Pro
TRN T2 Pro
Cable weight-25.5g
Connector types-0.75mm/0.78mm / 2pin(S) / MMCX
Jack types-3.5mm / 2.5mm / 4.4mm
Colors-Brown / Black/ Gray
Length-1.2m±3cm
Fit:-Over-ears with soft ear loops
Cable configuration-Main conductor in 16-core, 352 strands configuration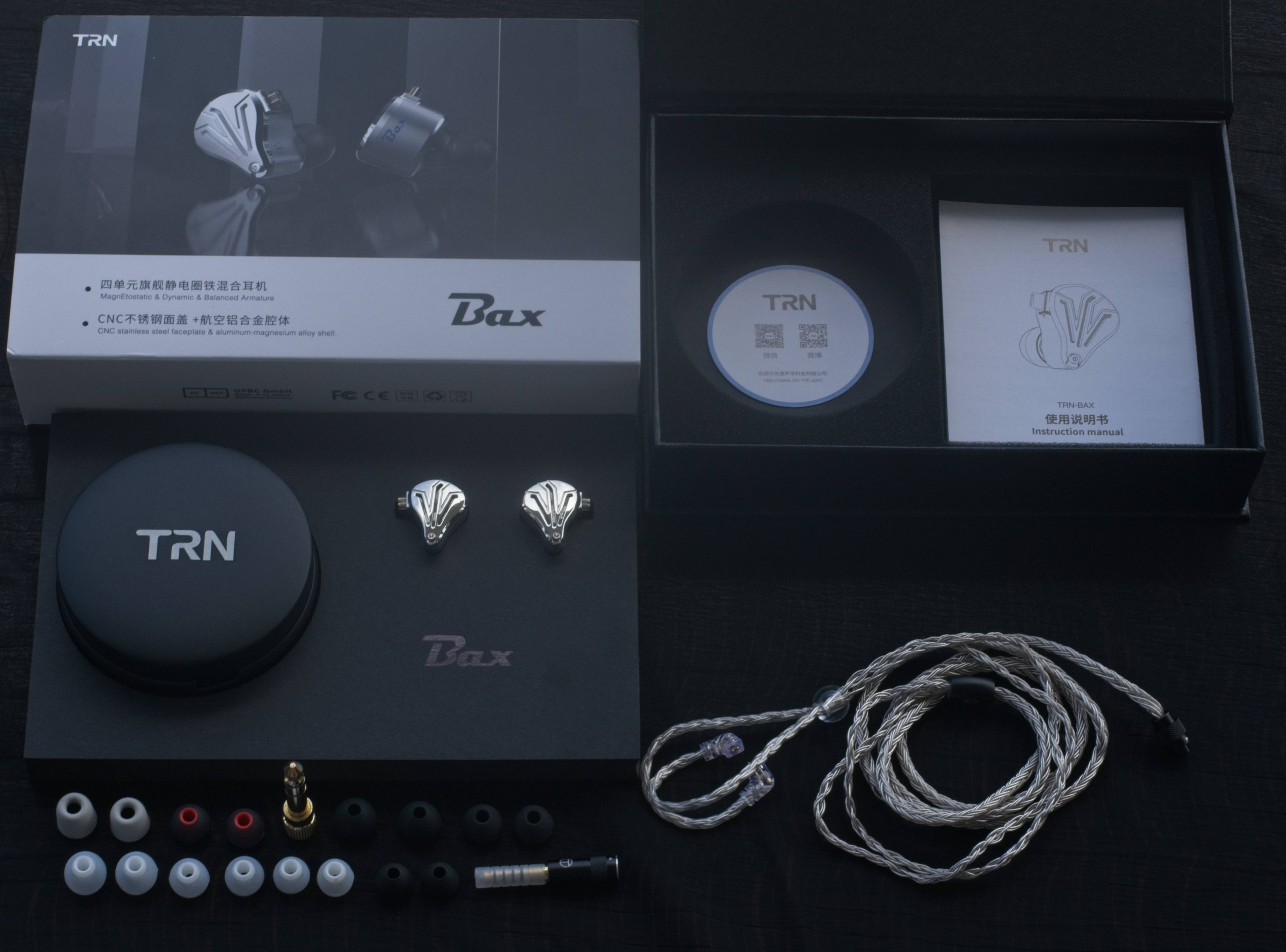 The Box Includes:
Aluminum storage case
Ear tips

Balanced ear tips 3 pairs (SML)
Bass ear tips 3 pairs (SML)
1 pair "red" medium tips
Memory foam ear tips 1 pair

6.5mm adapter included but not useable with both 2.5mm balanced and 4.4mm plugs
Guide/Instructions
Warranty Card
Cable
TRN Bax IEM
Bax:

Breaking down barriers, the Bax is a first for TRN. 1st for TRN to offer dual Denmark made Sonion electrostatic drivers and an in-house produced Dual Level Dynamic Driver. Join that with a stainless steel faceplate, aluminum/magnesium shell and a 16 core flagship level cable............we just entered TOTL town! It reads well on paper.....but how does it sound?

We have already heard the various IEMs which play it safe. They followed a "cookie-cutter" route to their destination. Yet was that destination a fun place to live? A world with milquetoast surroundings! Pizzazz is what we want! All of us do......even if we fail to admit it. Variety is the spice of life. Even though we want realism and correctness, we want it done with flair.............still not the wrong flair but the right flair.

Super-Swagger:

Walking that fine line that many guessed was near impossible. Really the TRN Bax is a gift to the community. Why? It's low-cost for what it does, it is remarkable from most sources and offers incredibly good frequency response/timbre/tone.

In a nutshell that's pretty much it! But also that's no easy thing to do.

It sounds a lot like a home cinema set-up. But not any home cinema, but the best one you ever heard, that's what its character is. The bass is fantastic. I made the mistake of reading a few reviews before the BAX arrived. They said it was a little intense? I guess I like intense? They also had problems with fit, as the BAX truly is gargantuan. But no....it fit me fine. But I must say it is large. LARGE.

Reading literature before the Bax arrived just seemed like hype-sales talk trying to offer something cheaper that would compete with expensive EST driver IEMs. Boy was I wrong! The TRN Bax is its very own special complete sound. The Bax moves ahead having a careful and correct tune. All the sonics are in order; just a beautiful and competent tune. Basically they are taking the natural intrinsic character of three different driver philosophies and merging them seamlessly together. This assembly is in-fact where the value is. The fact that they really have done things right.

I started with my normal favorites then after a better part of an evening went into soundtracks then finally thought I should try badly recorded music. In truth it took me along time to discover what the Bax was not good at. The next interesting part was how forgiving it was of sources. Often I will have an IEM which favors one DAP, or plays favorites wanting a desktop. Not so with the Bax as it was exciting and fun always. It was this nice well rounded quality that really surprised me. It would go ahead and show the character of each source, but somehow it seemed to show the best qualities in everything. Also it really wasn't picky with music, I could pretty much play anything I had and it was fine.

I typically believe recordings are getting better and better. I especially find any modern OST to sound fabulous. Most modern rock is great and the Bax goes along for the ride, with never a hiccup!

Super-Swagger:

I choose this name due to the incredible pace the Bax offers. There is this super nice bump that occurs pretty much all the time which is getting to the heart and soul of modern rock tracks. The fact that my favorite songs are normally even better than I remember them to be. If that's not reason to buy a new IEM, I don't know what else is?

Fast Authority:

I don't have any other way to describe the Bax. There is a definite feeling when the bass drops. It's really well done, with all the texture, leading edge crispness, and emotional pull that you get from good cinema playback. It's this excitement that has you going through your collection. At times there is even the effect of all the air being sucked out of a room right before the bass drops……..like the birds fly off, and we are left with this calmness before the storm. I've never heard the DUNU EST 112, but I'm fairly certain it's not going to the places the Bax takes us!

The Sound In General:

Let's cut to the chase here, instead of endlessly describing the tone of bass or treble texture qualities, let's simplify things. What do we want from a sound signature? To simply offer us a special window into our music. But more than that, we want to enjoy albums that normally sound uninteresting. We simply want to focus on the attributes the performers first intended! The real trick here is if an IEM can make (all recorded) sound involving and exciting. That's all it is. To take an album, actually many albums and be that gateway to fun. To help make albums that we would gloss over and make even those have a special quality. This can be done maybe a variation of two ways, to enhance sonic features better than some IEMs. Or better yet to simply do the basics well. And doing all the basics creates a fundamental quality factor, it simply means there are more genre choices. More styles of music are played well with a well rounded IEM. But more than that, it means that more signal sources are correct. You can basically take the IEM and plug it into anything and play anything and be happy. Simple really but very few IEMs offer this single quality. This is what I feel we have with the TRN Bax. It's dynamic and intense in ways but at the same time not a single feature becomes any center of attention. Go ahead play that long soundtrack that you have been wanting to. Play that rock album and experience just how it was meant to be heard.

The Sound:



Staging:

The first thing that hits you is the size of it all. But especially effective is Daft Punk's TRON: Legacy OST 44.1 kHz - 16 bit. And more exclusively the song #9 "Outlands". This made me realize that the TRN Bax is simply showing the soundstage that's there. Meaning I guess Daft Punk used an orchestra? Because the sheer size of it all is special. What it did in-fact was cause me to do direct comparisons to the IER-Z1R.

When the timpani hits at 00:34 second mark it's truly enlightening. This I would choose as the first song to really discover what's up with the Bax. Also before the 00:34 second mark the violins and how they are positioned way out in the stage. Really this TRON soundtrack is food for the TRN Bax, making it stronger, much stronger than previously believed.

It's chewing up stuff and spitting it out, taking no prisoners. The Sony does a more reserved and polite presentation. The Bax is more efficient, of course you knew that. The Bax is more 3D, but in an attempt to reach these 3D realms it's sacrifices a little quality. Meaning the Bax is hyper-active with the show, where the Sony is simply laid back and showing more truth. Still not $1800 more truth. That's the thing for the money the Bax is nonsense it's so good. There is also this effect with the bass, that may be unnatural compared to the IER-Z1R, but it's so fun. It's like the bass is showing an extra slight dimension, where if it's there with the Sony, it's simply too reserved to show it. I mean that's the whole thing here; the Bax space and how it works with the elements. Obviously not the realism that the Sony creates, yet the total surrealism is that we are even having this conversation in the first place. The Bax may be more fast food to the Sony gourmet, still it does not diminish the enjoyment of the Bax sound. It's like the Bax is the stepbrother who doesn't care that he's the stepbrother. He is going about his job the very best he can, and he excels at his work, regardless of pedigree. In fact it's his pedigree which he wears on his shoulder, with indifference.

In fact the review I read about the TRN Bax before it arrived that said it was intense, was absolutely right. More intense than the Sony. It's strange as I always thought of the IER-Z1R as intense. The IER-ZIR is maybe more about realism but the timbre, pace and overall feeling is very much the same between the two. It's just that the Sony is slightly more refined and becomes reference to the OST. Where there are slight dimensions of detail inside the instruments which the Sony describes without fault. Here we are given an even bigger soundstage (than the Sony IER-Z1R) and even more vibrant results.

What we are offered with the Sony playback is more reserved truth in how the instruments are placed....that and truly how they are in nature. Where the Bax is showing a more forward and 3D sound. To tell you the truth the ultimate would be a combination of both. Were you had the realism of Sony's playback mixed with the visceral strength of the TRNs wild left hook. But I can only dream! The TRN sound is actually coming from more places, its vibrancy is real. Nothing is off or wrong, the Sony is simply filling in the small details better. The Sony is more careful and mature, yet the Bax is a ton of fun!

The Treble Experience:

I can assure you that I listen to a lot of forward electric-guitar. Such a neighborhood is often challenging for the upper frequencies. It's challenging due to line to be walked. It may be the reason they are now choosing to try EST drivers over BA inventions with the slew of new IEM offerings? We always expound on the correctness of the tune, but here maybe there is more? The fact that EST sound has a defining character. Bringing to the table a charismatic way of doing highs that is just so workable. It's workable due to avoiding the bright steely nature of BAs. Also the opposite feature of not having a roll-off character so often found with DD use! So it's the Goldilocks effect. And I'm in. Truly in for the long haul. I can assure you the next wave of IEMs by every manufacturer will utilize this EST business, if we are not there already!

So there is this leading edge to the treble, that instead of super bright, we are offered an endearing "fuzz".......but that fuzz actually becomes part of the resolve. It's tiny and frequency compressed into this replay not of reality but a happy alternative. We are listening to IEMs, I will have you not forget! Still the more your listen to electrostatic replay the more your swayed to find truth.

Truth in this is a workable, forgiving and tonal correct way of doing highs. The only drawback is expense, up until now.

They somehow find their imaging of guitars at the exterior of the soundstage. Yet we are also left room in the center for great vocals. Truthfully I can't hear where the BA and electrostatic drivers merge. It truly seems all as one. That's the thing, there is no steely or off timbre going on. And that my friends is one of the stars of the show. And to think that 5 years ago I purchased incredibly steely full BA sets, only due to the detail they seemed to provide. Here we are provided with the best of all worlds, a treble which is forgiving, has character, yet no color (well maybe a little) and is fast and well defined into the soundstage.

The Bass Experience:
A bass that is not boomy. There I said it. The most rewarding thing. Except I lied.

Ok, there is an area of the bass that depending on the source may be interpreted as slightly boomy. Still it never gets in the way. In comparison to the Sony IER-Z1R, the bass is bigger, and slightly less controlled. Where the Sony is prim and proper, here we are treated with flamboyance. It's actually not bass-head levels, and will probably go over well with the masses. It's just not reserved or totally tame. Still everything is heard for what it is, yet every once in a while you get that surprising bass emphasis which shows you what's up.

For me I welcome it. Also this special set of frequencies live in an area of refinement and tone. This place is more about quantity than texture, but still it's the speed that gets me going.

It's exactly home theater. I don't have any other words. Back in February 2019 when I first heard the Sony IER-Z1R I thought that it sounded like home theater. But no the Bax out home-theatres the Sony by a long shot. It's not cheap home theater but beautiful calculated bass frequencies.......ones you can almost reach out and touch. It's also imperative to the pace at hand. The fact that every track rocks. Every track grooves, and sounds fulfilled as its goal as a musical mission. The magic of the music is transferred in whole.

The Midrange Experience:

This is the place the where it all goes down. Most of the musical reproduction happens right here. The best way to describe the (midrange) is with an incredible album. John Williams Star Wars "The Force Awakens". The TRN Bax provides us with everything, all the timbre, all the tone.............really everything that can make such an OST workout, but not without a small hiccup! More on that later.

We know from our description of the IER-Z1R (Staging)...........that the Sony IER-ZIR will do this better, of course. Still that should not detract with what we are experiencing here.

Is this champagne on a beer budget?

And maybe this is the hardest choice of music to use. The ultimate test of playback quality? It's an orchestral work which has underpinnings of the whole classical music history. All real instruments! We are going old-school on the Bax. We are demanding everything from it.

The main title theme is a great place to start. That's right when in doubt start at the beginning! I don't think I will be alone in describing this one opener as brash. It's a wake-up call, letting you know your about to witness an exciting film. Laughably it's combining the most intense music ever with the Bax. I will not lie it was a little much. Just the opener was an ear-full. The rest of the album was great, the way the strings are portrayed is special. I actually think that this playback would be fine for even the snobbish-Orchestral-snobs. Though "March of the Resistance" was also borderline intense......if anything it has you lower the volume. It's kind of this double edge sword in that the same forwardness and detail can be exciting, but in the few areas it's slightly too much. But only on this album? Meaning I searched and searched for this style of playback and had absolutely no issues with anything at all. I'm simply pointing it out just in case the opening of Star Wars is your favorite song ever.

The Music:


DCD-Anastasis 44.1 kHz - 24 bit
This is kinda my go-to IEM review album. It's important as it has electronic and world instruments as well as vocals. Amnesia is the 4th song and a great test of instrument separation. It also has a nice piano and sweeping synth washes. Here
Brendan Perry
takes hold with the vocals coming in at the 1 minute 12 second mark. Though what's special here is the mood leading up to the vocals.......and that the vocals are seemingly flowing and one with the music. What's fascinating are the delays, primarily on the vocals. The Bax captures the essence of the reverb. But more than that his voice somehow pushes through, and we hear every nuance and character he portrays. I can't help but think the Bax has gone to the full-extent to replay the mood. There are very small ways he does the "s" sounds and the way they are enhanced by the reverb. While the bass is absolutely there, it's exactly at the right tone, never too much. It's probably the openness and wide soundstage that makes this really work? Even at the very start of the song a metronome of a single string being plucked is our best introduction and surprisingly takes us through all the way (almost) till the end. Somehow we acclimate to the tone and it never becomes annoying, even though you guess it will. The fact that the whole song rests in its pace. As the songs travels to climax, it stays in place as big off off-tuned big-horn samples come in to let us know they will be a style of drama for the song. It's as if the song is made of good and bad sounds. The unwanted sounds are short but effective. The greatest aspect (besides the vocals) are the violins and how they structure the song, like the glue. This is the quintessential song delineating the intoxicating and potent elixir the Bax is. When in truth, the single string metronome left us with only one minute left in the song. But since you heard it for 5 and a half minutes, you imagine it's still there. Such tricks are one of many DCD has up their sleeves!
Saw the demonstration
On remembrance day
Lest we forget the lesson
Enshrined in funeral clay
History is never written
By those who've lost
The defeated must bear witness to
Our collective memory loss
With every generation comes
Another memory lapse
See the demonstrations of
Failing to learn from our past
We live in the dream time
Nothing seems to last
Can you really plan a future
When you no longer have a past
Memories fall from the trees
Amnesia
Memories like autumn leaves
If we are subject to
Empirical minds
I wonder what lies beyond
Our memory's confines
If memory is the true
Sum of who we are
May your children know the truth
And shine like the brightest star
Memory, help me see
Amnesia
Memory, set me free
All my love and all my kisses
Sweet Mnemosyne
All my love and all my kisses
Sweet Mnemosyne
Sweet Mnemosyne
Songwriter: Brendan Perry
Theater of Tragedy- Assembly (Remastered) 44.1 kHz - 24 bit
This is becoming my TDSotM disk. Lol. Now I've made my move to another DAP. Typically you would think the bass heavy WM1Z would be too much for the TRN Bax, when in reality it's simply better. More bass, more soundstage, more excitement! Also typically the 1Z has a bigger treble soundstage, and sure enough you can tell as it's offering the treble elements way, way outside. We will concentrate on "Play" as it's such a fun song!
She fills the rich kitsch niche where she sits
Making chit-chat, this and that, from the bits
Consumed, perfumed, detracts the room despite
Glowing, knowing she can head for the limelight
She's too rich for her men
She won't stay, what a shame
A shame
She won't fit in his world
She exists for the game
A shame
Tricky repertoire
Words flying 'round
Picky seminar
Bound to be drowned in the sound
Sticky shirt and tie
Play 'Bottoms Up' in the bar
Icky, fly guy, why,
She's nastier by far
It's appeasing how she wanna flaunt her fur
His mind's but a blur
He's derailing from his train of thought
Doing not what he ought and was taught
He's trying to flick quick, but she waged the pages stick
Someone must have gone click, click, click, click
Can't see what's new, he doesn't have a clue
Of what to do with the woman he thought that he knew
She's too rich for her men
She won't stay, what a shame
A shame
She won't fit in his world
She exists for the game
A shame
So we are met with this rhyme, but the song doesn't take off until the guitar plays and
Liv Kristine Espenæs
starts to sing. Hard to imagine that she was simply a band mates girlfriend! Her career is long and here displaying talent in a very different capacity than the next (to follow) ToT album we will review. Often we realize she is expanding and learning new tricks. Here the backing tracks are many takes/overdubs of her singing. Sometimes overlapping.......yet always synchronized. This was the first album to showcase two guitar players! Vegard K. Thorsen makes his debut and I can only guess this giant guitar tone is 2 guitars. The TRN Bax makes the best of this style of guitar "blast"............basically it's huge and fortified with crunchy harmonics. The fact that this whole album is just that, an assemblage of different elements that go together to add shine and glamour. Sonic sexy-ness that never ends. The drums have a great phase-shift along with maybe every element you hear? Just the fact that we can differentiate between every sound. The pace is what this is all about. The Bax bumps and grinds its way to paradise. I can hear at least 5 guitars. So what they loose in guitar usage (playing time) they make up for in presence! Near the end
Liv Kristine Espenæs
makes a decision to sing along with herself. We hear it all. Her breath takes the cake making strange sounds, like accents all across the album. She doesn't just use words but makes the most of her auditory interaction with us. This song is really nothing.............it is so short you are dying to hear more. Lucky the song is only 4th song on the album! I could write about every song on this, but I'll stop.
Theater of Tragedy- Aégis 44.1 kHz - 16 bit
This album is special, not only with the TRN Bax, but just special anyway.
This is what Wikipedia says about it.
Aégis
is the third
studio album
by
Norwegian
gothic metal
band
Theatre of Tragedy
, and the last album of their musical period defined by
gothic
stylings and
Early Modern English
lyrics.
So we find
Liv Kristine Espenæs
doing the female vocals and Raymond Rohonyi doing the male vocals. The band is on a trajectory away from heavy music, on their way to basically explode....and become nothing. They have explored their creativity and taken it to its final form. Often musicians will get bored and attempt to change with every album. The great part here is we find the band in rare form. Arguably the best album they ever made?
The male vocals are almost spoken, yet this approach...........actually works. The drums start off by showing us the most beautiful reverb ever, thanks to the TRN Bax. Such a spectacular intro and Raymond starts his half-singing. The break occurs and we instantly hear the chorus. Yet this really isn't the best part of the beginning of the album, it's almost a set-up for the next song.
Lorelei
Ahh. Are you on-board with me yet? The rhythm of the guitar setting the pace............much better than the drums here could ever do! The lead guitar making those memorable sounds. The fact that the band is so tight, the way they move into a slightly faster pace then slow-down again for the chorus. It's the hook, where we just wait and the song continuously unfolds, yet it's simply repetitive and barley changing, yet changing just enough. The guitar is way out to the right and left pushing the sound of the EST drivers with that subtle bumblebee tone!
Angélique
Another catchy one. You can't help but just to fall in love with this album. Notice the slight stereo embellishments on the drums. Yet nothing gets in the way of the chorus once more. Not super fast or slow......OK, yes, this is a style of slow.
Liv Kristine Espenæs
is so supportive and blended. Yet she really blossoms out creatively and become even more of the central figure of the band with later releases.
Aœde
It's important to note that the bass in this is very even handed and taut. An IEM like the EarSonics ONYX is a whole different sound with this song, making the bass just that much more profound and intense. While it's really comparing apples and oranges, which ever you choose, it's simply your style. This is maybe more accessible to the masses just the way everything has a balance?
You get the idea. This album continues and actually does get slightly heavier as it rolls on. Still moving and emotional, clear and enchanting. And the TRN Bax goes the mile distance taking your ears where they want to go. Finding even more sonic adventure, the album really even gets better? There is a balance here, there is a fidelity which seems like the producers intended during playback? Nothing is wrong, no bad timbre, just glorious tone, taking you away!
Within Temptation- Enter 44.1 kHz - 16 bit
Vocalist Sharon den Adel has been fronting the band Within Temptation since 1996 to this day. This being their 1997 debut album it's both showing the band's strength and could be viewed slightly amateurish? But most importantly it a perfect example for the Bax. We want to find an older album to see if we find involvement. We can hear her latent potential, that's often her trademark vocal tone we hear in later songs. The greatest part (besides her voice) of the is how the TRN does the bass aspects here. Full and separated from the mix, yet not disjointed or off. The band is almost stumbling with the tempo.................this doesn't sound like it's recorded with a click-track? Despite the issues there is a pureness, a purity to be found. The other charm comes from the strange use of instrumentation. They will often use a single instrument for a song ending, never found ever again anywhere. Kind of like they walked into the studio and simply picked up something and added a track, searching for professionalism. Still it is OK, the Bax makes it all flow. Ratings this record, it would probably get a 75% out of a possible 100%, that's simply the music, though the IEM replay gets 100%. Why? For being well rounded yet still totally exciting when the music takes you there. The trick is to simply forget about the IEM. We want the IEM to get out of the way, and not find its character bestowed upon the music in any fashion. That my friends is what the Bax does!
Still the band would go on to gain incredible success. Actually changing their sound and bringing consummate professionalism to the table in the end. Yet here we are slumming about, but fully entertained. It's almost like hearing a demo, or a rehearsal tape. Yet all and all it's an album finished well, and would be part of their success in their history. The trick here is the multi-track vocals. While some are her singing is found being back in the mix, though for the most part she is front and center. They would use keyboards here then progress to actual strings.............still wearing their vulnerabilities as artists. The drums get added attention as the album progress. 35 minutes in and we are still with it. The total run time is 45:45. This is obviously the final, and it sounds like the final song. All and all it was a grand effort for the Bax making a beautiful purse out of a sow's ear. Oh, one more song, so this IS the final? I hear they maybe saved the best for last? The vocals are incredibly reverberated, yet they seem to be correct. Also the bass here is panned in the center. They then add pianos to the mix, really trying everything for effect. Wow, the climax hits, this is loud/intense and worth listening to the whole album for. They really ended on strong points! The Bax is organic and natural, it's not like I listen to this often, but the TRN made it a memorable listen and I will not forget this single experience.
The EST Value:
Typically people will rate stuff depending on price. This means that (they think) high priced will sound better. When in fact price has very marginal influence on actual sound. Yes there is expensive amazing gear, but due to advancement of technology great IEMs are actually coming down in price. While EST drivers are all the rage right now, it doesn't mean saving up $600-$1000 to get into the technology is always the best way to go. This particular headphone is my introduction to ESTs, I don't have others for comparison. I have compared the TRN Bax against similarly priced non-EST IEMs to great affect.
What I'm getting at is many may not purchase the TRN Bax due to price. It goes with common sense to guess that TRN must be cutting corners somewhere to offer such an IEM at this price. And while $312.88 is not cheap, it's not the price of regularly offered EST driver sets. I have not found cost cutting issues with the sound or construction! We have a young company who has made their name in the value realm of our hobby. Stuff like questionable sounding (BA8) 8 BAs a side sets offered for only $145. So it goes without saying that such a product would seem too good to be true. Even I am totally surprised at the quality of sound in relation to cost. But this product is a winner, a carefully tuned masterpiece. A well thought-out and designed example of the IEM art. While it's still questionable as to the Bax total originality, the sound is one of a kind. It's guaranteed to sound more fun than the DUNU EST 112. And while I haven't heard the EST 112, the bass is one area TRN has put their effort into actualizing, and they have!
I mean that's the competitive nature of this business, find another companies product and copy/improve it and offer it at a lower price a year later.
THIEAUDIO Monarch- 1DD/6BA/2EST $769.00

THIEAUDIO Monarch Mark 2- 1DD/6BA/2EST $999.00

THIEAUDIO Clairvoyance- 2EST/5BA/1DD $739.00

THIEAUDIO Excalibur- 2EST/1DD/2BA $529.00

THIEAUDIO Oracle- 1DD/2BA/2EST $539.00

The Fearless Audio from 2019. Some may remember the expensive and controversial Fearless Paladin EST Series. While each version, the Lancelot, The La Hire or The Roland all offered/offer complete use of EST technology.
The DUNU EST 112- 2 EST/1BA/1DD $489.99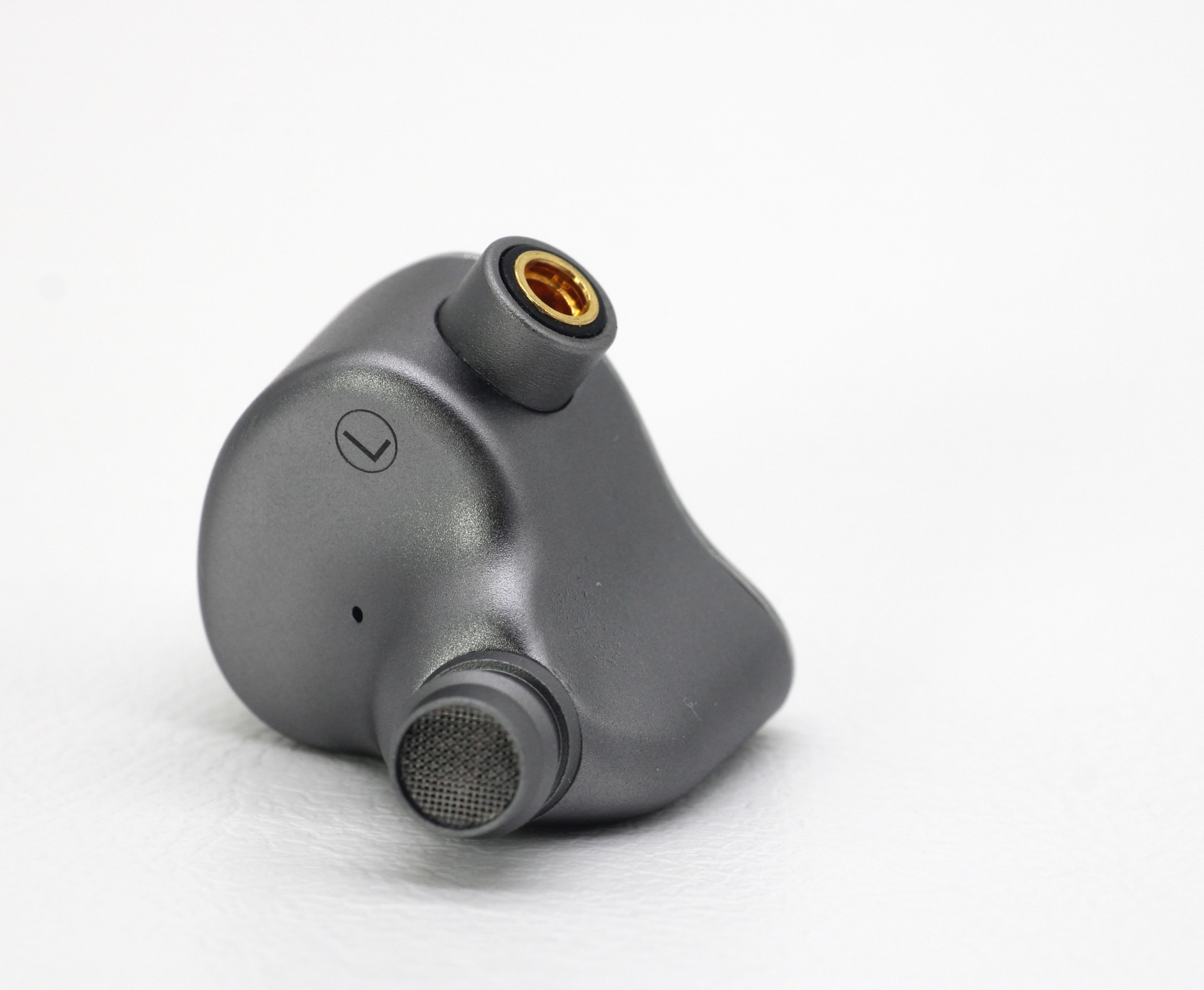 Photograph courtesy of Wiljen showing the DUNU EST 112 in the bottom side area.

Note how much nicer and permanent the nozzle screens are (being shower head design) in comparison to the wire or plastic mesh regularly used to cover the nozzle area.

Often Electrostatic Drivers are confused with Piezoelectric Drivers, though they are two different things.
Driver technologies available:
Dynamic driver or moving coil.
Balanced armature driver.
Planar magnetic driver.
Electrostatic or electret driver.
Piezoelectric driver.
Magnetostriction driver or bone conduction.
No Questions Asked:
Often what IEMs offer is a riddle..........the riddle asks conformity on our part. These are typically things we must adjust to make the IEM sound correct. These tasks (at times) can be somewhat self-imposed but more often than not are the IEM's fault. The TRN Bax never asks us for anything. It's low maintenance so to speak........it simply goes about its day playing what ever we want. The Bax never needs to find a specific music genre to play well, or demanding a special cable or amp. The Bax makes friends with all. Such harmony is rarely found if ever in the critical and demanding world of personal audio. These findings I'm pretty sure will be found by many. The treble roll off is just right, allowing small imaging to be formed on the outskirts of the soundstage. The pinna gain is just right, never hot or peaky, though it can get intense with the wrong music. The bass, while dynamic and authoritative is never too much......never stealing the focus away from the mids. And the soundstage is best of all, making room for all this to exist in. The tone offers crisp pace and correct decay.
Yes we are experiencing EST smoothness...........the single BA for the mids fills in those gaps flawlessly...........and the DD does it right, with pace and speed. While not the end-all, end-all in bass detail-texture, from what I heard it has the best bass in its price class.
Normally I don't hear a disjointed quality from Hybrid IEMs. After listening to a single DD all day, I can switch to the XBA-Z5 Hybrid and hear a little how it doesn't blend, but it's small. So maybe I'm not the best reviewer to explain the cohesiveness here? I keep looking for non-coherent qualities but they escape me? If anything, I like the separation offered and welcome any delineation of sound elements which come about. I mean that's why we are using a Hybrid, due to the sum of parts offering a quality that a single driver can't do. Better than that, we have three different technologies at work here, providing an experience which wins out over simpler ways.
Nothing overlaps or is hidden. Nothing is smeared or distorted. The rhythm and pace are optimized and totally rock. So it's technically correct and musical. But not only that, it's technically correct and musical with a broad range of music and equipment. I have never heard any other TRN products. Though after studying the product line, I'm pretty sure this product is special.
They seem to have hit the proverbial nail on the head.
Success is due to a mixture of components. The fit, the tune, the pace, the timbre and instrument tone. But there is also a magic here that I can't put my finger on? Maybe it's just great FR? It's most likely just good FR.
Ending:
If TRN went out and attempted to build a great TOTL Flagship IEM, that's what they have done..........MISSION ACCOMPLISHED. This IEM I wholeheartedly can recommend freely with out reserve. It's tuned correct, offers a high-end cable and is built fabulously. It's priced at a value, but sounds like a million! The TRN company should be proud of itself and this new achievement.
Disclaimer:
These are one persons thoughts and ideas, your results may vary. The TRN Bax IEM was burned-in for 75 hours. Noticeable smoothness occurred with the bass and an increase in imaging was obtained.


Take note of the laser-engraved logo and blue TRN trademark.




This ends review.

Equipment Used:
Sony WM1Z Walkman DAP MrWalkman Firmware 4.4mm/3.5mm
Sony WM1A Walkman DAP MrWalkman Firmware 4.4mm/3.5mm
Sony TA-ZH1ES DAC/AMP Firmware 1.03
Electra Glide Audio Reference Glide-Reference Standard "Fatboy" Power Cord
Sony Walkman Cradle BCR-NWH10
AudioQuest Carbon USB
Apple iPhone
Last edited: