This is a review of the Blue Ever Blue Model 1200EX IEM's.
The Blue Ever Blue Model 1200EX was sent to me from Blue Ever Blue for free for the purpose of me making a review of them. I'd like to grab the opportunity to say thank you to Bentley at Blue Ever Blue for letting me try them out, THANK YOU!  
The Blue Ever Blue Model 1200EX is on sale at the Blue Ever Blue Model web store and the price at the time of this review was $130:  
http://www.blueeverblue.com/product_model_1200ex.html
But wait, there's more................there are a sale going on for Head-Fi members at this very moment:
There's a $31 discount for Head-fi members that last throughout 2016. This is available to Head-Fi members that purchase the Model 1200EX between November 10th and December 31st. All you need to do is purchase the earphone from their site and send an email to info@blueeverblue.com along with your Head-Fi username. Once received, they will issue a $31 refund making the final price $99.  
I'm not in any way affiliated with Blue Ever Blue.  
About Blue Ever Blue:
Blue Ever Blue is a US based company and this is what they say about themselves on their homepage:
"We are a Delaware USA limited liability company. Our administrative offices are located in Washington, D.C. Our products are designed in the United States of America and contract manufactured in China. Our earphones have HDSS® technology. Our objective: Deliver quality audiophile sound at a low price."  
About me:
I'm a 44 year old music and sound lover that changed my focus from speakers to headphones and IEM's about five years ago. At that time I realized that it wasn't realistic for me to have all the different setups that I wanted and still house a family of four children and a wife so my interest turned first to full sized headphones and later also IEM's.
 
My preferences are towards full sized open headphones and I believe that also says something about what kind of sound signature I prefer (large soundstage in all directions, balanced and organic sound).
 
My music preferences are pretty much all over the place (only excluding classical music, jazz and really heavy metal). My all-time favorite band is Depeche Mode although I also listen to a lot of grunge/indie, singer/songwriter/acoustical stuff as well as the typical top 40 music.
 
I do not use EQ, ever.
 
I tend to value function over form within reasonable limits.
 
I'm a sucker for value for money on most things in life Head-Fi related stuff is no exception.
Built and accessories:
The Blue Ever Blue Model 1200EX is a single dynamic in-ear monitor featuring one 9.2 mm dynamic driver.  
AFAIK it comes in two flavors: silver or dark. I've got the dark one.  
The build and design of the Model 1200EX feels very reliable. They're a bit heavy but that also adds to the impression of a very solid construction. The housings are all metal and do come across as very durable, of course only long time usage will prove if this is the case in real life.  
The non-detachable cable is of high quality with good flexibility and a quite low amount of microphonics. I've been using them straight down but they can also be worn over the ears if one chose to remove the earhooks. Unfortunately there's no chin slider on them so I had to make my own. The strain reliefs are in place in all the right places and the Y-split seems solid without being overly large. L/R marking is in black on black background so it's not very easy to spot but when you look for it you'll see it.  
The retail package is very nice for the price point as is the accessories which includes the following:
5 pair silicon tips
4 pair of ear hooks
1 case to store them in when not in use  
The Model 1200EX is slightly harder than average to drive but still worked very well with all the sources I've tried it with including cellphones. I don't find them to benefit significantly from a more powerful amplifier and they seem to work well with all the sources that I've tried them with.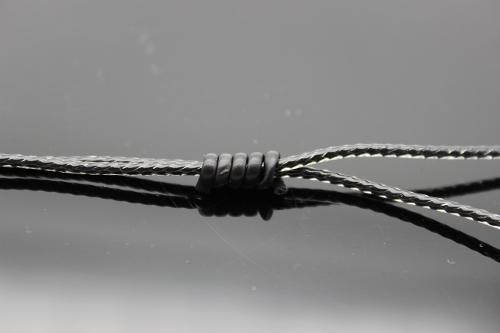 The specs:
| | |
| --- | --- |
| Housing | Metal alloy |
| Driver Unit | 1 DD, 9.2mm |
| Frequenzy range | 18hZ – 20kHz |
| Sensitivity | 110dB |
| Impedance | 16Ohm |
| Weight | 14 g |
| Cable lenght | 1.2m |
Fit and ergonomics:
The design of the Model 1200EX is kind of industrial looking to me but I like it a lot. They're also quite heavy, due to the metal housings, but that's nothing that I notice when wearing them in my ears. As a matter of fact I find the Model 1200EX to be very comfortable. One thing to notice is that they don't sit very flush to the ears so I wouldn't recommend sleeping with them.  
The included silicone double flange tips works well for me but the Model 1200EX seems very  sensitive on tips and fit (especially for bass reproduction) and I ended up using them with JVC Spiral Dot tips for best combination of sound and comfort with my ear anatomy.  
Isolation is about average, maybe even slightly below. With music playing I wouldn't say that isolation is a big issue with them though. They do also leak some sound out as my wife, who's apparently VERY sensitive to leakage, doesn't let me use them in the bed room.  
Sound:
I've used them back and forward in the last couple of weeks and they've played for well over 100 hours. I've used them both around the house and when out and about and I haven't really found any significant weaknesses in the way they're designed.  
I've used them mostly with my LG G5 phone, the bit Opus #11 amp/DAC as well as the Opus #1 DAP but I've tried them with a number of other sources as well and they've worked very well with all of them. I'd like to specify that's not often, if ever, I've come across a pair of IEM's that sounds this good such a variety of sources.  
As already mentioned I enjoy the Model 1200EX the most with double flange silicone tips.  
Demo list:
Mark Knopfler – Sailing to Philadelphia
Røyksopp (Feat.Susanne Sundfør) – Save Me
Ane Brun – These Days
Michael Jackson – Dirty Diana
Metallica – Die Die My Darling
The Peter Malick Group – Immigrant
Eva Cassidy – Songbird
Thomas Dybdahl – A Lovestory
Norah Jones – Don't Know Why
Celldweller – Unshakeable
Jack Johnson – Better Together
Seinabo Sey – Younger (Kygo remix)
Dire Straits- So Far Away
Passenger – Let Her Go
Lupe Fiasco - Deliver
Morrissey – Earth Is the Loneliest Planet
This is my first encounter with Blue Ever Blue and I've got to admit that I didn't know much about the company or their product before getting the Model 1200EX In so naturally I was very curious about the way they'd sound. I've had the Model 1200EX for about two weeks by now and they've played fro well over 50 hours.   
My initial thought upon the first listen with the Model 1200EX was that it is has very playful presentation, wide soundstage, a touch of warmth and a fantastic midrange.  
The sub-bass extension is actually quite good and the layering in the lower bass is also very good and the impact is good enough that I don't feel much lacking but at the same time I've heard many IEM's with more impact. Mid-and upper bass has good presence with excellent quality and there's very little bass bleed into the midrange and only on some recordings. The overall quality of the bass is really good and bass speed is excellent. Still, this is probably the area where some will fine the Model 1200EX lacking, for me it's not a problem but I would probably not suggest them to bass-heads or people listening exclusively to bass driven music. That being said I do find them to have enough bass presence for my preference to be very enjoyable with all kinds of music.  
The midrange is definitely the star of the show on the Model 1200EX, being a midrange lover this is a very welcome thing to me. The midrange is forward and highly detailed with an excellent natural sound. The upper bass presence is enough to give weight to the presentation and make it feel very life like. I really like the way the Model 1200EX combines speed and transparency in the midrange but still manage to avoid sounding clinical and unengaging. Male vocals and string instruments has enough weight to feel natural and female vocals are very enjoyable and non-fatiguing. String instruments do also sound absolutely fantastic with good weight and amazing timbre.  
The treble extension is good and feels perfectly in line with the rest of the presentation. Despite having good extension and not being very lush the treble never feels harsh or fatiguing to my ears but rather quite distinct.  
Clarity and micro details are very good as is transparency and resolution. I'm very impressed by how natural the Model 1200XE sounds and a good contributor to this is the great balance between the soundstages in all direction. Soundstage width is very good while depth and height is good giving a coherent sound in total that makes the overall presentation very life like with great timbre to the notes. Like I've already said the soundstage width is very good (almost on par with Havi B3 Pro1) and so is separation, this combined with an airy presentation that's very "out of your head" gives the Model 1200EX a quite unique overall presentation. Actually the whole sound signature on the Model 1200EX reminds me a lot of the kind of sound one usually gets from a pair of open headphones.  
The Model 1200EX sounds great with all music I've tried it with but in my opinion it, like pretty much all mid forward IEM's, performs its best with acoustic music like Mark Knopfler, Leonard Cohen, Melody Gardot and Ben Howard.  
Comparison:
Please note that the comments in the comparison section are not in absolute terms but in comparison between subject A and B. This means (as an example) that if subject A is found to be brighter than subject B it does not necessarily mean that subject A is bright sounding in absolute terms. I hope this makes sense.  
These comparisons were done listening from my phone through the bit Opus #1 DAP.  
AAW Nebula 2 ($149)
vs Blue Ever Blue Model 1200EX:
The Nebula 2 is a hybrid using one dynamic and one balance armature driver. Compared to the 1200EX the Nebula 2 has a bit deeper sub bass, more mid bass presence and are overall warmer sounding. The midrange on the 1200EX is more forward and has much more air in the presentation while the Nebula 2 is slightly V-shaped and thicker sounding. The 1200EX does also have a fuller and smoother treble. The 1200EX has a larger soundstage and better clarity. The Nebula 2 does actually sound a bit congested in comparison.  
Fit is equally good for me with both of these.  
Build quality is also good on both but I prefer the cable on the 1200EX.  
The Nebula 2 is a bit harder to drive.  
Isolation is similar, and quite low, on both.   
Moni One ($99) vs Blue Ever Blue Model 1200EX:
The Moni One is another well balanced and fairly neutral sounding IEM that uses a driver configuration consisting of one dynamic and two balance armature drivers. Compared to the 1200EX the sub bass on the Moni One doesn't reach as low and has less impact, it does also have less mid bass presence. The Moni is leaner and cleaner but also thinner and brighter in its overall signature. The Moni is actually more even in the frequency response while the 1200EX has a more forward midrange and especially more presence in the lower mids. The Moni One does have a slightly higher resolution and a bit thinner treble while the 1200EX has better 3D presentation, timbre to the notes and more natural vocals.  
Fit is equally good for me with both of these.  
Build quality is also good on both but the Moni One offers a detachable cable.  
The Moni One  is slightly harder to drive.  
Isolation is similar, and quite low, on both.  
Vsonic GR07BE ($129) vs Blue Ever Blue Model 1200EX:
Compared to the 1200EX the Vsonic's has less sub bass impact and depth. It does also have less mid bass presence and an overall thinner sound. The midrange on the Vsonic's are more recessed and vocals on the 1200EX are more forward and fuller, richer and overall more natural sounding. The treble on the 1200EX is fuller and smother end they does also have a more 3D presentation.  
Fit is equally good for me with both of these.  
Build quality is better on the 1200EX.  
The GR07BE is slightly harder to drive.  
Isolation is similar, and quite low, on both.  
Havi B3 Pro1 ($59) vs Blue Ever Blue Model 1200EX:
The Havi is another mid centric IEM that uses dual dynamic drivers. Compared to the 1200EX the sub bass on the Havi's doesn't reach as low and has less impact, it does also have less mid bass presence. Both have excellent midrange but the 1200EX is much fuller and vocals on the B3's do actually sound a bit nasal and hollow in comparison. Overall midrange quality is actually quite similar with an effortless and liquid presentation but the 1200EX has a good deal more weight to it. The treble is fairly similar on both. Havi is a bit smoother all over but with less clarity and lower resolution. Both of these offer great soundstage width and 3D presentation with the B3's pulling slightly ahead on the former and the 1200EX on the latter.  
Fit is equally good for me with both of these.  
Build quality is better on the 1200EX.  
The Havi is a lot harder to drive.  
Isolation is quite similar, and a bit lower than average, on both.  
Summary:
The Blue Ever Blue Model 1200EX is an amazing, and quite unique, sounding pair of single dynamic IEM's and I think it's probably the best performing single dynamic's I've ever had the pleasure of listening to, beating other excellent performers such as the Aurisonics Rockets and VE Duke. I really enjoy how fun they are to listen too. Normally in here when people talk about a fun signature it's a bass tilted one but, as I'm sure you've understood by now, this is not the case with the Model 1200EX. Its "fun" comes from being playful and lively while never crossing the point of being fatiguing. Best way I'd describe it is like a calf jumping with joy when getting let outside in the springtime, I hope you get the picture
In addition to have a signature that's pretty spot on for my preferences the Model 1200EX also have great build quality and a design that I like a lot. If there's anything missing I'd say that I could live with a bit more sub-bass impact and detachable cables are always nice, especially on offerings in this price range but both of these would be "nice to have" rather than "need to have" for me.  
Despite all multi driver offerings popping up everywhere these days stealing the attention I can't help feeling impressed and also a bit relived by the fact that Blue Ever Blue has managed to produce a single dynamic that keeps up with pretty much everything I've heard at its price point, even offerings with multiple drivers, and by doing so shows that tuning is at least as important as how many drivers one manage to put in a shell. For those of you that know me you also know that I'm a huge fan of the Havi B3 Pro1 and the Model 1200EX to me feels like a direct upgrade to my beloved B3's. They both have an excellent midrange as well as a very wide soundstage but the Model 1200EX also has more weight to the notes and more bass slam making them an even better all-rounder. They do also manage to maintain everything that I love with the B3's. It's taken me over 100 IEM's to find a direct upgrade to the B3's without breaking the bank so please forgive me for being a bit enthusiastic in this review but I really didn't see this one coming. Once again I'd like to thank Blue Ever Blue for letting me try out the Model 1200EX and not the least for making it in the first place.   
For more information and discussion about the Blue Ever Blue Model 1200EX feel free to visit the dedicated thread her:  
http://www.head-fi.org/t/827410/blue-ever-blue-model-1200ex-impression-thread#post_13047941