This is basically an extension of the sub-$100 amp shootout as the evaluation and scoring method are essentially the same. As always, this comparison is only a subjective evaluation and nothing more than my own personal opinion.
Evaluation Method
Sources: Sansa Fuze via custom LOD (around 0.5Vrms)
IEM used for evaluation: HifiMan RE0, Etymotic ER4S and Shure SE530.
Amps are all in their lowest gain setting. Volume matched using a SPL meter to ≤1dB via white noise and double checked with a multimeter. They are also RMAA tested (loop-out / loop-in though Tone Well UT24 audio interface with a 16ohm load) but only result of significant will be discussed. Output impedance and power are measured using fixed loads and 1kHz tone. The reference amps used for the elevation are Meier Audio StepDance and NwAvGuys' O2 (built by JDS Labs), both excellent amps of their own.
(Note: it would seem strange that O2 is both the reference amp as well as an amp under review, but this is only because of how good I think it is.)
Criteria
[Build Quality]
Build quality covers not only housing, but also material, design, size, etc – plastic is not necessary rated worst than metal. Functionality is the key here.
[Power]
Current are measured (volume matched driving fixed 47 ohm and 23.5 ohm load, 1kHz pure tone) to multiple with voltage for power.  Most amp have more than enough power for typical IEM, the important point is having enough voltage for high impedance IEM (>100 ohm) and enough current for low impedance IEM (<16 ohm). However, only two typical numbers are covered here.
[Power Drop]
Calculated from the data generated in the Power measurement, this percentage shows how much power is lost when switching from a 47ohm fixed load to a 25.5ohm fixed load. Ideally a lesser power drop indicates a more consistent amp's performance between different load situations. It also shows the direct negative impact on power delivery caused by higher output impedance.
[Output Impedance]
Calculated from the voltage difference between no-load and a 47 ohm fixed load with a 1kHz pure tone. Less than 1 ohm is best for most IEM as it has the best dampening and doesn't affect the FR curve of the IEM.
[Portability]
Size and weight comparison. Ratings are given as relative. From Biggest (1/5) to smallest (5/5)
[Speed]
Related to transient. Mainly about the sense of attack - especially noticeable on bass note.
[Transparency]
Not related to coloration, transparency is used as the sum of the openness and layering of the amp, which are what essential to produce the depth of the sound field
[Soundstage]
If transparency is the depth, then soundstage is used as the sum of width and separations. Together, they define the overall resolution of the amp.
[Coloration / Neutrality]
This can be either pure measurement (FR curve) or perceived difference in presentation. O2 will be the main reference here.
[EMI]
Tested using a cellphone receiving call in very close proximity.
[Hissing]
How well the amp behaves with hiss prone IEM, mainly SE530.
[Remark]
Odds and ends that are not covered on above.
Rating
Out of a full mark of 5 points
● = 1 point
◎ = ½ point
○ = Zero point
i.e. ●●●◎○ = 3½ points
---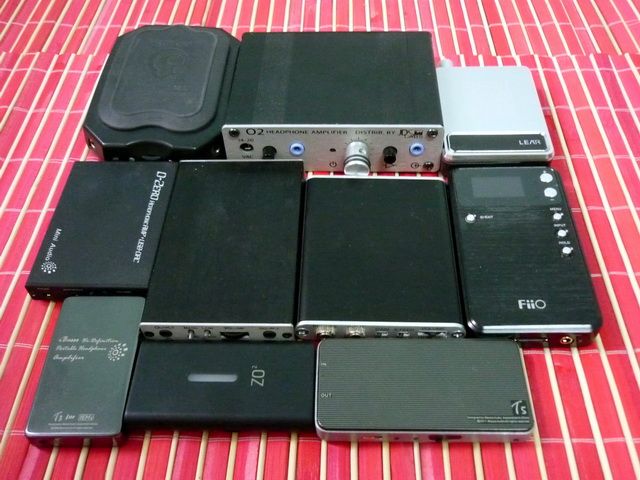 Obsession can be quite costly.
Content
Take note the grayed out amps in the list have been previous reviewed in the sub-$100 shootout and are mostly quoted from previous review with updated measurements.
(In alphabetical order)
digiZoid ZO2.3 ($119.95)

FiiO E12 Mont Blanc ($130)
FiiO E17 Alpen ($140)
HeadRoom Total BitHead ($150)

iBasso D-ZERO ($109)
iBasso T3 ($119)
iBasso T5 ($169)
JDS Labs C421 – AD8620 ($189)
JDS Labs C421 – OPA2227 ($184)
JDS Labs C5 ($189)
JDS Labs Objective 2 ($144)
Lear FSM-01 ($130)
Leckerton Audio UHA-4 ($199)
Edited by ClieOS - 7/11/13 at 7:59pm