*** You may see other good earbuds in my
Earbuds buyers guide
.
Introduction
Thanks to Fang
, who sent me the OK1 and OK2 samples for review. Sorry, I've not reviewed OK2 yet.
Upside-down review:
I start from pics, conclusions and preliminary reports (which may be updated later).
Comparison-based review:
Rather than describing OK1 stand-alone, I compare it to other headphones, mostly to PK1.
Live review:

I decided to add new parts as they come, rather than to post a long story once. Subscribe to this thread for upcoming updates.
COMPLETED.
Pics and build
OK1 has a hole covered with a tiny grill. Screw a tube with an eartip into this hole to convert earbud into canal phone.
Top left: OK1 with donut foam (left) and with eartip attached (right). Bottom left: PK1. Bottom right: OK2 (same build as OK1) without foam (left) and with tube attached (right). Top right: different eartips.
OK1 is built the same as PK1: very simple and solid. OK1 is slightly deeper. It has a new cord which is covered with something like rubber instead of plastic. I hope, it will keep its flexibility at a cold weather better than PK1s cord did.
Summaries and conclusions
OK1 is a new earbuds superstar!
OK1 sound quality (in earbud mode) shocked me as much as PK1 shocked me year before. Yuin engineers outperformed themselves - OK1 is obviuosly more refined than PK1. I remind you that most of head-fiers consider PK1 to be the best earbud ever made.
I do not see OK1 to be successor to PK1.
They are too different, both have their strengths and may suite various tastes, genres or goals. I really hope that Yuin will not retire PK1 in favour of OK1, but rather expand their line-up.
OK1 is an earbud first and foremost.
Its "canal phone mode" can not replace the good canal phone or IEM.
OK1 placement in my personal headphone ranking chart
I owned or listened to 90+ headphones and I ranked some of them in the chart, which you may find in my
Earbuds buyers guide
.
Performance: Terrific.
OK1 certainly takes top place in Mid-Fi category and almost intrudes into the Hi-Fi category. This is terrific performance for earbud! Probably, some synergetic amp may even get it further, into Hi-Fi.
Value: Incredible.
Imagine a very good can (say DT880), which is small enough to get it anywhere and comfortable enough to disappear. It provides a quality sound along with this unusual feeling "Look, ma, no headphone!".
OK1 to PK1
OK1 has analytical style, presenting precisely each instrument, note and detail. PK1 presents music in a whole, focusing on an energy and a mood of the song.
OK1 has very even tonal balance, while PK1 seems to have V-shaped frequency response with elevated bass and highs.
OK1 is accurate and delicate, while PK1 is more fun and lively.
OK1 is neutral, while PK1 has its own character.
Do I like OK1 more than PK1?
I respect technical abilities of OK1 very much. But I am not sure yet that I would retire PK1. I have to compare OK1 and PK1 on my favorite genres to make final conclusion. Right now I use PK1 + ER-4P bundle for portable needs: PK1 for fun (say rap) and background listening, ER-4P for critical listening (say jazz) and isolation. Will OK1 replace this pair or PK1 at least? I'll let you know.
Update:
I decided to replace PK1 with OK1 and KSC-75. Now my portable set inlcludes OK1 as all-arounder, ER-4P for isolation and KSC-75 for fun.
Update: I returned to PK1.
I bought Sansa Clip and found that it is capable to drive PK1 and OK1. So I replaced my previous ultraportable rig (Shuffle + PK2) with Clip + PK1. Why PK1? Because it performs better at noisy outdoors. It also serves better for background listening. These needs are 90% of my earbuds listening.
Buyers guidelines
If you want to choose between OK1 and PK1 then the following tips may help. It shows you no direct correspondence of something to OK1 or PK1 independently, but rather shows you the type of relation. Well, look at the first line. OK1 sound signature is not same to ER-4S and PK1 is not the same to E500. But, if you prefer ER-4S to E500 then you likely would prefer OK1 to PK1.
OK1 <-> PK1
ER-4P/S, Shure E4 <-> Shure E500, Westone UM2
D-Jays, Ultimate Ears Studio.fi 3 <-> CX300, V-moda Vibe
PX100 <-> PortaPro
DT880 <-> DT770, DT990
HD595 <-> HD485
classic rock, jazz, vocals, classic, trance <-> fast rock, hip-hop, dance, ambient, new age
critical listening <-> background listening
louder listening <-> quieter listening
quiet environment <-> noisy environment
more powerful source <> less powerful source
Comparison methods
How I scored
Comparing two earphones by any parameter, I determine the winner and then evaluate its advantage using the scale from 0 to 3 points:
0
- Both cans are equal. They may sound differently, but no one is better.
0,5
- The advantage is arguable or negligible.
1
- The advantage is obviously here, but it is not valuable for me. I like how the winner sounds, but I also may live happily with competitor. I am not willing to spend time and money upgrading to better one.
1,5
- The advantage has some value for me. I am still able to listen to looser, but I am missing for winner. I will upgrade the looser to winner if someone makes a good offer, but I will not pay a lot of efforts to upgrade seeking.
2
- The advantage is very important for me. I will do my best to get the best of two. I will avoid listening to looser.
3
- The comparison is not fair, the winner and looser are from different leagues.
How I compared OK1 and PK1
Stock versions.
My PK1 is recabled so I asked my friend to borrow me his mint condition PK1 for test. I tested both earbuds with stock donuts foams.
Attention to fit.
Earbuds sound is extremely dependable on fit and slight movement changes sound a lot. So I carefully reproduced most similar fit possible during the test.
Cans burning-in.
I remember that my PK1 took much time to settle its sound. So at first I burned both OK1 and PK1 for 100 hours total with pink and white noises.
Mind burning-in.
I used to PK1 very much, so I listened to OK1 long enough to accommodate ears and mind to new earphone.
Part 1: Comparing OK1 to PK1 straight out of iPod Classic
Both of these earbuds require powerful source to open their strengths. It does not have a sense to pay their price if your source is weak. I consider iPod Classic or Nano or Cowon D2 as a minimal (in terms of output power) sources for OK1 and PK1. I choose iPod Classic.
Sensitivity: +0,5 to PK1.
PK1 is well known as hard-to-drive earbud, but (surprise!) OK1 sounds even quieter. This is not problem for me, but your mileage may vary.
Bass depth: +1,5 to PK1.
I tried different in-ear positions with OK1 with no luck - its deep bass is rolled off indeed comparing to PK1. I hope that this is a matter of source power and amp will improve the OK1 deep bass response.
Bass weight: +1 to PK1.
PK1 has more authority here, but I can live with OK1 bass weight easily. I can not say that OK1 is bass shy - its bass quantity is rather neutral, while PK1 bass is pretty big for earbud.
Update 2:
Please, do not consider stronger bass impact of PK1 as a straight advantage. PK1 bass impact may be too heavy sometime, bleeding into and warming up the midrange. If you want more bass from OK1, then you may replace donuts foams with standart foams (without hole). You may raise it even more, using
Sennheiser MX75 foams
. So it is easy to tune OK1 bass response for your tastes. In contrary, you may find PK1 bass impact too strong even with donuts foams. So there are few opportunites left to manage with PK1 bass weight.
Bass quality: +1,5 to OK1.
OK1 bass is faster, tighter and more detailed. PK1 bass is a bit slow and blurred in comparison.
Mids quality: +1 to OK1.
OK1 mids are more neutral and are very distinctive - I hear every singer rather than choir in a whole. PK1 mids are warmer and less detailed. PK1 mids are more forward also, closer to you.
Highs quality: +0,5 to OK1.
Update 1:
At first version of the review I gave +1 to PK1, later I carefully listened to drum solo test track and revised the score. Highs of PK1 are stronger, OK1 highs are softer and more detailed. Due to more agressive highs, PK1 sound more lively with fast rock, while OK1 sounds a bit boring. On the other hand PK1 may produce some sibilance on vocals, which OK1 never does.
Details: +1,5 to OK1.
OK1 is really great on details (think Etymotic style) while is never harsh. Nice work! PK1 is more relaxed and forgiving.
Sound stage size: 0.
PK1 sound stage has less depth, but seems wider. OK1 has more depth in sound stage. Both earbuds do not isolate, so it is interesting how their sound interact with the real sounds surrounding you. It seems like PK1 surround you with its own sound space, pushing the real one to the background. In contrary, OK1 embeds its sound into the real space, mixing both worlds. Some may prefer PK1 style for deeper diving into the music, some want an illusion of band in your room which OK1 provides.
Instrument separation: +1 to OK1.
OK1 produces every instrument separately, with great accuracy and in its own place. Such analytical style is great if you like delicate or complex music. PK1 produces music in a whole and provides more drive, energy and fun. But it easily gets messed when the orchestra plays all together.
Comfort: +0,5 to PK1.
As you can see on pics, OK1 is a tad bigger (deeper). They do not "disappear" in ears as easily as PK1 does. On other hand, OK1 fit is more stable in my ears.
Looking for summary?
Look to the begining of the post.
Part 2: OK1 vs PK1 amped by Echo Indigo DJ
I choose Echo Indigo DJ due to the transparency of its headphone amp section. It is powerfull enough for OK1/PK1 and has almost no coloration. It is a most neutral amp among other options I or my friends have: Corda Move, stock iBasso D1 and D2, Total BitHead, Audio-Technica AT-HA2, PA2V2.
Bass depth: +0,5 to PK1.
So, there are expected changes comparing to iPod. OK1 goes deeper with Echo, almost as deep as PK1 does.
Bass weight: +1 to PK1.
And, unexpectedly, this remains unchanged, the result is the same as with iPod. As I said before, this is not the straight advantage. Sometime PK1 bass is great for fun, sometimes it is too owerpowered.
Bass quality: +1,5 to OK1.
For more objectivity, I tested both with sine waves test tracks. PK1 produces a lot of audible distortions when playing anything below 100 Hz, while OK1 plays pure tones down to 35 Hz. I hear the sound from both below 35 Hz, but it is hard to call it "a tone". It sounds like the slowly rolling wings of the big fan.
Mids quality: +1,5 to OK1.
When amped, PK1 mids have excessive warmth, are slightly nasal and less detailed in comparison. Voices are sibillant sometime. OK1 mids sound open, clear and very natural. With vocals, OK1 creates much better illusion of a singers presence than PK1 does.
Highs quality: +1 to OK1.
Amped, PK1 highs become too strong in comparison, more sibilant on vocals and piercing on fast rock complex passages. In contrary, amplification helped OK1 to sound more lively on highs, so it does not sound boring with fast rock anymore.
Details: +0,5 to OK1.
Amped PK1 gets closer to OK1 in reproducing tiny details. They are masked by PK1 powerful bass and argessive highs, but they are definitely there. I discovered them easily with some Diana Krall tracks, which are quite delicate and not overloaded with an instruments.
Sound stage size: +1 to PK1.
Amped PK1 adds good depth to its wide sound stage, so it beats OK1 here. It is a bit confusing, since PK1 presents instruments closer to you than OK1. But at the same time PK1 produces the sense of the really big space beyond the instruments. OK1 sound stage size is not small at all, it is always out of the head. But it is easy to detect its limits, which are not easy detectable with PK1.
Instrument separation: +1,5 to OK1.
With PK1 instruments are bigger, closer and their positions are not well defined. OK1 places the instruments precisely enough to outperform many good
full-sized cans in this area.
Part 3: OK1 vs many, "no rules" comparisons
OK1 vs DT880 (and PK1 vs DT990)
During the tests, I recognized some interesting simillarities. Based on my memories, I found OK1 very simillar to Beyer DT880 and PK1 to ... yeah, DT990. When I posted these thoughts to the thread, I've got some replies with doubts. So I decided to check my thoughts and borrowed DT880 and DT990 from my friends.
Well, for me
OK1 and PK1 sound signatures are very close to those of DT880 and DT990 correspondingly
. Of course, they are not the same cans and there are some differencies:
Yuins have mids more forward
Beyers have stronger highs
Beyers are smoother
Beyers have bigger soundstage
But all of these differencies are not huge, while overall impressions are too close. How are they close? The distances "OK1 -> DT880" or "PK1 -> DT990" are like those:
ER-6i -> ER-4P
SR80 -> SR225
KSC-75 -> KSC-35
HD555 -> HD595
AD900 -> AD1000 or AD700 -> AD900.
Yes, Beyers are a bit better.
OK1 vs Audio-Technica ATH-CM700
CM700 is a very good earbud, surpassed only by PK1 before, see more in my
Review of the 7 best earbuds
.
OK1 wins CM700 by a good margin:
CM700 sounds flat, dry, shrill, ringing.
OK1 sounds 3D, warm, smooth and mellow, muffled but detailed.
OK1 vs Etymotic ER-4P
At first I tried to compare OK1 vs ER-4S. Immediately I found that it is not fair comparison, so I shifted to ER-4P. The comparison results are:
OK1 has more bass weight, ER-4P goes deeper.
OK1 vocals seems to sound more natural, ER-4P vocals are a bit dryish.
OK1 highs are much softer, which is a matter of taste rather than an advantage.
OK1s sound is dark and veiled in comparison. ER-4P easily beats OK1 in terms of transparency and instrument separation.
OK1 sounds more open and has wider soundstage.
Details are on par, but ER-4P sounds smoother.
I consider ER-4P to be a better can, while OK1 is pretty close.
Based on my memories, OK1 surpass ER-6i, Shure E4c, Westone UM2.
Part 4 - canal phone mode
The idea of convertible earbud is great. I really hoped for OK1 to be an ultimate solution - earbud and canal phone the same time.
I hate to say that, but current implementation is useless.
1) It is incomfortable, because the tube with eartip is centered. There was more comfortable solution from Sony where ear tips were located at the front edge of the earbuds: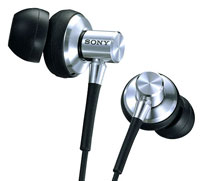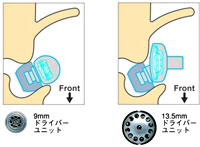 Sony EX-90 was not convertible, though. It did not isolate also and its SQ is not even close to OK1.
2) There is no isolation. I tried different tips, including biflanges and UE foams. I jammed them into my ears with no luck. The back of OK1 is open, so there is no isolation to talk about.
3) The better seal you reach, the worse sound you get. I reached the best seal with UE foams and pretty good seal with biflanges. Most of the highs died, while the rest sound false. Bass became boomy. CX300 or JVC Marshmallow sound better in comparison.
If you don't seal the ears with OK1s ear tips, then its sound is quite close to earbud mode, just slightly worse. But why to use the tips at all? I have the only so-so answer. You may hook OK1 eartips into your ears to provide more stable fit. It will better keep its position and less likely to fall out if you are jogging, f.e.
More on the subject
You may see other good earbuds in my
Earbuds buyers guide
.
And recommendation on cushions for all of them