I keep on liking these headphones, that gratify me with a good deal of good music.
But I don't like at all their little wings, Audio-Technica style: they press too much on my parietal bones and don't give enough support. So, after some time, they tend to slide down and to compress the upper edge of my ears.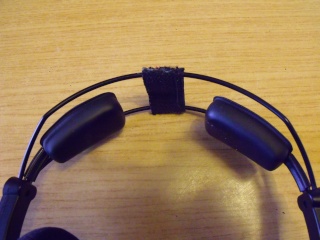 So I built a rough "add-on", that makes the cans much more comfortable for me. Even after wearing them for hours I don't suffer from the previous drawbacks any more.
An important detail: the head is in touch with cotton fabric, now, that allows free transpiration and cooling.
Here are the "ingredients" of my recipe 
- a small black sock (clean!)
- a roll made of cotton fabric
- duck tape
- a strip of spongy cotton rag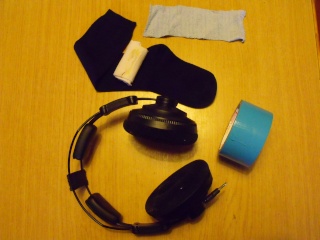 I placed the roll between the wigs and fixed it with tape on upper and lower side.
Then I attached the strip of  rag  on the low side.


And, in the end, I wrapped everything with the sock, fixing it with some black wire at its extremities. 


P.S.
The piece of fabric that joins the two steel arches damps their tendency to vibrate.