Just got back from the audiologist. I went to a place called
Today's Hearing
out in Katy Texas (outskirts of Houston). If any of you are from around here and have questions about impressions, questions about custom IEMs, or questions about your hearing, GO SEE MARY SUE HARRISON. She knows her stuff, I was highly impressed. She has done impressions for all of the US's astronauts, Bono, Dave Matthews, a couple NASCAR drivers and tons of other reputable musicians/professionals.
At first she was very cautious and asked a lot of questions, giving me warning that with any IEM if the volume is too loud even for a split second I can seriously damage my hearing. I told her how I treat my ears, as any audiophile does (I've never turned my iBasso D1 past 9 o'clock!).
Dr. Harrison works closely with
Sensaphonics
, a name I haven't heard on Head-Fi very often. She has a pair of their 2X-S custom IEMs, and she showed them to me. They are IMPRESSIVE! Instead of the acrylic material that the cheaper livewires are made of (and superfreqs. she said westones are made of vinyl, we didn't speak of UE), they are made of silicone, and looked very comfortable. The build quality also looked superb, as well as the cord quality. Unfortunately they're in a larger price segment, and will take you back $750.
So Dr. Harrison said she'd heard of livewires, but we looked at the website and she commented "it looks they're basically hearing aids without a microphone, but you can't beat the price!" My thoughts exactly.
Impressions took 10 minutes tops. I was talking the whole time, didn't try any special technique to hold them in place. The silicone that they shoot in your ear really comfortably blocks out sound, which is probably why i lusted after those sensaphonic iems so badly. Here's how they turned out: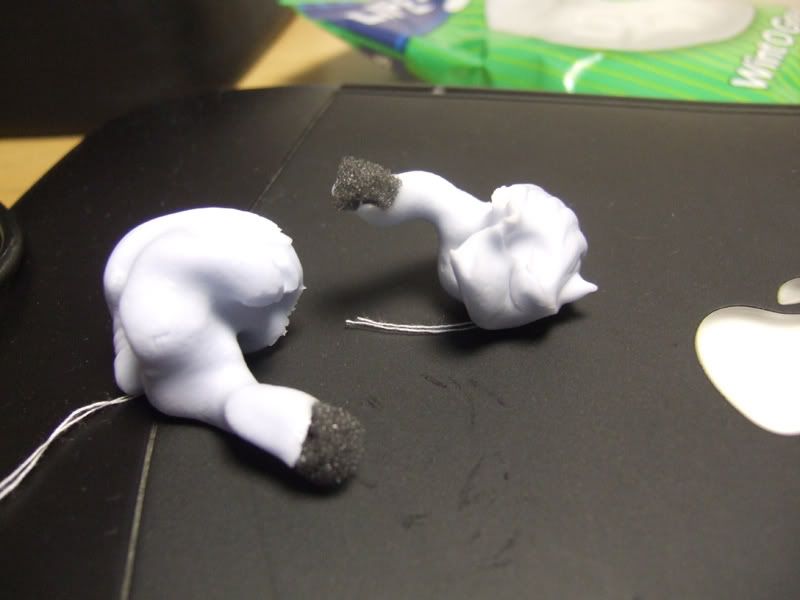 I'm sending them to EarPeace tomorrow with my Livewires order. Still undecided on color. I'll probably just do red/blue with black.