Yes, it's '70s isodynamics time again. So far I've found only one 'phone of this type that in stock form was ready for the future Head-Fi market, and that was the 1978 North American (NA) market Fostex T50, but it was expensive, had limited distribution and was made in low numbers, at least for the NA market [long story-- we'll tell you in the big Ortho thread]. All the others I've come across so far have needed extra mothering to sound the way they should, which is, usually, just this side of a good electrostatic. What would happen if Matsush'ta, one of the world's biggest electronics/electrics combines, got into the act? Surely they'd bring something new to the marketplace.

Turns out they did. Thanks to HF member tyre, behold the EAH-830:




It was announced to the world impressively in an article in the May 1978 AES Journal: AES E-Library: Linear-Drive Headphones with Eardrum Response by Sakamoto, Naraji; Kusumoto, Syoichi; Matsumoto, Takashi; Hasegawa, Mitsuhiro
How does it differ from the Fostexes and the Yamahas, all of which arrived in '77 or the year before? First, inside it's square. Don't be fooled by the round damping pads.

This is the back of the driver assembly: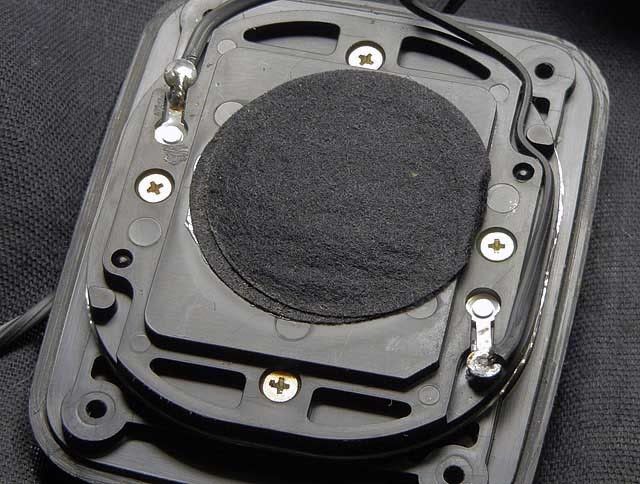 When that is unscrewed, you have, below left, a square serpentine style diaphragm between square magnets. Below right, the diaphragm of the dreaded 2002 Fostex T50RP. Eerie resemblance, huh?




Below left, a closeup of the aluminum "voice coil" tracks. Note the embossed circles to stiffen the center of the diaphragm, presumably so it doesn't "dome" as high in the center, thus allowing the magnets to be a little closer together. Note also the black felt buttons in the center of the magnets-- do these gently clamp the center of the diaphragm or just act as soft bumpers for excursions that are beyond respectability? Below right, a scan of a naked EAH-820 diaphragm with its dazzling streamline moderne appearance. Looks like part of a Radio City bas-relief. Thanks to new member Icsaszar for the scan.



DETAIL OF ABOVE PHOTO.



SCAN OF EAH-820 DIAPHRAGM SUBMITTED BY HF MEMBER ICSASZAR


Cool, huh? Looks just like one of Infinity's EMIT tweeters, miniaturized. The way it's all put together is unique. Tomorrow I'll add some more bla bla bla and we'll dig into it.
Edited by wualta - 5/24/12 at 12:31am