Joined

Dec 9, 2014
Posts

306
Likes

200
Just got it a feaw days ago from Shenzhenaudio Co. Yulong is one of those old chinese companies whose products deserve attention, so I was intrigued in their new All-in-One system, positioned as a follower of the previous DA9 model. So, DA10 is received and installed in my Type 45 triode single ended system armed by 10' paper cone fullrange speakers (97db at 8 Ohms).
I used Sundaware D100PRO as a file streamer (via AES\EBU), Teac VRDS 10 as a CD-DA transport (via COAX) and Asus Win10 64bit laptop + Yulong ASIO driver + Foobar2000 1.3.4 & JRiver 25 as a USB source.
Let's see if there is a progress.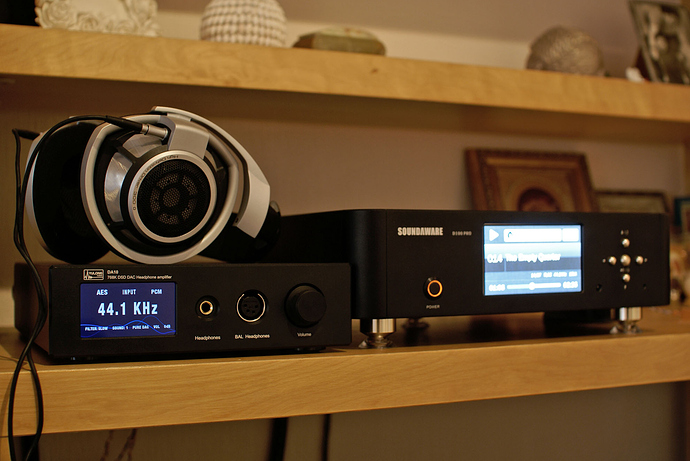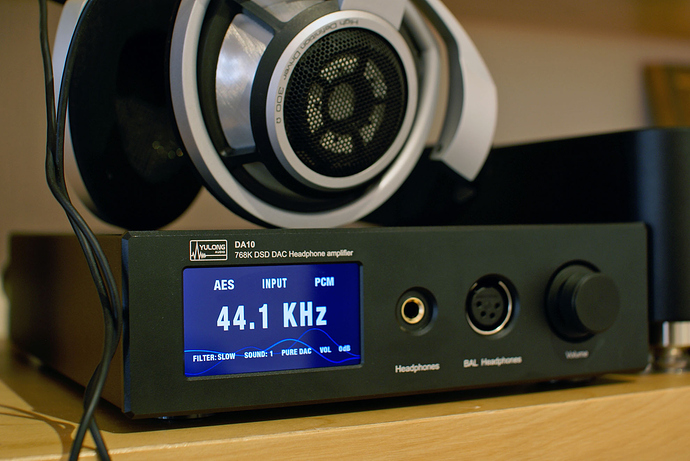 Behind Blue Eyes
The device is made in the same compact form factor as the previous model. This is a weighty fullmetal monolith, which will easy fit into your main system, and into any desktop systems too.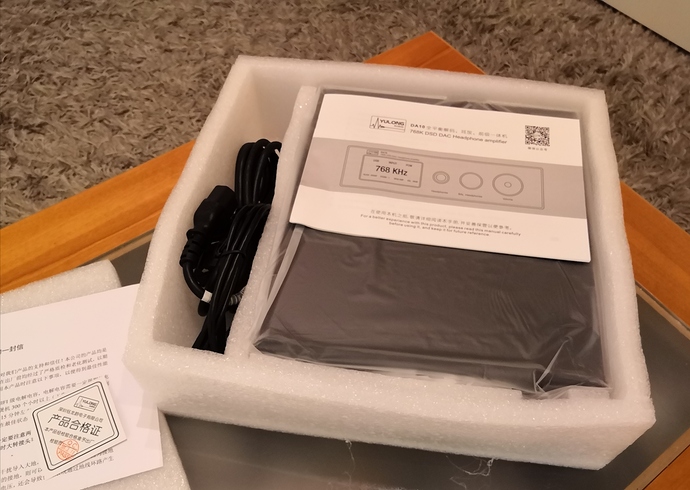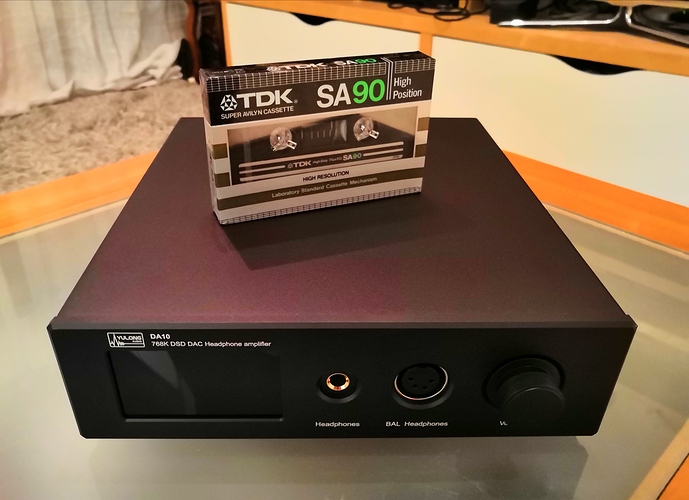 The design has been changed. Externally, the device looks like the DAART Aquila. Half of the front panel now takes a good IPS screen, unobtrusively shining with a dark blue light. It is much more convenient than the small hard-to-read green-eyed screen of DA9 model.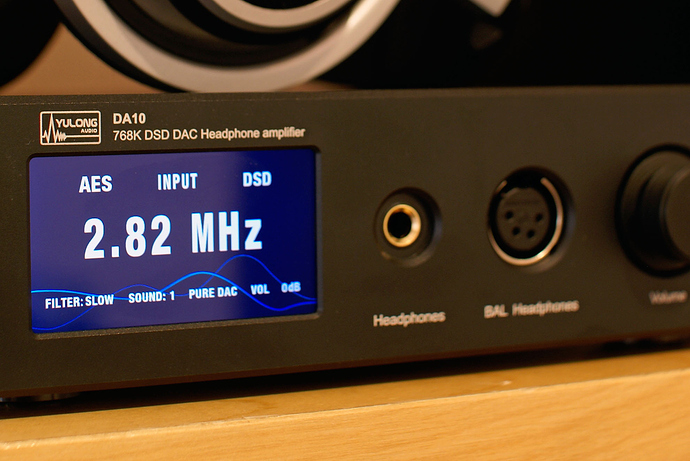 All necessary information and virtual buttons are present on the screen initially. Now you don't need to remember what features are hidden inside, and how many seconds you need to hold the shuttle to activate them - all features are visible on the screen. Short pressing = select a feature, turning the shuttle = changing the function, short pressing again = locking your choice. Bingo!
In total, DA10 has 3 filters (SUPERSLOW, SLOW and SHARP) and 3 sound mode settings. Thus, ergonomics has improved, compared with the previous model, but the remote control unit is still wanted.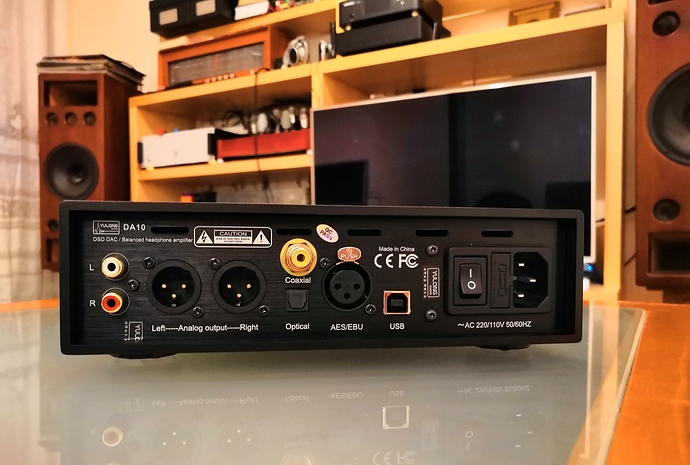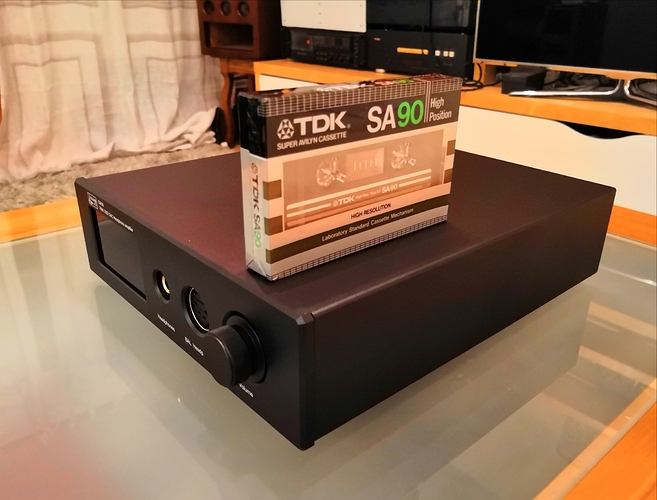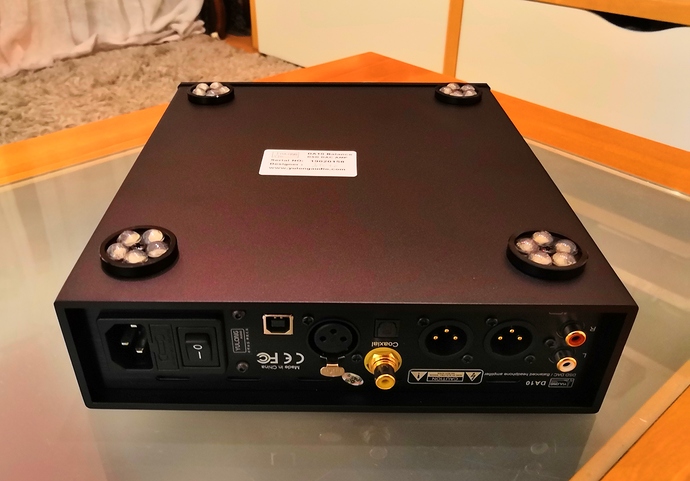 Otherwise, DA10 does not differ
externally
from the DA9, the same headphone amplifier holes on the front panel, the 4 digital inputs and balanced and unbalanced analog outputs on the back, branded "cat paw" legs. Assembly at the top level. Packaging the same as the previous model.
Summa Technologiae
The main difference between DA10 and DA9, from a technological point of view, is a reworked digital sound processing path based on FPGA, FIFO buffer and Crystek femtosecond clock oscillators with PLL system. All this farm is designed to combat jitter and fine-tune the sound of the device, in the heart of which is the AK4497 DAC.
Also note a neutral sounded built-in hi-current preamp, four-channel headphone amplifier with dedicated power line and very good ASIO driver for Windows (easy installs and tuned without dancing with a tambourine).
The output circuit is fully balanced.
DA10 supports all hi-rez formats. Checked the highest: PCM 32-384Khz, 32-768Khz and DSD512 - it really works!
Upsampled by JRiver 25:
About the sound
The sound of the device has changed, and, as it seemed to me, in a better way compared to DA9. If in the DA9 I noted some general imbalance in the direction of the upper midds, then DA10 is balanced well. The developers have added some sugar to the lower midds and the sound has become tastier. The bass is drier and well controlled. Midds and highs are pleasant but a bit colorized. The attacks are energetic, the voices of people and the instrument timbres seem a bit "smoked", which is positive for blues, classic jazz, of course rock'n'roll and metal. But for classic music and natural instruments such colorization isn't acceptable.
As for the dynamic range, it's wider than that of DA9, but in the sound stage I did not notice any differences from each oder. That is, the sound stage is wide, but not deep, some background layers are lost, the fade-outs a bit faster than necessary,so, the developers should work here. In general, the sound is quite good, it does not cause any fatigue.
Inputs & Outputs
AES and COAX digital inputs are similar in sound signature, but the most pleasant sound was obtained from USB-input, which is controlled by XMOS 208.
The preamp is fairly smooth and clean, good for All-in-One system level. When switching from "Pure DAC" mode to "PreAmp" mode, the volume is automatically reset, which is correct.
Headphone amp is better than DA9, I note the progress in this direction. Absolutelly listenable sound even for my ears cheated by ancient triodes. When you turn on "HeadAmp" mode, the linear outputs are switched off, which, imho, is also correct.
Resume
DA10 is very good for a compact desktop system, it can be seen that Yulong have seriously worked in this direction. Definitely, this is the best AK44XX sound I've ever heard. Of course, the sound is't reference, but audiophile. In technical terms everything is top, there is nothing to complain about, apart from the lack of a remote control unit and I2S input. In general, the son (DA10) surpassed the father (DA9).
Some videos
PS: This is not commercial review. I'm not affiliated with Shenzhenaudio & Yulong Co.