Joined

Aug 30, 2006
Posts

181
Likes

10
Thanks to Fang from Head-direct I have been able to try the new Yuin OK1.
I have to say OMG...
I am testing them with an iMod and a Diablo, a GoVibe7 and a PRII MkII.
It is important to emphasize that these are not IEMs they sit in your ear but they are not inserted inside the ear canal as the Etys.
People MUST understand that these are not IEMs. They do not provide you with almost complete isolation such as the Etys will give you.
These sound like headphones but without the bulk. The separation of instruments, detail and soundstage is amazing.
I have compared the OK1s with the PK1s and the OK1s have more detail and power than the PK1s.
The bass is also more powerful. Robust.
The highs and mids are astounding.
The PK1s are wonderful phones but the OK1s are better. The sounder is a little bit more solid (if that is possible).
They have more power, detail and space than the PK1s.
The fact that you can use them as a canal phone and as an earbud adds diversity to them.
I am really impressed.
To be used as a canal phone there is a little tube that can be easily screwed in the center of the ear bud. There are several sleeves to be tried in order to get the best fit in your ear drum.
Fang has told me that there is another tube a little bit longer, that he will send me, that provides a better fit and with which the highs are even more detailed.
As a canal the music is powerful as an earbud it is a little more delicate than when used as canal.
May be as a canal they are good for rock or pop and as an earbud for jazz, classical music.
At this moment I prefer them as a earbuds but I will have to try the other tube.
Yes, before you ask, I have compared them with the Etys E4R/P and the Shures e500.
Forget those. These OK1 sound better, to my ears, and fit better.
Fang wrote me that the expected price would be 250 USD.
I will try the OK1s in an airplane trip on Monday and Tuesday and get back to you with my impressions.
Some pictures...
These are the OK1s with and without the tube that converts them in canal phones.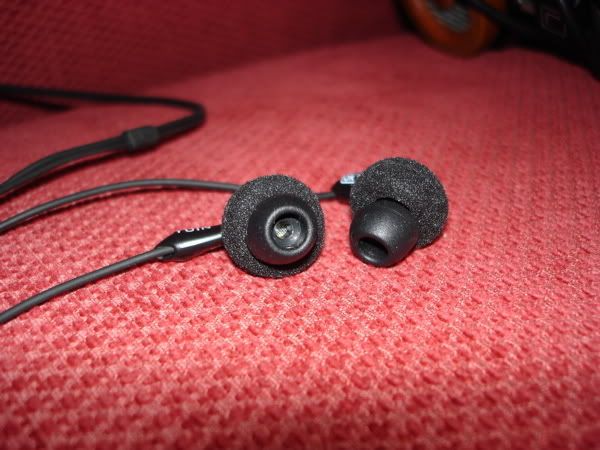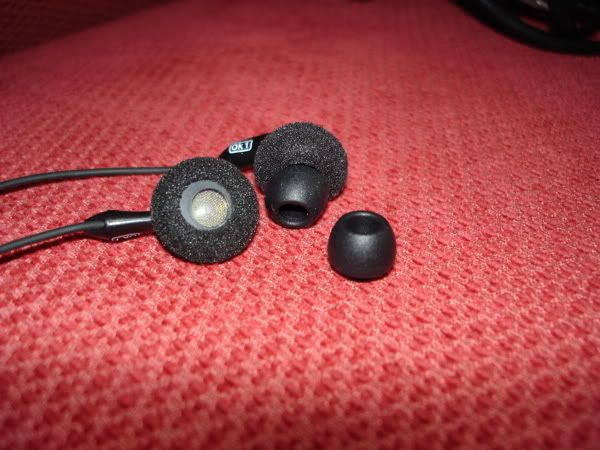 This is a comparisson with the Yuin PK1s.