Joined

Mar 18, 2008
Posts

131
Likes

16
Anyone looking to upgrade from a WA5, or buy a WA33 Elite or WA234 new, here is your chance to get one of the best headphone amplifiers on the market at a discount & with holy grail tubes included. Send me a private message with your offers. I have 100% positive seller feedback.
When I purchased the amps and tubes new, total cost was $18,182
WA234-MONO v1 uses 6SN7 for driver tubes. For power tubes, the amps can use 2A3, 300B or 45 Tubes via tube switching key and 5U4G or 274B for rectifier tubes.
Includes original packaging crates and stock tubes: International Servicemaster 6SN7 GTB, Shu Guang 300B, Psvane Hi-Fi 5U4G. Stock tubes around 150 hours on them.
Includes holy grail tubes: NOS Tung-Sol 6SN7GT round plate (has around 500 hours on them), Psvane ACME 300B and ACME 274B (has around 150 hours on them). One of the Tung-Sol 6SN7GT round plate tubes has a crack in the base but it doesn't affect the sound.
Also includes Siemens C3G driver tubes with adapters (I prefer the sound of the NOS Tung-Sol 6SN7GT round plate)
When turning the volume up or down you may hear static in the headphones. This is normal according to Woo Audio. With the amplifiers turned off, Woo recommends turning the knob from end to end. It should greatly reduce the static noise.
Interconnects or power cords are NOT included.
Message me with your shipping address including your street address for an insured shipping quote. Add 3% for PayPal fees or use PayPal Friends and Family.
Technical specifications:
Discrete mono-block, Single-ended, Class-A
Output transformer coupled, EI96 Permalloy core
All triode drive, no semi-conductors.
2A3/300B/45 power tube via Tube Switching Key
Headphone/speaker out via Output Switching Key
Cathode / plate output alternation for headphone
High and low impedance headphone outputs
6SN7 driver, 5U4G rectifier tube
2 RCA and 1 XLR input
3-pin XLR mono output for headphone
Power on plate output 8 watt@300B, 4 watt@2A3, 2 watt@45
Frequency response: 5Hz--62 KHz, -2dB on cathode output
Seiden 46-position stepped attenuator, M-TubeCap, V-Cap, WBT Speaker binding posts and RCA
Cursive aluminum casing with CNC machining
Mains supply: 110/220VAC, 50/60Hz
Weight: 60 lbs per channel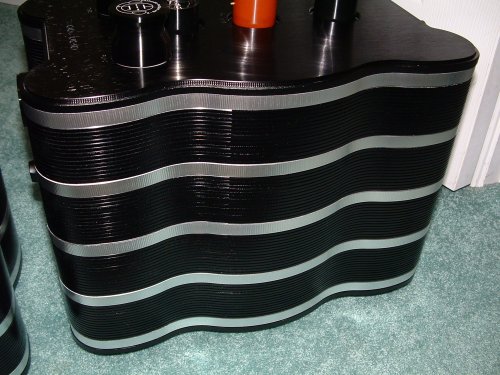 Last edited: