Joined

Sep 27, 2001
Posts

4,197
Likes

91
ALL SOLD!



Due to system re-arrangement I have one more pair to sell!

Just like the 1st 2 pair except for black heatshrink.
First 2 pair sold.
I built a few extra pair of these excellent silver conductor interconnects.
2ea 3 ft long pairs available.

28 AWG cotton-insulated silver wire of .9999 purity,
Eichmann RCA plugs.
Outstanding sound can be yours for only $100 per pair shipped in the US.
Outside the US please PM me for a shipping quote.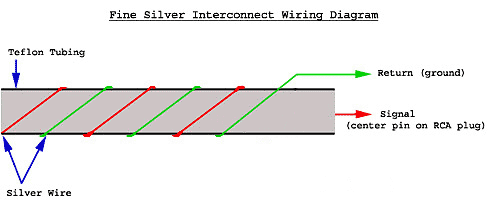 These Fine Silver Interconnects recently bested a set of well known $800+ interconnects at "WADStock" in Maidenhead, U.K.
THIS RECIPE HAS BEEN UPDATED TO REFLECT NEW MATERIAL THAT HAS BECOME AVAILABLE! VH Audio has introduced a 28 AWG cotton-insulated silver wire of .9999 purity. This wire is the result of a new process that draws the wire to physical tolerances that are at least five times tighter than most wire manufacturers. In listening tests this was found to be every bit as important as wire purity, when used for interconnects, and outperformed the teflon and bare wire versions of this recipe. This high purity silver wire is insulated with four alternating layers of natural cotton insulation, which means minimal dielectric absorption. The individual fibers make minimal contact with the surface area of the silver. Cotton has a dielectric constant of 1.3 to 1.4, which is even LOWER than foamed PE (1.6) or FEP (1.5). Another significant advantage of cotton insulation is its dampening and non-resonant properties. The bottom line is this wire is about the same cost as teflon insulated silver, but sounds even better than the teflon or bare silver wire versions. Build your own IC with this wire and have a truly world-class IC... Another recent addition is the availability of VH Audio's new HyperFlex Teflon tubing. The days of using rigid solid teflon tubing that kinks and breaks your wire is OVER.