post-15454464
Joined

Sep 20, 2019
Messages

67
Reaction score

95
Location
Joined

Sep 20, 2019
Location
Posts

67
Likes

95
MEST is our first hybrid headphones that use four different types of drivers-- bone conduction, EST, balanced armature, and dynamic.
There are many fun features the MEST, the newly designed bone conduction driver is definitely one of them. We spent four years in developing, configuring and tuning this uniquely designed bone conduction driver. The priority function of the bone conduction driver is to embellish the mid and treble. In the development phases, we found the bone conduction driver works remarkably well with EST and BA drivers in upper-mid and treble. The bone conduction driver with carbon fiber shell efficiently reduced the sharpness of EST drivers in treble without affecting transparency and treble energy. It also added a touch of sweetness in mid and smooth out the transition from mid to treble. With this bone conduction driver, MEST is able to deliver one of the most transparent and balanced sounds among our productions.
To know more about the bond conduction technology, here is an introduction:
Diagram 1: MEST Exploded Views
Diagram 2:The faceplates of the headphones are specially designed according to the structure of the bone conduction drivers. Bone conduction driver delivers signals by vibrating the faceplate. Then the signals are passed to the carbon fiber shell and finally delivered to your inner ear.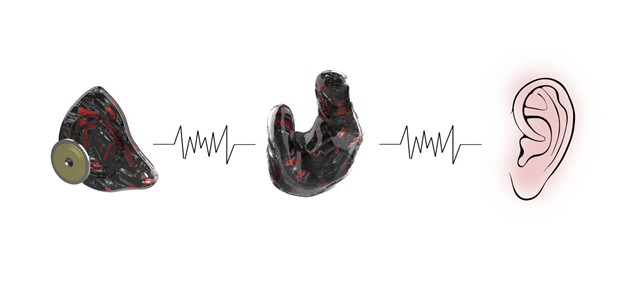 Diagram 3: The bone conduction drivers are made by metal vibration pieces that are covered by piezoelectric ceramics. The ceramic layers will bend the metal vibration pieces to make micro-vibrations according to the changes of input alternating voltage.
Diagram 4: The frequency curve of the bone conduction driver along with the shell on HATS.
According to the frequency features of bone conduction driver, it can be used to embellish the vocals and instruments in mid and treble.
As a summary, MEST bone conduction technology has the following features:
No standalone sound tunnels for bone conduction drivers.
Sound can be heard by touching any parts of the shell.
Low-Voltage driving bone conduction driver
Resistant to treble noises
Low distortion
Smart fit and easy to be assembled
We will have a demo unit of MEST at 2020 CanJam NYC.
Drivers Configuration (per side):
1x Bone conduction driver to embellish the mid and treble.
2x EST drivers serve ultra-high frequency
2x High BA drivers.
2x Mid-high BA drivers.
1x Dynamic driver serves mid and bass.
Estimated MSRP:
$1399 for a universal fit
$1699 for a customized fit
Due to the special structure of MEST, we do not offer interchangeable reshell services between universal-fit and custom-fit. Making a customized MEST requires much more workforces than a universal MEST, thus we have to charge this $300 as a premium to cover additional costs. The custom-fit generally offers a larger touching area to your skin than universal-fit, thus the custom-fit helps the bone conduction driver to optimize its performance.
MEST is soon available at:
https://shop.musicteck.com/collections/um-unique-melody
Last edited:
Feel free to reach out to us at any time! To reach me personally, leave me a PM or email me at umwang@uniquemelody.org and I'll get back to you as soon as I can! Stay updated on Unique Melody at their sponsor page on Head-Fi.