Joined

May 24, 2008
Posts

2,808
Likes

14
Hello, My Name is Felix and I been kindly offered a sample of the Ultimate Ears 700 for Review.
So here it goes and hope you all like it!
The Pictures are massive for detail, they aren't the most clear pictures as they are taken with my phone. Some updates may be coming too. Keep your Eyes out!
Intro:
After Jays had released is Micro-sized q-Jays, that housed two micro Balanced armatures at the price of $180 US. It was a MASSIVE thrill, and everyone began heating up on them. So Ultimate Ears, gave it a try themselves. This is the Result, the Ultimate Ears 700. They are 1mm shorter than the 13mm long q-Jays, while also housing Dual Micro Balanced Armatures with a passive crossover network that divides the frequencies to two parts for each driver. The Ultimate Ears 700 is priced at $229 USD...oh no...Are you sure about this Ultimate Ears? LET's FIND OUT SHALL WE?!
Packaging:
Packaging wise, very nice, simple, but beautiful all at once. Though it's just the new Ultimate Ears package with the rectangular box, with a clear window showing the tiny furious beast that's within. The teal accent, and the matte silver really gives it the "High Class" and Attractive look. Material wise, the box isn't "ROCK" solid, but stiff enough to keep it in good shape, and keep your earphones safe, and also lightweight so that you don't seem to be carrying a brick when trying to buy them.
After opening the box, we are exposed to a plain snap together hard plastic container which contains everything. The plastic is oncegain stiff enough to keep everything organized and safe, it's also very easy to open as it is just snapped together by four joining.

Of Course, IMPORTANT! SOUND QUALITY!
Highs:9/10 (9.5/10 Amplified with LTD MKI+)
Yes i am very serious. Now, i'm sure with you audiophiles here on headfi, you all know that Ultimate Ears have one of the most detailed and one of the highest quality high frequency range that exists in the industry, For those of you that are not familiar. The word to describe the highs is "AMAZING" got that? ok. Yes. The highs are detailed, crisp, and crystal clear. They really bring out the voice of singers when they reach that special note that really requires high quality equipment to present. The Ultimate Ears 700 here don't disappoint. The Highs on the Ultimate Ears 700 are crisper, and more detailed to the competing Jays q-Jays.

Mids:7.5/10 (8.5/10 Amplified with LTD MKI+)
Detailed, but lush at the same time. They aren't as smooth, nice, and detailed as say Shure's, Westones, or even the q-Jays mids. But they are there, and they are still in the "High-End" category of Mids. Overall, Very decent mids, but if you a MIds lover, you are beter off with a pair of Shure Se420, or Um2...and the q-Jays even.
Lows: 9/10 (9.5/10 Amplified with LTD MKI+)
Lows are well....fanastic. What else to say? Impact is quick, punchy, and powerful. The depth of the Lows are lows and deep, very strong competitor in the Lows category for the industry. Compared to the q-Jays, the q-Jays lows don't sound as low but what i can say is that they are more powerful. The Ultimate Ears 700 do sound lower, but are less powerful compared to the q-Jays in impact wise. However, both are very good in this department, on par actually. The UE700 does lower, but the q-Jays SMACKS you in the face harder.

Soundstage: 8/10 (9.5/10 Amplified with LTD MKI+)
Soundstage wise, the UE700 may not be the best. Compared to my pair of Se530, which soundstage isn't top of the line already, these are a bit lacking in the soundstage part. They aren't bad, just i was expecting more from a Dual Driver assembly, however on the up side, they do house a slight wider soundstage compared to the competing q-Jays. After amplifying though, these REALLY open up, in fact the soundstage is so much wider, any ordinary ear would be able to hear the widening. Feels also the singers of the song (I tested with 'Whenever you call" by Mariah Carey and Brian Mcknight) are standing on the stage that's visually in front of you from the beautiful soundstage presentation you are hearing. If you have an amp, AMP THESE UP definitely!
Accessories:
This part is the part that disappoints a bit, while the q-Jays comes with 6 pairs of Silicone, and 2 pairs of Foam Sleeve. Along with two extension Cables, one Airline Adapter, one Stereo Splitter, and a Carry case, and eight pairs of filters. The Ultimate Eras 700 only comes with 4 pairs of Silicone, 2 pairs of Comply, a plastic carrying case, and a Sound level Attenuator. It gets disappointing, though the tips are of high quality, Comply foams, and a specially designed tip from Ultimate Ears to fit the 700's unique nozzle, it's a tad on the Bland side when considering the Ultimate Ears 700 prices at $229.
Fit:
Fit, i have nothing to complain about, absolutely nothing...They seal well when you get the seal, and trust me you WILL. These new Silicone rubber tips are stiffer, and thicker compared to the tips for the rest of the Metro Fi, super fi, and Triple Fi Series, and they really do create that seal that you need. Comfort wise, nothing to complain about either, they're so small they don't hit the back of the ears even on the smallest ones.

Looks:
Simple, Beautifully toned colours that come together to create a masterpiece. The Silver isn't too shiny so you don't get that sense where it's of lower quality, and that it's the kind of silver that you find on those little plastic wheels on cars in stores where they chip off after awhile, the silver is basically fused into the plastic itself. The dark transparent red and blue go really well together with the simple and elegantly shaped Silver housing. Every age will love it, and most important "Everyone".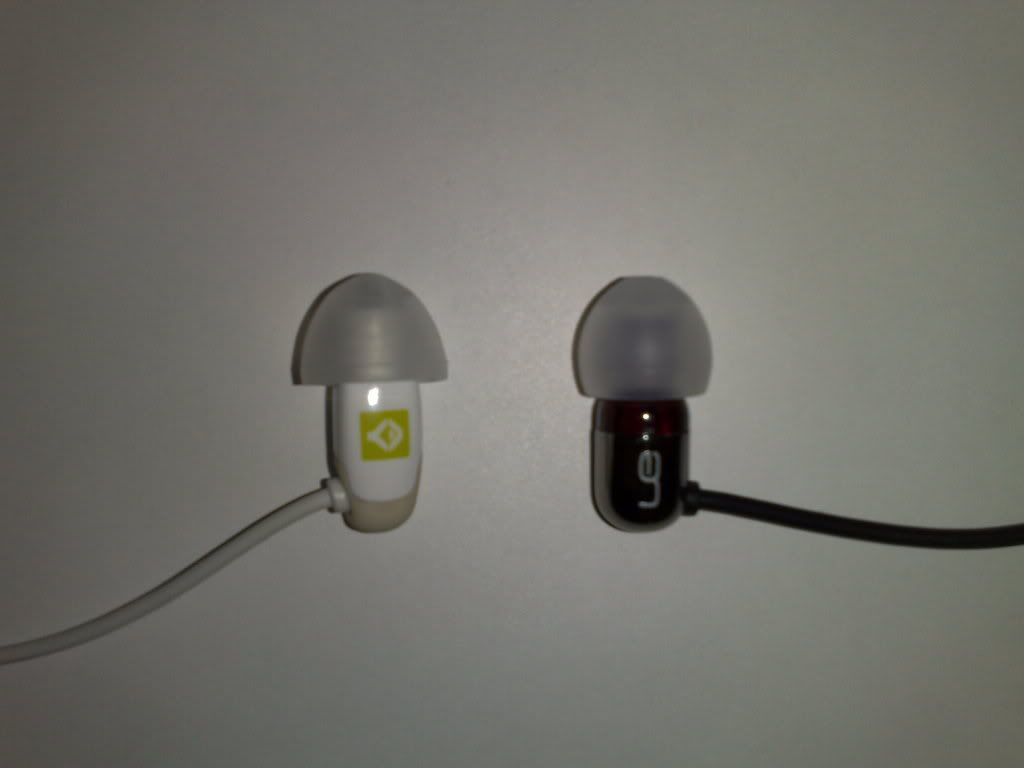 Conclusion:
Variation:
Silver with Red and Blue Accents only
Transducer:
Dual Micro Balanced Armatures
Impedance:
40ohm (@1kHz)
Frequency Range:
10Hz-16.5kHz
Sensitivity (1mW):
113dB SPL/mW
Weight:
11.6 grams
Cord Style:
Y-cord
Mini Jack Style:
Gold plated Straight (First Gen iPhone Adaptable, and tested individually)
Eartips Used:
Single flange/Foam
Packaging:
9/10 Fantastic look packaging
Build Quality:
9/10 (High Quality Plastic housing, but would expect metal from such a small earphone that would need it, and from the price)
Accessories:
7/10 (High quality stuff...well minus the case. But would appreciate more.)
Isolation: 9.5/10, Bang on Fantastic, but Isolation is better on 530's, and Westones.
Microphonics:
8/10 Straight down, 9.9/10 Over the Ear
Comfort:
9/10
Soundstage:
8/10 (9.5/10 Amped)
Sound Quality:
9/10
Value:
8/10
Overall, Fantastic Earphones. Fabulous Highs, smoother mids, and powerful lows, with a wide soundstage. Build quality isn't an issue, cables are thin and extremely flexible. Easy to get a seal. Problem is that the Jays q-Jays exist, yes, the q-Jays may not present as well on the Highs department, but they don't fall short by a long way, well not to reason the $50 price difference at least., and the q-Jays offer more accessories with a Polycarbonate Housing, compared to the less dense Acrylic bodies from Ultimate Ears. In the End, i do prefer the more Dynamic sound of the Ultimate Ears 700 more, where the highs sound higher, and the lows sound lowers, with a high mid hump compared to the neutral sound of the q-Jays. But if you are looking for a small, high quality Earphone, go for the q-Jays first for the accessories, and to save the $50 as the sound quality does not fall short by $50. However, in the future if you find the Ultimate Ears 700 at a similar price, which i'm sure you will after a price drop in the market, go for the UE 700's sound.
Hope that has helped you all a little bit on choosing your next pair of earphones, and given you a idea on the Ultimate Ears 700. Looks out in the future, as i'm being sent the brand new Phiaton PS200, and also Earsonics SM2 DLX for review.
Have a great day to everyone that's reading this!...well to those that aren't too. =)
If you want more information on a specific part of them compared to a earphone. Feel free to ask in the thread or through messaging on headfi. Cause i'm sure everyone would appreciate that. =)
-Felix