Joined

Mar 4, 2004
Posts

258
Likes

12
TRADE COMPLETE - Thanks head-fi.org and SBD.
Hi All,
Up for sale or trade is a pair of Jays d-JAYS. I originally purchased these earphones in October of 2006. In January of 2008, the earphones were replaced under warranty by Jays. Since I received the replacement pair, I used them one time to compare them to a pair of Klipsch Custom 3s. They've been used for about 3 hours, and haven't been touched since then.
I'm also interested in trading this for Yuin PK2s in excellent condition. PM me and we can work an equitable trade out.
Paypal is the only method of payment I'll accept.
These will come with the following:
-original packaging
-d-JAYS LE Earphones
-Extension cord, 0.90 m (~35 inch)
-4 Pairs of Silicone Rubber Sleeves (XS, S, M, L) The XS, S, & L sleeves have never been used. The Medium sleeves on the earphones have been used, but the sleeves have been thoroughly cleaned with an alcohol wipe. The earphones have also been thoroughly cleaned with an alcohol wipe.
-8 Pairs of Canal Filters
-User Guide in English, Swedish, French, Italian, German, Spanish, Japanese, Korean and Chinese
Jays currently ships an airplane adapter, splitter, and case with d-JAYS. I do not have these accessories as they were not being shipped with the earphones when I purchased them.
My head-fi feedback thread can be found by clicking
here
My e-bay feedback is
here
Thumbnails - click for full sized images: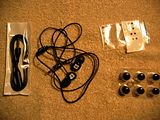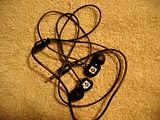 Thanks for looking!
George