Joined

Jan 15, 2016
Posts

1,707
Likes

984
Location
First of all, I can't thank Schiit Audio, Audeze, Empire Ears, AV Therapy, Periapt Cables and Mod House Audio enough for helping make this meet a massive success. I had a great time and the feedback from you guys was great.
I didn't have a ton of time to check out the gear but I wanted to share a few thoughts.
The Schiit stacks were plentiful. I spent some time with a few of them. The Gungnir MB/MJ2/LCD4z was definite endgame material. Monster detail that kept me going from track to track. Huge fan. The little Fulla paired with the LCD2 Closed back was also very impressive. I didn't know much about the Fulla before this meet but to have a little device that you can just plug into a computer and get planar pushing power is amazing. This little thing is a serious value. The Lyr3 was also impressive. I tried it with my Eikons are really enjoyed it.
The Empire Ears Legend X paired with the Hugo 2 was seriously impressive. Best mobile rig that I've ever heard IMO.
The Mod House prototype was seriously impressive. It was very genre specific but it did it so well. Great job Ryan. I'm sure there are several people at the meet that are watching for them to move to production.
Periapt is a cable company that I never heard of until this meet. They make budget cables and seem to be seriously good for the money. You can get some seriously good looking and durable cables for well under $100. They will be my first stop the next time I'm looking for some cables.
I got a very brief listen to the Chord Dave paired with the LCD4z. I wish I would have had a little more time with it. Next year hopefully.
A special thanks to all the Head-Fiers that came out to the meet. There were a few familiar faces and a few new faces. It was great meeting you and getting a chance to check out some of your gear was a treat. I'm hoping to do this again next year and make it even bigger. Hopefully I'll see you guys there.
@JWizzlez
@Richsvt
@Mullet
@porkfried
@dspigs0705
@JoshMo
@spwath
@CleverAudioName
@Mark Up
@pbandstefanwich
@bagwell359
@fac
@ninjapirate9901
@Tulon
@TooPoor
@Dufi001
@audioelements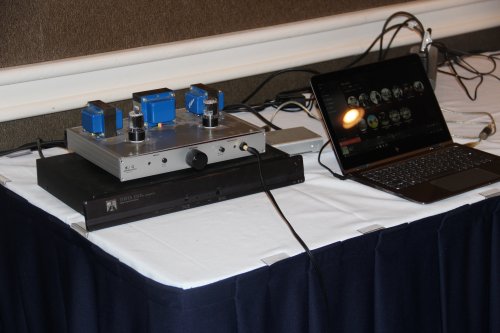 Last edited: