post-15705232
Jun 27, 2020 at 2:15 PM
Thread Starter
Joined

May 25, 2014
Messages

815
Reaction score

769
Location
Joined

May 25, 2014
Location
Posts

815
Likes

769
SOLD
Selling my Pendant amp to fund a bigger amp from Ampsandsound. For those that don't know, Ampsandsound is the manufacturer of the Pendant, and is a joint effort with them and Zach from ZMF. My Pendant is in excellent condition. Comes with the amp, giant Seahorse case, power cable, and an assortment of tubes I'll break it below.
INPUT TUBES
NOS Mullard 12AT7
NOS Brimar 12AU7 I purchased from Upscale Audio ($80 my cost)
New Production JJ 12AU7 I purchased from Tube Depot ($12 my cost)
New Production JJ 12AT7
POWER TUBES (all in pairs)
NOS Matched Russian EL84 I purchased on Ebay ($25 my cost)
New Production JJ EL84
New Production Sovtek EL84
RECTIFIER TUBES
NOS RFT EZ81
New Production JJ EZ81
All tubes came with amp unless specified I purchased. No COVID19 issues in my household, no one has been sick.
I'll pick up the Paypal fees and insured shipping.
CONUS shipping only, and signature will be required. Will only ship to address on file with Paypal.
I'll only sell to members with established accounts AND at least a few positive buying feedbacks. Sorry, but given the value of the amp, this is not negotiable unless you want to pay cash in person.
No Trades
Please be aware the high Z output has a noticeable noise floor. Being my first high end tube amp I thought the amp might have been defective. Justin from Ampsandsound called and spent an hour on the phone with me discussing the issue and troubleshooting. After describing the noise and my headphones (all ZMF dynamics) he assured me the noise was expected and normal. So if you're expecting a dead quiet amp on high Z, look elsewhere. Here is my experience with the noise floor: With music playing, nothing could be heard on any headphone I tried. The following is when no music is playing, but the headphone is plugged in, amp warmed up at least 20 min. With the Verite Closed, the noise floor was high by my standards. Turning wifi off in my house, and moving my phone at least 8ft from the amp brought the noise floor down noticeably, but I found that too inconvenient. With the Eikon the noise floor lowered noticeably, as it's not as resolving. It was still there, but less offensive to me. With the Atticus, another reduction in noise floor, but not as big as going from the VC to Eikon. With the HD650, the noise floor was very very low, and not offensive to me at all. Tube rolling would slightly change the specific sounds, but the overall level of noise remained no matter the tubes I tried.
Low Z output is very quiet, I forgot to add.
Despite the noise floor, I found the amp sounds best on the high Z tap with my headphones, and the noise was not audible with music playing. I just learned to live with it. And the fact that I'm buying another Ampsandsound is a testament to how much I love the sound of Justin's designs. But I want to make sure I disclose this to any prospective buyers. To be clear, the owner of Ampsandsound himself said the noise floor is expected on ZMF dynamics due to their sensitivity, and the amp is not defective in any way. I did notice moving the amp to different locations changed the noise floor significantly, it's very sensitive to interference. Unfortunately the quietest part of my house (farthest away from wifi and other electronics) was not convenient for setting my system up, with the kiddos lurking...
This is by far the best amp i've owned. I have a Phonitor E as well and it just doesn't come close, from a musicality standpoint. The Pendant and ZMF headphones are a killer combo, easily the most musical and enjoyable setup i've heard. Can't wait for the next Ampsandsound amp!
The first picture of the Serial# sticker is on the bottom of the Seahorse case, not the amp itself. Don't want anyone thinking the amp is scratched.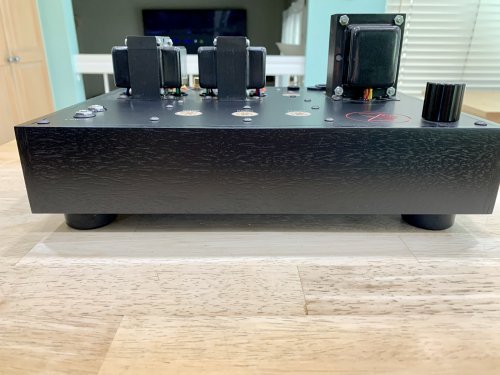 Last edited: