post-14360782
Jul 15, 2018 at 6:36 AM
Thread Starter
Selling my Crack and extras to finance my expensive Stax habit.
Build detailed here:
https://www.head-fi.org/threads/crack-bottlehead-otl.476650/page-610#post-14204922
Transformer wired for 240 volts.
-I can rewire it for you if need be.
Crack mods:
Bottlehead Speedball
Mundorf Mcap MKP output capacitors (250V, 100uF)
TKD 2C-601 pot
Hammond 157M choke
JB JFX, "bypass" capacitorin power supply (250V, 2,2uF)
The base is coated in clear polyurethane.
Corners are reinforced with thick, heavy brass.
Comes with a power cord.
Printed manuals for Crack and Speedball included.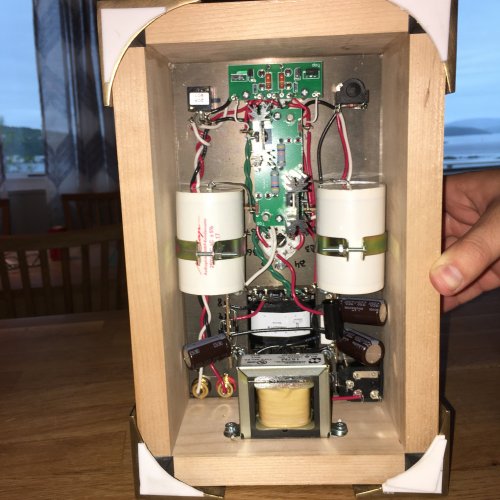 The Sennheiser HD6XX
are the perfect pairing for the Crack.
Received from Massdrop February/March this year.
Includes the standard 1,8 meter cable and a custom made 2,5-3 meter cable I made from some Mogami microphone wire.
Included tubes
:
6080 variants:
2x Svetlana 6AS7G
1x Philips 6080
1x Mullard 6080
12AU7/ECC82 variants:
1x Genalex Gold Lion 12AU7
3x RCA Clear Top
3x Mullards
4x Randoms I can't name
Tracked international shipping with Norwegian Postal Service: $70