Joined

May 4, 2009
Posts

861
Likes

285
Location
EAR HP4 Headphone Amp/Preamp


Excellent Condition--$2850

(MSRP~ $5,700).

Original tubes, new heavy-duty double-box, manual and power cord included. Selling to significantly downsize my audio system-NO TRADE
More than 20 amps and 20 pairs of HP/IEM must go! (please check list in my profile)

​
One of the top three headphone amplifiers I have heard. Highly versatile tube amplifier with four (4) outputs, two ¼" for high-impedance headphones (> 100 ohms) and two ¼" for low-impedance headphones (< 100 ohms). Four (4) line inputs, two (2) unbalanced and two (2) balanced. This tube amp has a beautiful sound and plenty of power to drive most HPs.
EAR ("Esoteric Audio Research") HP4 is designed by Tim de Paravicini, whose name has been associated with top electronics in the world of HiFi, professional recording and mastering. He passed away last month.
This unit has been used for less than 200 hours; it has been mostly in storage. It comes with a new shipping package (heavy-duty, well padded double-box replacing the flimsy original box), original tubes and manual, and added power cord.

CONDITION
Excellent condition (8/10) with minor signs of use (slight fading of some letters in "Designed by…)
Very light use (less than 100 hours; 9/10)
Non-smoking, no-pet household
Original tubes, heavy-duty foam-padded box, manual and power cord

DESCRIPTION
I assume that you are already familiar with this item. The description below is intended only as a guide and may contain inaccuracies. I would gladly provide more details about this product but due to the large numbers of items I am selling, I have limited time for those who are completely unfamiliar with this item.

TUBES (stock):
Four (4) 6SL7
SPECIFICATIONS-FEATURES
Frequency response (at 1V output): 20~20 KHZ, ±1dB (Level control @ 12 O'Clock)
Input impedance: 40K
Output impedance: 2 Ohms (low); 40 Ohms (high)
Sensitivity: 300mv
Channel balance: ±0.5
Residual noise (volume at minimum): 90dB
Distortion: 0.5%
Power output: 600mW
Power: 100v, 120v & 230v (Not rewireable)
Power Consumption: 25 Watt
Headphone Jacks: Four (4) outputs (any two simultaneously)
Two (2) Low Ƶ (< 100 Ω)
Two (2) High Ƶ (> 100 Ω)
Front button switch: Mutes Power Amplifier)
Size (overall, excluding control knobs): W245 mm, D320 mm, H95 mm
Weight (net): 6kg (13 lb.)
The EAR HP4 is a highly versatile amplifier capable of driving high- impedance as well as low-impedance headphones. I've had great results with a wide variety of HPs including the Sennheiser HD-800, Focal Utopia, Audeze LCD-4Z, HiFiMan HE-1000V2 and Grado PS2000e. The EAR HP4 can drive the notoriously inefficient HiFiMan HE-6 to a moderate but not ear-splitting level. It has a lush, seductive sound with excellent timber, great imaging and big soundstage (good width and depth).
REVIEWS
:
https://parttimeaudiophile.com/2014/09/26/review-ear-hp4-headphone-amplifier/
From an Editor's Notebook: Glances in the Rearview Mirror (positive-feedback.com)
PAYMENT
I accept PayPal payment and will ship to confirmed address in the CONUS.
Immediate payment requested unless otherwise agreed.
Buyer pays 3.6% PayPal fees
.
SHIPPING INFO
Ship next business day (Mon-Fri) after payment. Buyer pays shipping costs (fully insured ~ $60-$70).
I ship only to the US Lower 48.
No International shipping.
Buyer pays return shipping.
TERMS OF SALE
This item is NOT offered on approval. This sale is final.
Please read the description, look at the pictures and ask questions before buying.
In case of problems, please notify me within 3 days of delivery.
Items damaged in shipping may be reimbursed by filing a claim with USPS.
This item is one-of-a-kind from my private collection so exchange is not possible.
Return is accepted in case of significant errors in the description or defective item.
Buyer pays return shipping.
FEEDBACK
You can also check my feedbacks on Head-Fi, Audio-mart and eBay (dream-collections; over 1,500 positive feedbacks). Please contact me with any problems. I will do everything within my power to resolve the issue.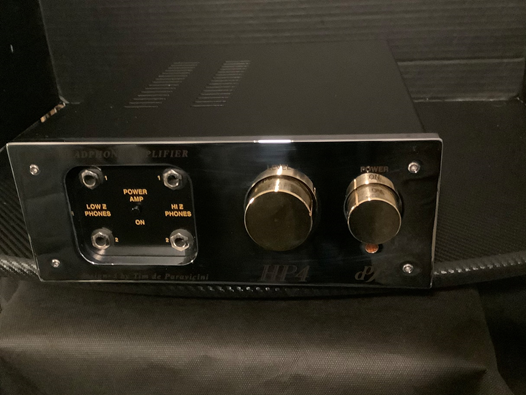 ​
Last edited: