Joined

Jul 11, 2005
Posts

770
Likes

67
1. Arrival
I've just got my Sleek Custom IEM this past weekend, this is a custom version of SA6. I am not sure the official name so I will simply call this as Sleek Custom.
This is very nicely built and fits perfectly.
Click picture to enlarge.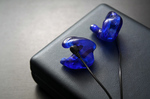 It comes with a nice box and a pouch. The cable is detachable and swivel, it seems like the same to SA6.
Jason mentioned a wireless option would be ready soon. (This was discussed
here
)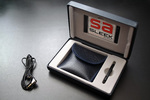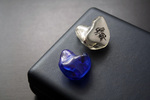 The another IEM shown on the right is UE11, mine is custom painted one with titanium plate. Sleek custom is smaller and lighter than UE11.
There is no serial number, no L/R marking nor personal name printings on the surface.
2. Options and ordering
Sleek custom has not shown on their web site yet but Jason makes it by request. He sent me an option sheet to order and he also kindly responded to my queries.
Sleek audio offers some options for the custom.
*
Color choices
are : Clear/Red/Blue/Pink
You can select the color for Shell and Top Plate separately.
I took both side is Blue. This is dark translucent and looks neat.
*
Cable mount
can be altered on front(like UE/FreQ) or top plate(like LiveWires).
I ordered the top however the front one came
But it's ok. At first I thought the swivel mount needs more room to fix but actually the swivel mount is very small.
*
Frequency responses
can be altered like SA6 (bass -,=,+ / treble -,=,+) but it's fixed off-course.
I do not have SA6 so I read (this thread) to find a good setting, but I was not able to decide. so Jason recommend me to take bass +, treble+ as I told him I already own UE11 and I took it.
(I have no idea about how they alter the sound)
*
Canal length
can be selectable (short,middle,long):
I just took middle here.
Turn around time for me was very quick, they have manufactured it only in two or three days from they've got my impressions.
Please note Jason would take sick leave. (this was mentioned
here
)
Hope he get well soon.
3. Sound impression
First, I tried the sealing test using
Sensa seal test
MP3(50Hz and 500Hz alternate tones).
At the first try, I hear the 50Hz is something lower. I thought I had inserted it roughly, then I pulled it out and inserted it again with care. This time, I got a better fit and 50 and 500 are almost same. This is perfect.
I hooked it up with iMod 5.5G, ALO super cotton dock and Xin SM4 maxedout.
Though I prefer amped, Sleek Custom is good even with straight out from iPod. A very slight hiss can be heard but not so much like UE11.
This is a comment on the first few days.
Overall, the sound is crisp and clear, fast and punchy. Instrument separation is very nice and I can hear very subtle details among the notes. Imaging is fairly sharp and 3D like soundstage with the SM4 is remarkable. Very good setup for Jazz trio I think.
Mid to Highs are fantastic, I like this good sparkle in the highs. Instruments timbre is beautiful and not too much warm to my ears. Vocal is highly articulate.
I think even with the treble+ setting this is not so harsh. Voice sibilant is not hard but somewhat exists, I can easily live with this however the treble= would be a considerable depended on the setup or music.
Bass is tight and punchy, on the other hand the bass extension is not so much deep but ok. I think bass+ is appropriate. Some may prefer Bass= depending on the setup however.
(Sorry I can not compare this settings to original SA6 since I don't have it)
As for amp selection, I found the Move is another good choice for a person who like more gentle sounding.
You may say I should compare this to the UE11. If I have to say which one is better, I will take UE11.
However the matter is a bit more complex than one sentence. In the speaker world, there are arguments about the pros and cons for full-range speakers and 2way/3way speakers. Multi driver speakers have wider frequency response but it also have issues regarding crossover or phase alignment. IMO this could be true for IEM world as well. I have to look into it further to say more ..
Relatively speaking, UE11 is rich and fuller while the Sleek Custom is tight and sharper.
Anyway, I am encouraged by this music experiment with customs. I commute by infamous crowded train everyday but the customs provide me a great isolation as if by magic. Customs are that good.
FreQ show is on order and considering to add LW. The battle of consumer customs will soon begin