Shanling M0 - Smallest Hi-Res Portable Player - New Firmware V3.6
Hi guys,
Last FW update was great! Spent some easter time customizing my M0.
Changed the wrist strap I had done earlier on for a much shorter nicer one. Used a leather bracelet I had and some metal beads. Still can grab the player placing some fingers through the strap and feels much safer as not to drop it.
bought it one of those magnetic usb cables.Made it a leather strip to make it easier to pull out the connector out if needed.
Modified some crappy plastic box originally intended to use for jewellry, and covered it with leather to use as a carry on for the M0. I was goint to buy the Shanling C2 original box, but it was PU and was feeling like going with leather because I'm not a fan of PU material.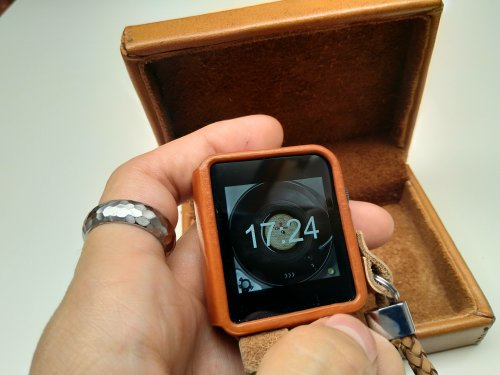 Also took some vinyl disc wallpapers and made a couple lockscreen images. they look pretty cool so I'm sharing them here. Images were not created by me, I just cropped them and resized them. Can't remember where I downloaded them from, got them a long time ago. I'm using the 1st one in the pictures above.
Can't really read the labels anymore but they were actually the following discs:
The Beatles' Sgt. Peppers
AC/DC's Back in black
MJ's Thriller
Cheers, and let's keep the awesome firmware updates coming, haha.
✌
Last edited:
Users who are viewing this thread
Total: 5 (members: 0, guests: 5)