Joined

Feb 10, 2010
Posts

1,228
Likes

1,818
Location
Firstly, we would like to thank everyone for their interest and questions about our product and work! We started these Q&A's to interact more with the community, and it's heartening to see all the response. We also want to respect you with accuracy in our response back to all of you.

We've discussed the open questions with Axel Grell, Manager of Sennheiser's Audiophile Portfolio, and he will be answering the open questions in detail in the coming weeks. We will have some updates soon!
What DAC chip is used?

[Grell, Axel] We have a tried many different DAC chips and had the best results when we listened to the ESS ES9018S.
Is it using a Single or Dual DAC configuration?
[Grell, Axel] We are using the "Single" DAC configuration! As the ES9018S is coming with 8 internal DACs this is already a quadruple solution for each channel. We did intense listening tests with the result that the PCB layout and the type of Op Amps used has a much higher impact than a second ES 9018. Extended clock wires to connect a second DAC chip have a much higher negative impact to the audio signal quality than using a single DAC chip instead of a dual DAC solution.

But we don't use it in the "standard" set-up where the outputs of the filter stage lead to a single ended differential stage. In the HDV 820 the 4 parallelized balanced outputs of each channel of the ES9018 are feeding a fully balanced circuit design. When the Pentaconn or XLR4 outputs are used, this balanced signal path terminates only in the headphone's speaker.
What type of tuning or filters?

[Grell, Axel] The whole circuit design is based on the original ESS filters. For sampling frequencies of 48 kHz and below we are using the sharp roll off characteristic. Above 48 kHz the soft roll off is used. Again: all these decisions were made according to the whole circuit design. They are not primarily based on measured data but on listening tests using several listeners and several types of headphones.
In SPDIF mode sharp roll off filters are used at all sampling rates.
"heck what's the power output?"

[Grell, Axel] See attached graphics!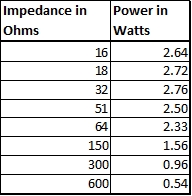 "I know it's designed with full-sized headphones in mind, but how does it perform with IEM's (Sennheiser IE 800 in particular)?
... I've read as a general rule of thumb that you want the output impedance of your amp to be at least 1/8th that of your headphone's impedance. Even some full size headphones like the Fostex TH900 (25 Ω) and Focal Utopia (80 Ω) could be negatively affected."
[Grell, Axel] There is no general rule for "the right output impedance" for a headphone amplifier. There are some high output impedance tube amplifiers that sound great, others don't, some Zero- Ohms solid state amplifiers sound cold and harsh, others sound good. A headphone and a headphone amplifier is a complex system of impedances, amplifier feedback loops, amplifier current supply and so on. That could lead to typical distortions and dynamic changes of the amplifiers output parameters depending on the headphone impedance and the type of amplifier. Therefore we made listening tests with many different headphones (Sennheiser and other brands from 25 Ohms up to 600 Ohms) using different impedances at the output of the prototypes of HDV 820. The outcome of this listening tests are the output impedances of the HDV 820.
As you can see from the attached curves a HDV 820 can drive a TH900 with 2.75 W. This should be enough.
Once upon a time, the "standard output impedance" was 120 Ω. Generally speaking, don't lose sight of the forest because of focusing too much on one tree.
Is there a plan to upgrade firmware later to support MQA "unfolding?"

[Grell, Axel] This is under investigation.
Is the power cable made in-house by Sennheiser, or is it a "Normal" IEC Cable?
[Grell, Axel] The HDV 820 comes with a "Normal" IEC Cable. Due to its power supply design the HDV 820 should sound great already using this cable. As cables play a big role for audiophiles, customers are free to choose a mains cable that sounds best for them.

That's it for now folks, thanks for awaiting a response from the source itself!
Last edited: