Joined

Feb 25, 2007
Posts

23
Likes

27
When I connect to my computer via bluetooth, I have the option to set it up with both audio and microphone. I tested it by myself in Discord (a video game themed chat program), and with windows devices and the microphone and audio all works when connected to bluetooth. The audio isn't great though. With the VOIP program I used which has "auto gain" and tries to adjust gain on the fly, it was a little choppy, and the sound of my voice wasn't super clear.
You can NOT use it's mic when plugged into the headset via the 2.5mm jack (it's not wired that way).
What I ACTUALLY use for videogames (VOIP chat while playing a team game) is I bought a wire called the V-Moda Boom Mic Pro.
It has a 3.5mm on both ends and a GOOD microphone that is in-line. I bought a very slim 3.5mm to 2.5mm adapter, and I plug this cable into my momentum 3 wireless.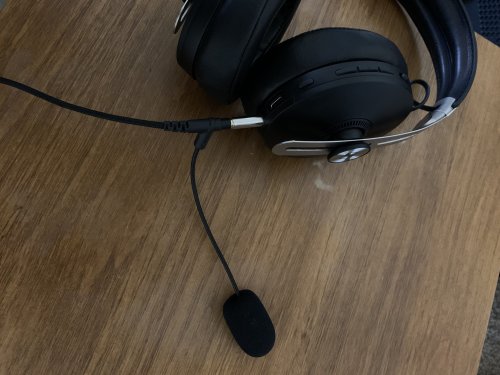 I needed to take an exacto knife and some flathead screwdrivers and trim the hole for the headset side connection larger (just trim the plastic) so it can fit the adaptor. But it works great. Clear microphone, clear sound, and I disconned and use bluetooth if I want. The mic on the V-moda boom mic is MUCH better than the one built in and is made for gamers who want to communicate over VOIP.
Lex
Oh yeah. I also didn't sense a strong smell of any sort. If it did have a smell, it wasn't strong enough for me to remember and I CERTAINLY didn't notice it after a few days.
Last edited: