Joined

May 1, 2006
Posts

1,668
Likes

78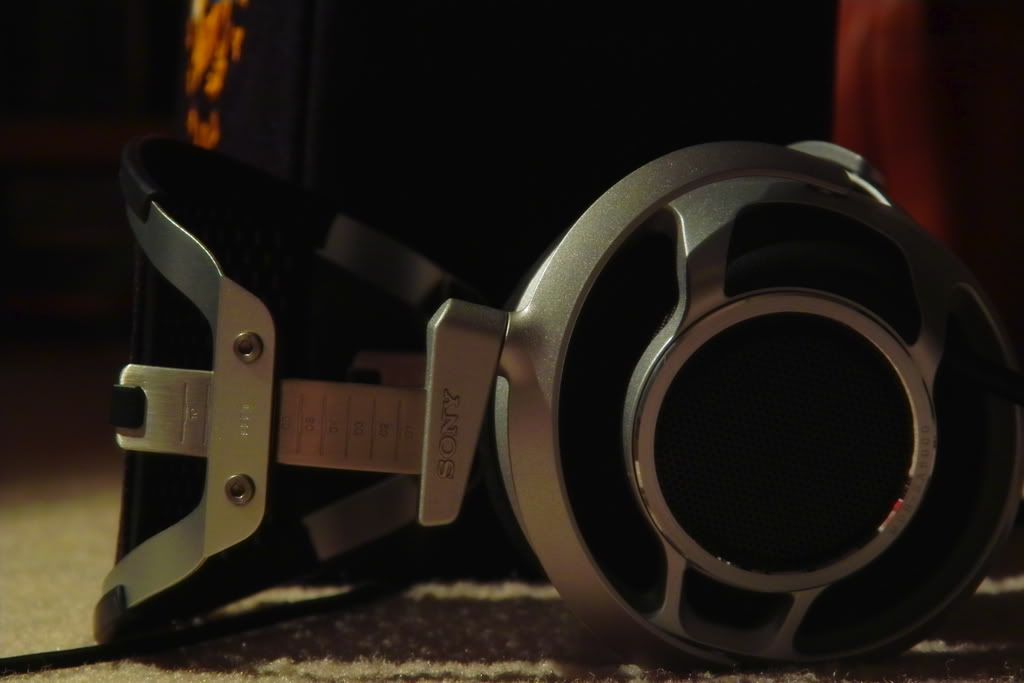 I initially posted the picture just because I liked it, the way it turned out. I searched for that huge "picture of your headphone" thread for about 10 pages back, but couldn't find it and had to get back to work so I just created a new thread.
Apologize in advance for any typos and other grammatical errors.
But since I did create this thread, I performed my own little headhone shootout this evening using just one song (Chant by Fourplay) and one amp (Raptor with stock tubes) comparing the following headphones:
RS1
GS1000
DT990 Pros (600 ohm version)
K701
HD650
Proline 2500
SA5000
The volume was adjusted as close as possible and I listened for about 3-4 minutes of the song, before going onto the next can. I was really thinking of doing this so the headpones chosen were in no particular order.
First up was the RS1. I was initially just listening to these cans, comparing the Raptor with GHCA, using the referenced song. I felt the PS Audio unit superior in bringing out the best in the Grado cans. Everything was clean, clear and each instrument came from a very black background; provided nice impact on the song. Switching over to the Raptor, I noticed the headstage (yes, I think Grado's have some 'stage goin' on) seemed to shrink a bit and it didn't seem as deep. The attack and decay of the notes weren't quite as precise as with the GCHA.
I went back and forth a couple of times, each time noting pretty much the same differences, although I must admit that after a couple of times of A/B'ing, the differences became more subtle at each listening. I think if I were to keep an amp for use with just one input (I need two), the GCHA would be my personal reference. I prefered it (at least with the RS1, slightly more than the Raptor).
But I wanted to find out more about the Raptor (newest toy) and what headhone would sould the best with it realizing that different CDs by different artists, different genres, different moods would all have an impact on which headphone I would prefer.
So these findings that I noted are just for tonight and just with the aforementioned Fourplay CD.
I'm not sure if the Raptors were able to bring out the best in the RS1's. I've heard them sound better (GHCA), but best or not, the Grados sounded pretty darn good. They had a nice, solid bass, plenty of slam; the high end sounded expressive (nice and bright) without being etchy. As long as there wasn't too much going on in the music the RS1's were fine. Once the music got complex and loud, however, everying kind of got muddled. I wasn't able to follow the musical lines really at all, until things calmed down again. Then, and only then, did the Grado's start groovin' again.
I next decided to put on the SA5000's. I've had these cans for a while, but have never really listened that closely to them. I find it very difficult to try and analyze a headpone because I get into the music too quickly. I analyze for about half a minute, then...wham! I'm just enjoying the music. I keep forgettin' I'm supposed to be listening for the small, subtle differences (generally) betwen the cans.
Initially, on listing to the Sony's immediately after the RS1's, my first reaction was that of surprise. I was surprised to find that, to me, the sound signature really wasn't all that different. I keep reading about how the Grado's are "in your face" and have their own "house" sound so the similar sound signature of the Sony's was, like I said, a bit of a surprise.
The Sony's appear to have less than truly deep, rich bass until something comes up in the music calling for it. The Sony's grip the lower frequencies much better than the Grado's. The bass is tight, rich and solid. The notes start and stop on a dime. Agile. Good stuff! The highs are clean and extended, without having any sort of a treble bite. Across the board, these deliver what's on the recording. The one thing I really liked about the SA5000's is how they were able to follow all the various musical instruments playing, even in the complex, loud stages where the Grado's fell short. If you enjoy following a particular instrument throughout a song, these will suite you just fine. Whatever part you want to listen for, you'll hear it.
I followed the Sony with the HD650's. These are known to be great in the nether regions. In that regard, they did not disappoint. However, the bass was the overpowering type of bass, as opposed to a nice tight and articulate one. After hearing the Grado's and Sony's, the Senn's seemed slow, muddy and thick. And that's pretty much where they stayed. Syrupy, molasses...words like that. If the Grado's and Sony's were a sports car, able to accelerate quickly and zip around corners and stop on a dime, the Senns would be that same sports car towing an elephant.
Next on the dummy head (me) was the 701's. Wow. I can see why these are the reference can for many folks. Their sound was very smooth, detailed, with excellent high frequencies and bass that was there, in spades when called for, yet still maintaining a tight, articulate sound. These sounded really close to the SA5000's, but was not quite as good at resolving the details when the mix got loud and congested. Nearly as good, but not quite.
Just for kicks I next listened to my old (purchased circa 1992/3) Beyer DT990 Pros. Now, I've always known (since joing Head-Fi) that these cans are known for their lows and highs. And highs they are. Ouch! If I could tame the high frequencies just a tad these, I feel, would be great cans, as their bass frequencies appear stronger, tighter and more solid thanthe Grado's, Sony's or the AKG's. But that damn high frequency! These came off quick.
I then decided to listen to the GS1000's. I've had these for about 6 or 8 months, purchased from another Head-Fi'er, and was amazed by their sound quality when I initially got them. The sound, to me, was not Grado-like at all. As a matter of fact, I've always felt that these should have been put out by AKG as their current top of the line can, above the 701's. To me, the GS1000's sound closer to the 701's than the RS1's. And I've always felt the GS1000's superior to the AKG's in all aspects sound...bass extension, midrange clarity, high frequency extension, along with a bigger, more defined headstage. Imagine my surprise when I found that not to be true at all. In complex passages where the 701's were able to follow a bassline, the GS1000s' failed. The bass got muddy. These could not compete.
Now, it could be due to the GS1000's needed more break-in, as I think they've only been burned in for a little over 100 hours. Or, the 701's have better synergy with the Raptor. My comparison before (and a very quick and short one at that) was using the PS Audio. But since I'm talking 'bout the Raptor for now, the GS1000's let me down.
My last can up was the 2500's. I got the same sense that I got when I initially listened to these when I first got them. Back then I literally laughed out loud because all my favorite music sounded totally different. So much so that my favorites were no longer my favorites. Since then I've both come to appreciate, like and enjoy the 2500's very much. But I haven't listened to them in a couple of months and with these you probably should give them a week or so just to get used to their sound, or rather the way they "present" the sound once you get them. After that, my guess is an half an hour or so and you should be back on familiar grounds.
Tonight they had only three or four minutes. And again, I thought, if these are right, then all my other cans are wrong. Totally unfair to the Ultrasone, but this was to be a quick round-robin session with a variety of cans to see which one or ones I preferred best with the Raptor. The 2500's were not the one.
So after about an hour or so my surprising (at least to me) rankings are:
1st Place - SA5000
2nd Place - K701
3rd Place - RS1
4th Place - GS1000
5th Place - DT990 Pros
6th Place - HD650
7th Place - Proline 2500
A couple of quick caveats: Doing as I did tonight is really not a good way of evaluating headphones. What I should have done, and might be able to find the time to do at a later point in time, is to live with each can for at least a week or so listening to a variety of music at different times of the day, at different volumes, while in different stages of exhaustion and then moving onto the next can.
I merely wanted to post my findings, emphasizing that my conclusions are only for tonight, using only one song and one headamp. I know that sounds like a cop-out, and it might be, but there's been too many times where I preferred one can over another, only to switch my preference back some days later. The the type of music I'm in the mood for, along with what kind of listening I want to do have a huge role in which headphones would suite that particular situation best. For instance, I find that when I'm really tired and want to veg while listening to a few tunes, I genearlly go for the Senns. They present music in such a way as to draw me in, as opposed to shoving sound into my face.
So after a couple of hundred words what does this all come down to? Not much, really. Just "Tonight I preferred the SA5000's."