IEM Reviewer Extraordinaire
Joined

May 11, 2004
Posts

21,156
Likes

11,946
Location
RedGiant
is fairly new company to the IEM scene. With HQ in Canada and R&D in Taiwan, the two things that can be said on their products line-up are the uniqueness in design and the high degree of completeness over product concept – making them as much as a statement of taste as they are audio gears.  
Spec
A00 Malleus
Driver: 12mm Dynamic
Impedance: 16ohms @ 1kHz
Sensitivity: 98 dB/mW
Frequency Response: 5 Hz - 20 kHz
Cord: 1.2M
Plug: 3.5mm Gold-Plated L-Shaped
Color: Silver (also available in red, black, gold, and blue)
Weight: 11.8g
Price: US$60  
A03 Ossicle
Driver Type: 8mm and 14.3mm Dual Dynamic
Impedance: 32ohms @ 1kHz
Sensitivity: 110 dB/mW
Frequency Response: 5 Hz - 20 kHz
Cord: 1.2M
Plug: 3.5mm Gold-Plated L-Shaped
Color: White over red
Weight: 11.3g
iPhone compatible mic and remote.
Price: $150  
Packaging, Accessories and Build Quality
Excellent packaging that showcases the design and build quality of the earpieces, but in less conventional way. Instead of transparent window, it is transparent corner. It is simple in concept but complex in design. This can be seen especially on the folding felt case that comes with the A03. It is an origami puzzle that ends up becoming the case for the IEM, which really is worthy as a separated products on its own.  Accessories wise, both models come with 2 set of good quality single flange silicone eartips, 4 pairs in each set (XS, S, M, L). These two set of eartips are in different design, which changes the sound slightly and you can choose the one that fits your taste best. They also come with some O-ring that you can fit underneath the flange for tighter seal. A03 also comes with the felt case as mentioned earlier.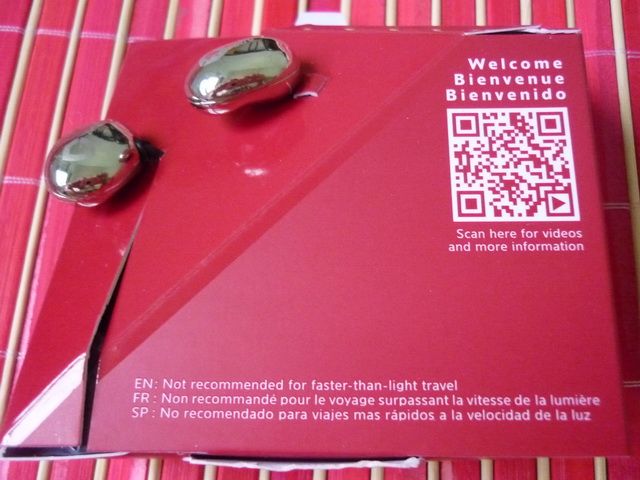 A00 Malleus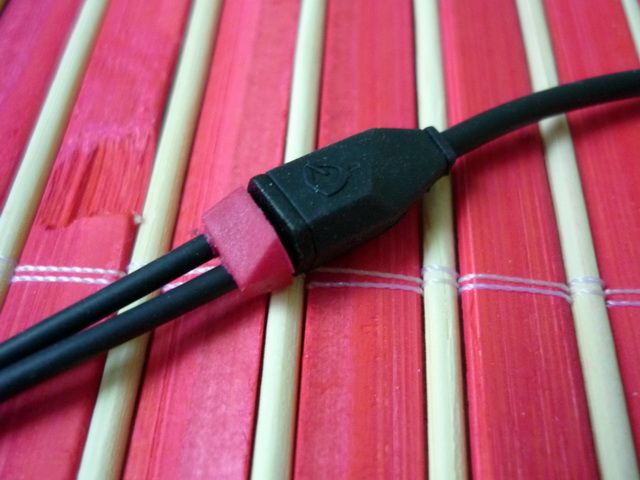 The build quality is excellent. A00 has a full metal oval shaped housing that seems to be chromed steel. Shiny and reflective, but will get scratched on hard surface.  A03 has a full plastic housing that has a rubberized coating where it faces the ears (the red side). Cable on both models is quite good as well. The cable on A03 has Apple compatible mic and remote and an extra 3 inches rubber sleeve covering the cable exit from the earpiece. It is kind of like a memory wire except it doesn't hold shape but rather adds extra comfort when the cable goes over the ears. It is also worth noting that RedGiant offers two years warranty on both models, showing the confidence they have over build quality.  
While the build quality is good, the shape and size of the earpiece are not. First, they are on the larger size of things, and almost can be certain that they won't give a comfortable fit for people with small outer ears, especially since both models are designed to fit inside the concha. Second, even with a large outer ear, there are some angles on the A03 earpiece. They are smoothed out, but even a smoothed out angle can still be irritating sometime when the fit is tight.  I really like the design on both models, and especially on A03. But to really love it, I think the nozzle angle need to be changed slightly and the housing needs to be smaller, and that's from a person who considers his outer ears to be a middle size. To really be comfortable with A03, I have to use aftermarket bi-flange so the earpiece can sit outside of my concha and so avoiding any pressure on the ear. A00 on the other hand is much less of a problem, but still the metal housing is quite heavy and certainly not small.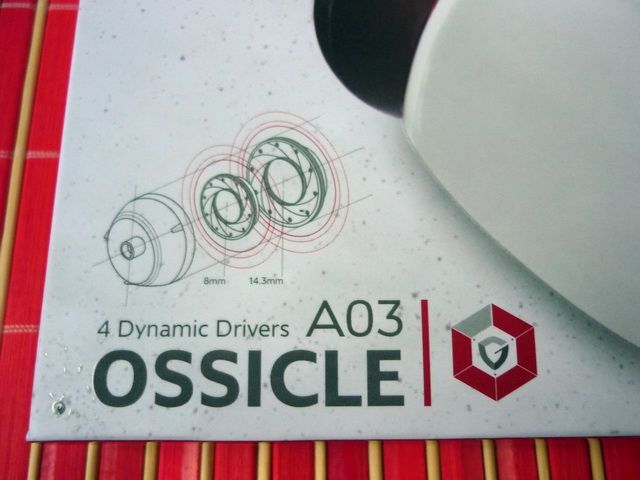 Isolation is about average for both models and better on A00 simply because I can fit it closer without feeling uncomfortable. Microphonics is not an issue, mainly due to the good quality of the cable. I detected a very mild driver flex on the left side of A00, but not on the A03 at all.  
All and all, it is mix feeling when it comes to the overall physical quality of both models. It can easily be seen that both models are very well made, but also overly designed in certain way. While the quest for style is applaudable, it shouldn't compromises comfort.  That's perhaps the Achilles' heel for RedGiant.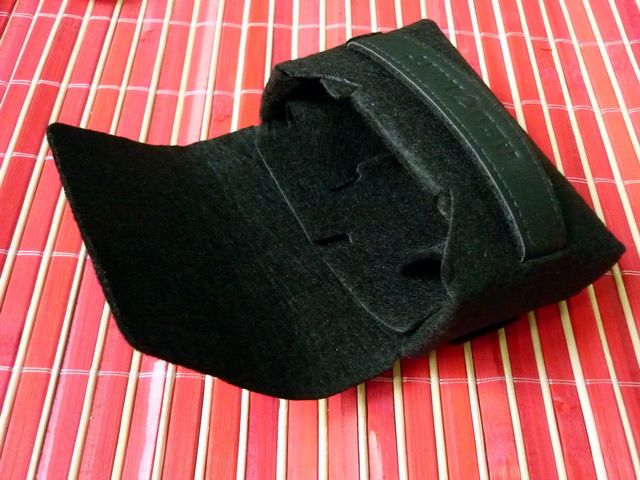 The felt case and the instrusion to fold it  
Sound Quality
Both models have been given over 50hours of burn-in before the review.  
A00 Malleus is best described as being warm, musical and bass dominance, but not bass driven.  Bass is the center of the presentation and often the first thing to 'jump out of the picture', but it is not a very aggressive type of bass. Rather, it is well bodied, rounded, and even a little smooth at time but not to the point of being slow. Mid sits much further away, smooth, relaxing and bland in a way. Treble has decent extension, but exhibits similar quality as the mid for being further away. Soundstage is very wide, probably due to the more laid back nature of the mid and treble. A00 reminds me most of DUNU Trident with the same sense of musicality and laid back nature in the presentation, except A00 has bigger soundstage, better texture with more bass quantity, plus a tiny bit more sparkly. Those who like Trident should find A00 a good upgrade for the same easy going flavor on presentation.  
Apple compatible mic+remote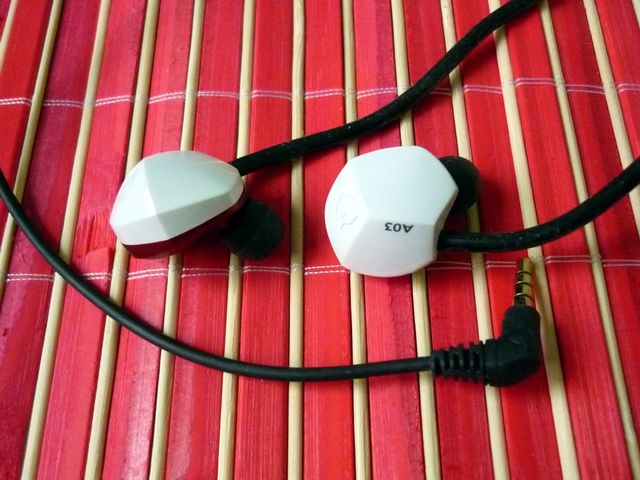 A03 Ossicle shows different faces when used with different eartips. On the stock single flange, it is relatively neutral in FR curve with a slightly brighter upper vocal while the bass is a little short on decay, and thus a lack of body and texture on the lower end. On the big-flanges, the emphasis is on bass quality and quantity, but at the cost of an overly smoothed out treble. With the single flange from Atomic Floyd (which isn't sold separately but only comes with AF's IEM), it achieves the best compromise between bass body and treble detail. But even with different eartips, A03 is still a warm and specious sounding IEM, though more specious on the bi-flanges than on the single flange. It has the same musicality as A00, but technically much tighter. The only real weakness of the whole presentation is in the mid. While the main vocal region over 1kHz is decently forwarded, it does sound a little thin and lacking texture at the same time. After playing around with EQ, the smoking gun seems to be pointing at a slight dip in the lower mid region, around the 450-500Hz area to be precise. I suspect it is the crossover point of the two dynamic drivers that results in the small dip, and 2-3dB of boosting is all it takes to add back the texture and makes vocal beautiful again. Overall, A03 is one of the better sounding dual dynamic in the market and rival that of Radius DDM2 with a more balanced presentation. However, it does take a bit more effort to get the ideal sound out of it.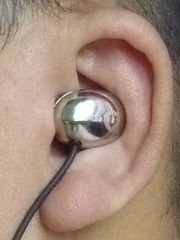 Verdict
RedGiant is truly a giant in the making, but not a giant just yet. On one hand, the company offers very competent sounding dynamic driver IEM with very competitive pricing and good build quality; but on the other hand, the design of the IEM still need some perfecting. If they are smaller and more ergonomically comfortable, I can easily see them becoming a huge home run for RedGiant. But for now, these IEM are only recommended to those who have large outer ear that can accompany big earpiece, just to be on the safe side. You can still try them if you have midsized outer ears, but aftermarket eartips should be considered at the same time. Regardless, I think RedGiant has earned enough points for us to pay close attention to the company for a bit longer, and hopefully the next generation will truly be the giant. They already have the sound right, just need the form to go with it.  
A thank to
RedGiant
for the sample.