Joined

Oct 31, 2006
Posts

3,369
Likes

31
[size=medium]Review of the DIY 6H6N to E182CC/5687 Tube Adapters (BullPlugs)
Created by "Ethebull" 02/27/08
For the Little-Dot MKII & MKIII Headphone Amplifiers[/size]
This is a review of tube adapters made by one of our members at HeadFi.
CAUTION:
Even though the creator of the adapters was able to make good secure and safe adapters, and we are bringing the idea out in the open for others to try, does not mean that you will be able to make them to a safe standard yourself. Both the creator and this reviewer want everyone to acknowledge the fact that it takes a decent degree of skill to make these adapters safely. Create them at your own risk, and understand that they may void the warranty on your tube amp, should something go wrong. Your personal safety belongs to you, so make proper decisions to safeguard yourself and your amps.
A couple of months back, there was a discussion in the MKIII tube rolling thread, about power tubes in the MKIII. Several members wanted to find a way of using E182CC & 5687 tubes instead of the stock 6H6N that comes with the MKIII. They saw eBay listings that show these two tube types (E182CC & 6H6N) as pin compatible. This whole mess started as a mistake. One Russian eBay seller started the mistake by listing his NOS 6H6N tubes as compatible with E182CC tubes. When I emailed him to clarify, he said they "sound like" E182CC tubes. He never changed his listing and many sellers and buyers now believe the two tubes are "PIN" compatible. They are
NOT
pin compatible. See diagram:
Enter Ethebull, the self proclaimed and proven tinkerer. He contacted Sword Yang at Little-Dot and asked what would be required to make a "home brew" adapter, so the E182CC/5687 tubes could be used in place of the 6H6N power tubes. Sword provided the above diagram and DavidZ at Little-Dot promised that Little-Dot would look into producing adapters in the future. Ethebull ordered the parts he felt would be necessary to create the adapter he had in his mind, then he built the adapters from scratch! I knew immediately that this was going to work, because his approach to the design was very close to what I was thinking about, but better overall.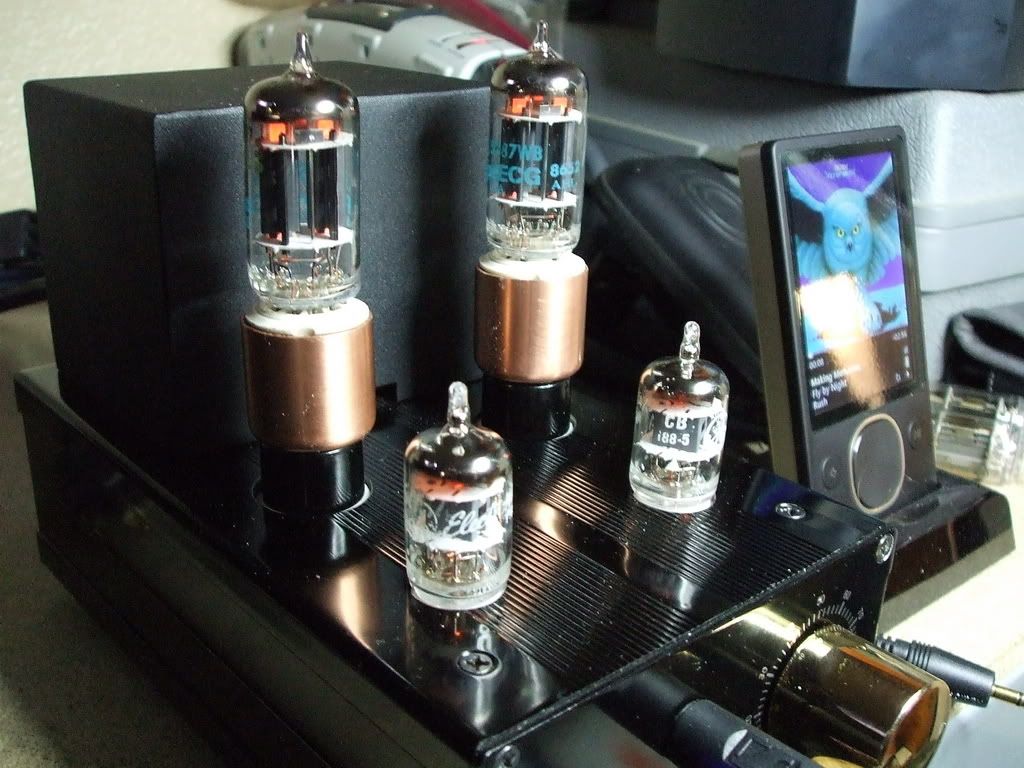 I entered into an arrangement with Ethebull. He would produce two pair of the adapters, one for himself and one for me, and as compensation, I would send him some nice E182CC compatible tubes I had stock piled. After some familiarization time and consultation with Ethebull, I decided to write this review of his adapters.
Understand that Ethebull is not going to make these adapters for anyone else.
He (and I agree) wants everyone who uses 6H6N tubes to realize that they can make their own adapters fairly cheap, and enjoy the new sounds created by using the E182CC/5687 family of tubes. Ethebull will post details and plans on HeadFi (most likely in this thread) when he has them completed.
As you can see from the last Pic, the adapters are made from tube sockets, skirts, double twist wiring (inside) and copper piping. There is a machined bolt running down the center of the adapter to hold it all together. The overall look is very pleasing and actually adds to the night time tube glowing show, we all love. The BullPlugs adapters are noiseless and transparent, due to their construction and the materials used. At first, I thought it was a little awkward, having the power tubes up this high on the amp. I soon learned that there were advantages to having these adapters in use.
The first advantage is heat dissipation. The power tubes are up high enough to shed more heat into the surrounding air. Less heat is transferred to the amp, which is always a good thing. The second advantage is visibility. They are high enough to enjoy the looks of the entire tube without being blocked by the front driver tubes. The third advantage is what happens to the sound signature of the headphone amp. I'll go into more detail in a moment, but the advantage of an adapter keeps your costs down, while you benefit from the improved sound signature of your amp. It is all about mixing up the understood signatures of each tube type and model, to further enhance the overall output signature. The E182CC/5687 family of tubes, are famous for their quality audiophile sound signature, and were the obvious choice for adapting to the MKII & MKIII amps made by Little-Dot. It has not been tested, but these should also work in DarkVoice amps that use the 6H6N and pin/voltage compatible power tubes. Check the diagram to be sure.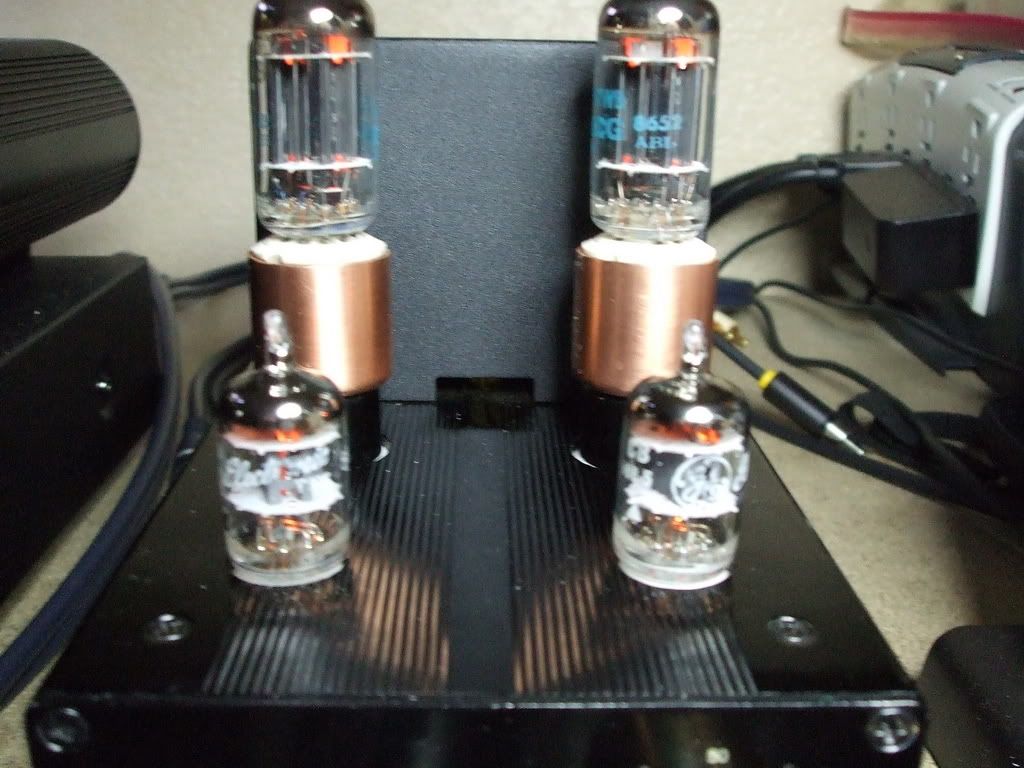 The results I'm going to tell you about come from using the "BullPlugs" 5687 adapters (Ethebull named them) on my Little-Dot MKII headphone amp. The stock amp is capable of using all EF91, EF92 and EF95 compatible driver tubes and the 6H6N or 6H30 power tubes. With the adapters in place, this adds all E182CC, 5687, 7119, 7044 and 6900 compatible power tubes into the mix. This more than doubles the possible combinations! When I first realized the full extent of possibilities the BullPlugs adapters bring to the tube rolling scenario, I kept asking myself, "Where do I start?" The answer was to go from the known advantages to the unknown advantages. I will provide you with highlights from some of the more popular driver tubes combined with E182CC/5687 tubes on the new adapters.
First set:
The driver tube is the NOS GE 5654 A. Considered to be one of the "standard" great sounding driver tubes in the EF95 family, for which other 5654s are judged. In the stock configuration, this driver tube has outstanding bass, nice warm mids and clear highs. Nothing in excess, everything in proper proportion:
With Philips Black Plate 5687's on the Bullplug's, the sound stage has opened up wider, with positioning being more accurate. The lows are tighter and extend further down. The mids have a warmer, smoother sound while maintaining clarity. The highs are crisp and clear with just a hint of warmth to them. This combination is very pleasant overall and would be a "digital signature" killer.
With Mullard E182CC's on the Bullplug's, the sound stage is even wider, with seemingly endless microphones adding to the positioning effects. The deep low bass Mullards are famous for is there in a big way. Mids had highs are buttery soft, with all harshness removed. Accuracy is apparent with each note, and all timing properties are spot on. This will be a favorite combination.
With Amperex 7119's on the Bullplug's, it has the same sound stage as the Mullards, but the music is more alive and uplifting. The bass has way better punch and extends slightly lower. Mids are smooth and clear, and the highs are very, very accurate and not harsh. This is a sweet combination.
Second set:
The driver tube is the famous Mullard M8161 EF92. This tube is considered the best of the EF92's in almost every application. In the stock configuration, this driver tube has deadly accurate bass, true to life mids and clearly the best highs anyone has heard from this type of tube.
With Tung-Sol JFT 5687's on the Bullplug's, the sound stage is just amazing! It is wide but not distant, with super accurate positioning. The lows are flat, way down and peak slightly at the lowest point. Mids are smooth and easy to listen too, and the highs are flat with great extension into the upper reaches. This is the Tung-Sol house sound, with a twist.
With GE Mil Spec JG-5687WA's on the Bullplug's, the sound stage is almost identical to the Tung-Sol 5687's. The lows extend just a little further down, with plenty of punch. The mids are slightly recessed but smooth, and the highs are also slightly recessed but accurate. This is a very enjoyable combo.
With Amperex 7119's on the Bullplug's, the sound stage is nice and wide combined with less accurate positioning. The lows are flat now, but extend way down. The mids are now flat and more detailed, while the highs are still recessed slightly, but accurate. This would be the average sound too me.
Third set:
The driver tube is the Mullard 6AM6 EF91. These tubes draw more power than the other two families, but have a distinct sound all their own. In the stock configuration, this driver has excellent bass, flat mids and accurate highs.
With Amperex 7119's on the Bullplug's, the sound stage is wide and two rows up. The lows have extreme punch at the lower levels, with mids that sound more aggressive but not rough. Highs go way up, with clarity and attack. This is a rock and roll tube combination!
With Philips Black Plate 5687's on the Bullplug's, the sound stage is wide and directly in front. The lows are fantastic, with proper punch and a full richness. Mids are flat and smooth, with enough accuracy to make voices almost seductive. The highs are very high, but not harsh. They are accurate but not aggressive. This is a fun combination!
With Arcturus 7044's on the Bullplug's, the sound stage is wide with excellent positioning. The lows are buttery smooth down to the accurate punch of the lowest bass. Mids are smooth and silky, but accurate enough to follow along without discomfort. Highs are laid back, with eased timing and attack, but extend far up the scale. This is a superior easy listening combination!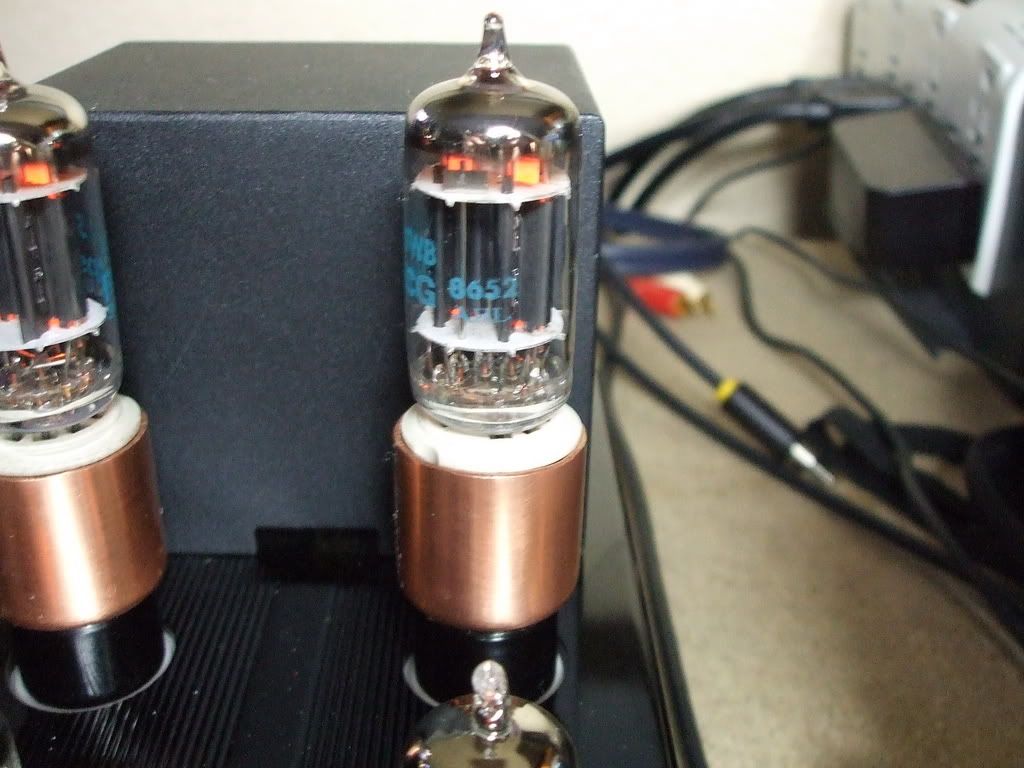 Conclusions:
I think this is plenty of tube swapping to show the possible advantages to having a set of BullPlugs. Some people do not believe power tubes make a difference in the overall output signature of their tube amps. Having these BullPlugs adapters has proven without a doubt, that the power tubes do determine a portion of the final outcome. If I had to guess how much, I'd say at least 1/3 and possibly more, depending on the strengths and weaknesses of the tubes involved.
So, what does this all mean? Well, it means if you create your own BullPlugs adapters, you can pick up some really great sounding power tubes in the E182CC/5687 family, and run them in place of the 6H6N anytime you want too. Is it important? Yes, I think so. If a person tube rolls the majority of the possibilities for his/her amp, and can't seem to find that "special" sound they are looking for, the BullPlugs adapter gives them an immediate doubling of possibilities. Several pleasing combination are bound to be found with so many possible combinations at their disposal. Only their wallet can hold them back. Does everyone need BullPlugs adapters? No. Those who have already found combinations they consider best, and don't like to tube roll, really don't need the adapters. Those who like tube rolling and finding new combinations of tubes for their amps will love what the BullPlugs can do for them!
If you are "electronic tinkering" challenged, waiting until Little-Dot starts manufacturing their version of these adapters would be safer and smarter. Perhaps having your friend (who is a tinkerer) make you a set of BullPlugs in exchange for free beers or a garden hose power cable, would make sense as well. Having a pair of BullPlugs for playing around with new tube possibilities is great fun. It also shows you just how great your music can sound with superior sounding power tubes.
A big "Thank You" goes out to Ethebull for taking his idea and making it a reality! A special thanks comes from me, Thanks E, the adapters are sweet and I promise to use the heck out of them!!!
Dave McLaughlin
Proud owner of BullPlugs
Audiophile since 1977