Joined

Aug 18, 2007
Posts

17,452
Likes

835
Review of NXears new single driver Sonata, quad driver Basso, and eight driver Opera universal fit IEM.
I had the pleasure of trying out and evaluating a new brand of universal fit IEM for the past 2 weeks, which are being released at CanJam NYC on February 15th 2020. These samples are loaners and will be returned before the show. Casey Ng, the designer and engineer at
NXEars
(< link), who used to work at Nuforce, Erato Wireless, and more recently at Knowles, has created his own company in order to bring high-end IEM sound to the market at a price point well below its competitors.
GENERAL INFORMATION
- Quoting Casey Ng, the driving force and founder/CEO behind the company, "
NXEars IEMs are designed for "hard wired" music lovers and sophisticated tech enthusiasts that are looking for the next paradigm in high- performance audio. If you hunger for lossless recordings and/or own a few terabytes of high-resolution digital music, or maybe just subscribe to HD music streaming services – you really need to check us out.

NXEars uses 100% Knowles TM Balanced Armature Drivers in a proprietary acoustic design employing innovative, Patent Pending "Aperiodic Ground Loading" (AGL) of the ear canal allows NXEars IEMs to project an enveloping soundstage, delicate detail retrieval, and long-term hearing comfort without the typical stress and listening fatigue of other brands
." This pending AGL patent is jointly owned developed with Bob Smith who also helped design the crossover.
Casey's IEM design philosophy focuses on proper crossover design, phase alignment of the drivers using sophisticated computer algorithms, the patent pending AGL to reduce standing waves in the ear canal and reduce acoustic stress on the eardrum, and 3D printing technology that results in high quality and consistently repeatable shell production for their IEM.
Their 3D printing technique uses materials that are known to reduce chaotic resonance peaks, and that are bio-compatible (i.e. hypoallergenic) and designed to be in close contact to skin for long periods of time without irritation. It takes on average 2 hours to complete the NXEars balanced armature driver's shell, then they are assembled with drivers, MMCX connector, and crossover network, and finally hand finished and painted by expert craftsmen.
The NXEars also embed a unique technology, as explained here in a quote from NXEars: "
Many may not be familiar with the concept, but on a basic level there exists a dynamically changing dielectric field that surrounds every conductor of electrical AC current. Much like the "eddies" or little whirlpools that form in a flowing river, the flow of electrical current causes rotating vortices to form within the field. Hence... the term "Vortex Field. Vortex Fields can then interact with the electrical circuits within the audio components they are connected to in ways that produce complex distortion artifacts.

Although these artifacts may be low in amplitude, they definitely work to reduce system fidelity by corrupting fine details, reducing resolution, and altering subtle harmonic textures contained in the music and/or recording. NXEars has developed a material that will dampen and help control these Vortex Fields. This commonly improves, timbre accuracy, clarity, image separation, and soundstage, etc. but DOES NOT alter the original sound signature or frequency response of the earphones in any way
."
CABLES
- The Sonata and Basso were supplied with a very high quality 8-core silver plated copper cable, with molded 3.5mm plug on one end and a pair of molded MMCX connectors on the other end. The cables have integrated ear hooks near the MMCX plugs to help keep them running over and behind the ears. The Opera were supplied with an upgraded pure OCC single crystal 6N copper cable, with the same connectors. I did not have their 4-core silver plated copper cable to test, but I was told that it's an even better match for the Sonata and Basso in terms of sound signature. I did try the single crystal copper cable with all of the IEM, and slightly preferred that over the SPC cable that they sent to me.
Both cables have a machined aluminum tube as the splitter, with a high grade TPU jacket that feels great to the touch, but the 90 degree molded 3.5mm plug will be switched to a straight plug for easier use with small portable amps and an iPhone lightning to headphone adapter (one can easily add a 90 degree adapter later for strain relief if needed for using with a DAP in a pocket).
TIPS
- The ear tips that will ship with the NXEars are still being selected, as they can have a large impact on sound. The NXEars use a large bore tip like a HiFiMan RE-2000 or my old Ultimate Ears IEM. So, if you like foam tips the Complys 400 and 500 series will fit. These will come with silicone tips, and generic memory foam tips. I used some small and medium generic black silicon tips for most of my evaluation, and also some translucent white medium tips from HiFiMan (single and double flange, didn't have any small or large).
I found that the medium HiFiMan single flange tips, with their slightly larger opening into the ear canal, had the most open and spacious midrange, but I could not get the single flange medium tips deep enough into my ears for a proper fit. So with the more shallow insertion, the HiFiMan tips made all of these IEM sound brighter than a properly fitted silicon tip. The HiFiMan double flange tips fit better and deeper, but still were not optimal unless used with the 6N copper cable.
The NXEars are constructed like a universal fit version of a custom IEM, and have a long sound nozzle or stem which allows for a deep insertion as you get with a custom IEM. So, in most cases, I got the best sound moving down to small tips and inserting them a little past the region where I would first get a good seal. My ear canals are shaped such that I can get a seal with small tips in a shallow insertion, and if I push them in a little deeper I lose the seal, but then if I go a tiny bit deeper I get a seal again - this is the depth that most of my custom IEM go in, and the one that gives the NXEars their best frequency response for me. The nozzle length was designed firstly for the best sound, and that left them with longer sound nozzles at about 7-9 mm long, depending on where you start measuring from (7mm for the straight part, but the opening ends up about 9mm out from the body of the IEM).
FIT and FINISH
- Looking at the finish on the NXEars, I find the paint to be smooth and flawless. The eight core IEM in translucent blue with a unique one-of-a-kind gold star field and milky nebulae on the face plate is stunning. Each model will have its own color scheme, with three colors for the single driver. I received the single driver sample in Fire Engine Red. The four driver IEM have a copper colored mother of pearl finish on the face plate (my sample was a milky translucent shell, but they production color looks grey with the copper face plate.
They have a gold plated MMCX jack, which in production will be slightly protruding so as to be compatible with Westone brand MMCX cables, but that change has not been implemented on my review samples. Everything else in the build has been finalized on my samples.
MUSIC SELECTIONS
- I chose a variety of lossless music including but not limited to the following - Jack Johnson "On and On", Dianna Krall "Live in Paris", Ed Sheeran "X Wembley Edition", Martin Garrix "2019 Remixed", Camilla Cabello "Romance", Amanda Palmer "Performs the Popular Hits of Radiohead with her Magical Ukulele", Eric Clapton and BB King "Riding with the King", Zac Brown Band "Welcome Home", Chris Jones "Roadhouses and Automobiles", Billie Eilish "When we all go to Sleep, Where do we Go?" and "don't smile at me", Dierks Bently "Riser", Eric Church "Chief", Zara Larsson "So Good", Pink Floyd "DSOTM", Blueport Nuforce Jazz Sampler, and Timothy Seelig "Rutter: Requiem & Five Anthems".
GEAR USED
- 2011 Macbook Air and 2014 Macbook Pro 15" with Nuprime Audio Hi-mDAC $129, CEntrance DACport HD $149, BlueDAC $399, iPhone 11 Pro Max with lightning cable adapter, and iPhone directly into Hi-mDAC using a USB-C to lightning data cable from Penon Audio $39.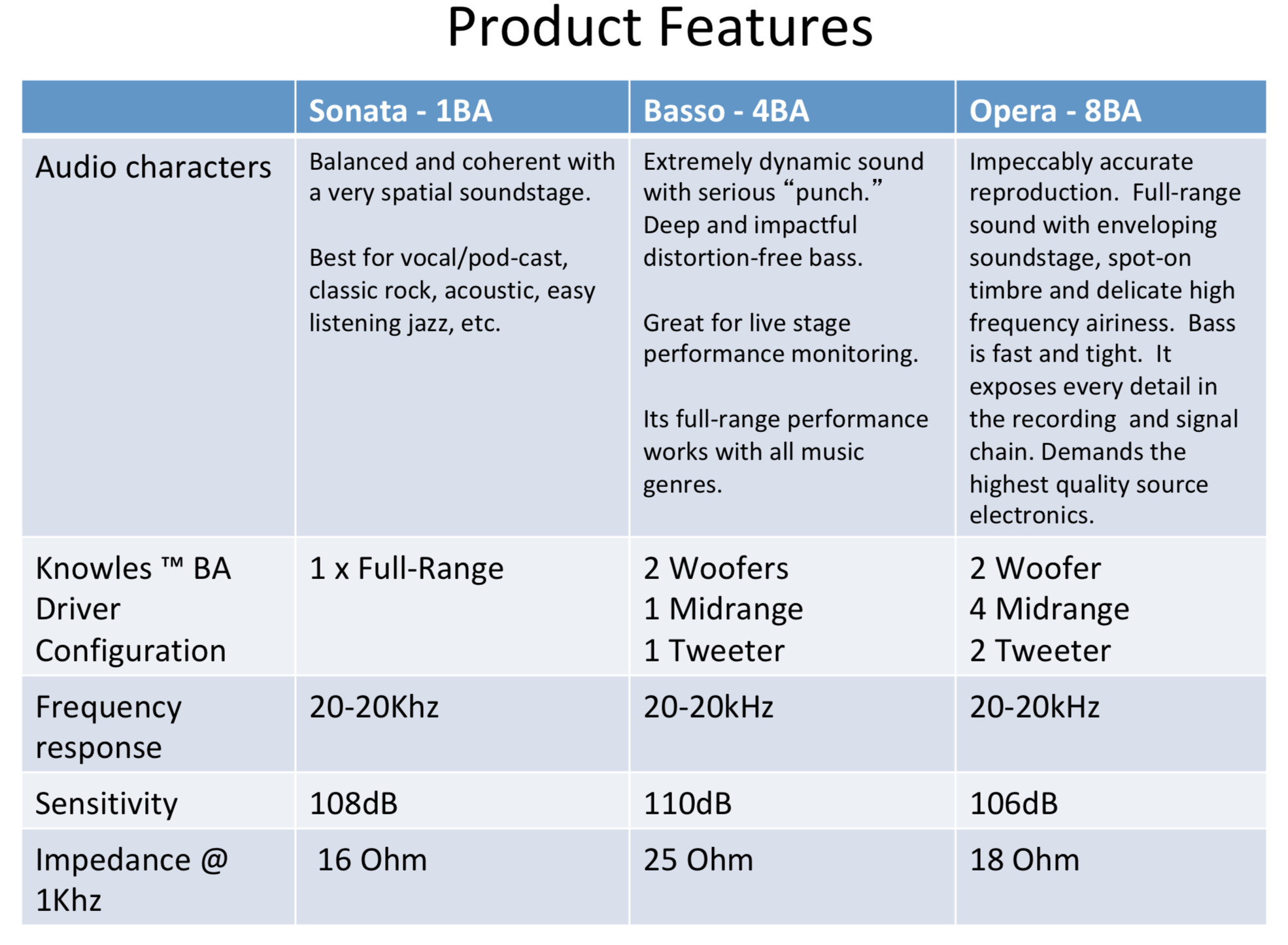 Sonata - Single Full Range Driver
I listened to the single driver Sonata which had over 50-60 hours of burn-in for CES before arrival, while the Basso quad driver IEM was burning in for the first time, as the original quad driver shown at CES was accidentally destroyed. Speaking of CES, Casey reports that everyone who listened to NXEars at CES liked them and would like to buy one of their IEM when released.
My first impression of the Sonata was that it sounded very nice and balanced with the Nuprime Audio Hi-mDAC that I was also evaluating before CanJam NYC. The bass was all there, extended, and balanced - with no humps or roll off. The midrange was transparent, spacious, and open. And the treble was crisp and detailed sounding. The bass is flat, so not boosted or recessed, but it's enough such that bass lovers will not be disappointed, especially since the bass responds quite well to a little EQ as well if you want dance club levels.
The Sonata also have good soundstage and imaging, and they sound effortless in their presentation. They are fairly transparent sounding with little coloration, although with the 8-core SPC cable the treble could be a little boosted sometimes (not all the time). I thought that the treble presentation was improved with the 6N pure copper upgrade cable or with the DACport HD, at the expense of a slightly narrower soundstage than the Hi-mDAC.
After switching to the DACport HD, which is a warmer and more powerful amp, I found that the Sonata had a little better synergy in the bass [more] and high end [less] with the DACport HD, and they could take all the power I could give them to the point of physical discomfort. I also tried the bass booster EQ with Rogue Amoeba SoundSource, and the bass hits even harder and doesn't give up or break up when the volume is cranked up. I was impressed that a single driver IEM can pass this torture test. This was only for the stress test, and I used the Sonata for the entire review with no EQ.
In the past with single driver IEM, I thought my Klipsch Image 10 were a little dark and bassy like my Sennheiser IE8, while the Westone W1 were more balanced and reference quality but needed a little more high-end sparkle. The Sonata have decent bass that doesn't give up at any volume, and also some added shimmer in the highs. Prior to the Sonata I got used to a saying, "with a single driver IEM you can have either bass, midrange, or treble, pick 2."
It's hard to find a single driver IEM that can do both good bass and good treble, and I think that I may pick up a pair of Sonata to play with for myself. Like me, my son owns a wide variety of IEM, including the Westone W3, W50, W60, W80 and ES70 customs, as well as JH Audio JH 16Pro freqphase. He tried the Sonata and thought they were the best bang for the buck of all the IEM that he's tried. "It's a no brainer" at that price. And that I have to agree with that - you have to spend a bit more money to surpass the Sonata performance. I have been out of the market for new IEM for a while, but I'm going to have to pay a lot more attention from this point forward.
Basso - Quad Driver - 2 bass, 1 midrange, 1 tweeter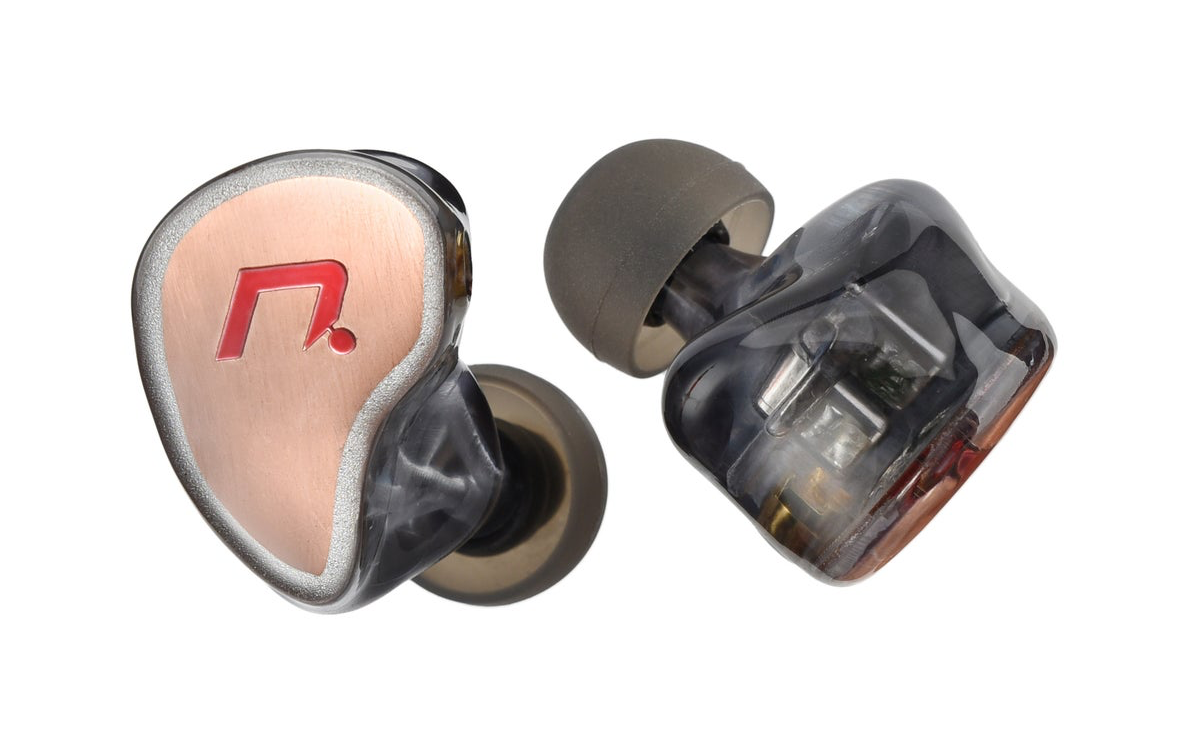 Casey at NXEars agrees that balanced armatures do not need burn-in, however the crossover in the Basso needs burn-in for the capacitors to settle in, and this pair only had 5 hours on it before they shipped them to me (see above about CES accident). NXEars recommends as much as 50 hours of burn-in, and to my ears the biggest changes were in the first 24 hours, and were done by 50-60 hours.
With that in mind, I thought it would be important to give a report on any changes in sound over time with these as they burned-in. This way, if you buy a pair of them and hear an issue, then you might know whether to expect it to get better with time, or not. I don't wish to dwell on any temporary negatives, but I felt that it would be a disservice if I didn't explain what someone might experience over the first 60 hours, in case they were to make a premature assessment of the sound.
The "too long, didn't read version" is that the Basso clearly improved with time, and in the end I find them to be an energetic sounding IEM, which don't need an amplifier to sound good, and are easily driven by my iPhone 11 Pro Max with lightning adapter. Their bass is strong, tight, and fast, using dual CI bass drivers. The midrange became pretty clear and transparent after burn-in, and the treble is crisp and detailed (sometimes bright but not excessive). The soundstage is fairly wide as well. I thought their slight emphasis on the upper midrange and lower treble would make these a good musician's stage monitor. Sibilance was not an issue after burn-in, or with the OCC 6N copper cable.
But going back to burn-in, on day one I briefly listened to the Basso for a few minutes before continuing another 15+ hours of burn-in each day. I felt that they were warmer and punchier sounding than the Sonata, without losing any of the spaciousness, detail, or crispness. But I also felt that the the upper bass was sometimes bleeding into the lower midrange and into male vocals (low mid bloom with Jack Johnson making him sound too close mic'd, for example). And I noticed that the lower frequency strings on the acoustic guitars had too much presence and resonated in my ears (Jack Johnson, Chris Jones). I didn't notice this with female vocals (Camilla Cabello album "Romance" and Diana Krall "Live in Paris" lossless) or with instrumental, jazz, classical, and electronic music.
Plus, the treble had a slight sheen to it using the medium tips and shallow insertion. Later I decided that the smaller tips with a deeper fit had better treble, but were not as comfortable. The tip choice was less important with the eight driver IEM that I spent the most time with.
Burn-in was definitely helpful with the Basso, which went from fair sounding the first day, to good the second day, to very good the third day. By 45 hours of burn-in on the third day the midrange and bass bloom was gone, but the treble continued to smooth-out to past 60 hours on the fourth day.
The Basso scale up nicely with an upgraded DAC and amp, but you can add that later if you're on a budget. After 60 hours of burn-in, I tried the Basso with my iPhone lightning headphone adapter and loved it. I then tried the Basso on the iPhone with the Hi-mDAC using a using a Penon Audio "decoder cable" instead of a camera connection kit, and the sound was even better. Before burn-in was done I'd tried using the Apple camera connection kit with Hi-mDAC but it didn't sound as good and I abandoned it. I've not had time to go back to that.
Gear synergy is important, and using different DAC/amps can change the sound a lot. If you don't like the Basso with one amp, try another. During and after burn-in they had good synergy with the iPhone 11 Pro Max, Nuprime Audio Hi-mDAC, CEntrance DACport HD and BlueDAC. But the midrange bloom on the first night was worse with the HiFiMan R2R2000, which also made them sound more closed in and dark (output impedance mismatch maybe, so I put it away).
As mentioned before, the Basso soundstage is fairly wide, but especially so with the Hi-mDAC, although I thought the DACport HD and BlueDAC were a little warmer and punchier sounding with them. I thought that the brighter more spacious sounding Hi-mDAC had better synergy with the Westone W40 and W80, while the warmer punchier sounding DACport HD and BlueDAC has slightly better synergy with all of the NXEars models. It's nice to have choices.
In addition to trying different tips and amps, I experimented with the upgraded pure OCC single crystal 6N copper cable that comes with the Opera. I thought that the upgrade resulted in smoother and more refined sounding treble, and I mentioned this to Casey. He said that they would look into making this cable an upgrade option at the time of purchase. However, as the Basso burned in I found the desire to upgrade the cable decreased, although in the end the 6N single crystal copper cable is still a little better overall.
I thought my Westone W40 had a similar bass, and sounded a little warmer and more laid back, with less treble energy, but the W40 also improve with the Westone Hi-Res upgrade cable ($150 for more bass and detail). The overall sound signature of the Westone 40 is a little darker and less energetic than the Basso, but they're still quite enjoyable in the way that some people loved the Sennheiser HD600/650 more while others preferred the AKG K702 back in the old days. I actually think the Basso sound a bit more like the full-size HiFiMan HE-560 headphones - there may be a very slight U-shaped frequency response there, but not as much as with the HE-560.
Opera - Eight Driver with 3-way Crossover (2 woofer, 4 midrange, 2 tweeter)
It's funny that the sound signature and frequency response of the Opera reminds me a lot of my Sennheiser Momentum True Wireless IEM, but adding the extra detail and space of a wired IEM, and the Momentum TW happens to be one of Casey's favorite true wireless Bluetooth earbuds as well as mine. Casey had over 50 hours on the Opera before I received them, and burn-in of the crossover network was complete.
I found that the Opera is an 8-driver universal fit IEM that doesn't do anything wrong after you find the right tips and fit, and excels at a lot of things like imaging or soundstage, detail, and bass impact. It doesn't need a fancy DAC or amp to sound good, and is easy to drive even with an iPhone. But, when you use a better quality DAC and amp they scale up and get even better. Listening to the Opera for the first time was a revelation. I wouldn't change a thing except that a custom molded version would get me same fit immediately every time I place them in my ears.
I only tried the Opera on the pure copper 6N cable. I started off with the Nuprime Audio Hi-mDAC and medium generic silicone tips and was immediately struck by an open and spacious soundstage, with a well balanced sound signature in the bass, midrange, and treble. These also worked with small silicone tips pushed in for a deeper fit, which gave me stronger bass to go with the better seal, in exchange for a slightly smaller soundstage.
However, even with the small tips inserted deeply they don't lose much treble and they still have many moments of out of head instruments, such as with Amanda Palmer on her Ukulele. The Ukulele comes in on the first song and your first thought is to turn your head to look for her playing the instrument. Then when her vocals come in they sound very transparent, but are centered more inside the head. The strumming on the ukulele strings is very crisp and detailed, and her voice is like she's right there. Her voice sounded organic and live, not like a recording.
I switched from the generic black silicone tips to my HiFiMan silicone tips and the midrange space and stage opened up a bit more, but bass impact went down and the sound got somewhat brighter. This was fine at normal listening volumes, but at higher volumes these tips made them slightly strident sounding. I went back to the generic small tips with a deeper fit. If I try a shallow fit with the small tips, the sound in the right ear can sometimes get blocked by the side of my ear canal if I'm not careful, so I have to fiddle with them for a bit to get them just right, but as above that still sounds just great.
By this point I was going back and forth with the Hi-mDAC and DACport HD for different songs. When playing music at much louder volumes with my DACport HD, the Opera refused to become strained; but at high volumes the midrange could become a little too much with some vocals on some tracks (not with instrumental music, jazz, electronic or classical). At normal and moderately loud volumes the midrange did not overpower - only at dangerously high levels (like over 115-120dB).
Bass guitar and drums carry the illusion of some fairly heavy weight and body to them, as do the vocals which sound warm and present (as opposed to sounding distant). With the Billie Eilish song "&burn" I could play them at insane levels without the mids overwhelming me, and the bass was very deep, strong, and controlled, while the treble remained smooth and not piercing despite the extreme volumes. When the rap section at 1:50 came in, the bass line was very fast, tight, and controlled. "Bad Guy" was also very good with these at any volume.
While writing this, I had just finished the album "Riser" by Dierks Bently via Tidal lossless, and it was all quiet for a moment, and then Tidal selected a similar genre and just started playing Eric Church's song "Over when it's Over" - the weight and foundation of the kick bass drum really took me by surprise - I could almost feel it in the room with me. I could crank it up quite loud and only when I got above 80-90% volume on the Hi-mDAC did the treble volume seem to keep going up faster than the bass volume, but by then it was so loud that I could only stand it for another 15 seconds. I did not notice this frequency response shift with the DACport HD, and assume that the Hi-mDAC was running out of juice, where the DACport HD has about 10x the power. In most cases I will never use more than 30-50% of the Hi-mDAC's power.
Whenever you see that I'm commenting that the bass is fast, tight, and strong, it's still on the same level as the midrange and treble, and not boosted or excessive. I also don't hear a U-shaped frequency response with the Opera, and yet it sounds just as good at very low volumes too, not needing any loudness control at low volumes. The Opera (as with all the other NXEars) have very good external sound isolation when you have a good seal, so outside sounds disappear and you can listen and hear details and bass notes at low volumes.
I switched to the live version of the song "Over when it's Over", and while that live track has less bass impact than the the studio track with the Hi-mDAC, the drums and rhythm guitar, and crowd cheering, definitely come from outside of the head. With these same tracks I switched to the CEntrance Dacport HD where the bass impact increased and it sounded slightly warmer, without losing the "out of head" stage of the crowd's cheers, guitar, or drums on the live recording. These IEM can reach insane volumes, so I found that I was keeping the Dacport HD in low gain mode so as to protect my ears, but even in low gain you could do some real damage.
I then listened to Rutter Requiem III: Pie Jesu and the size and space of the venue sounded pretty big. The vocals were everywhere surrounding me, while the pipe organ reaches to subterranean depths. With the album "Riding with the King" in the song "Three O'clock Blues", while Eric Clapton is singing a little to the left of center in my head, there is a piano that is trilling off to my right and behind me from outside of my head. Then, when B.B. King is singing slightly right of center in my head, there is a guitar riff that seems to be coming from my left and behind me, outside of my head.
Everything I listened to sounded good with the Opera, with the Hi-mDAC or DACport HD, and even switching to the iPhone 11 Pro Max with lightning to headphone adapter, I was pleased with the sound quality and bass impact. They sounded a little warmer and more closed in with my R2R2000 on USB, which improved a little with lossless off the SD card, but I did not try them on the R2R2000 with the brighter sounding SPC cable from the Basso. I'm just not sure the synergy is there with the R2R2000 like it is with my Westone W80 and ES60.
I went to visit my son, HeadFanatic (a play on my username HeadphoneAddict), at college a week ago. We listened to all the NXEars with his Audioengine D1 DAC connected to his Macbook Pro via USB, and feeding the RCA outputs into a Schitt Audio Modi 3 using some generic silver-plated copper RCA interconnects. We also tried them directly out of the D1 headphone jack.
He was impressed, and thought the Opera reminded him of the JH Audio JH 16 V2 Pro universal fit demo's that he heard at Rocky Mountain Audio Fest. The JH 16 v2 Pro have better treble than our JH 16 Pro freqphase custom IEM, and he keeps talking about asking JHA if they will upgrade his JH16 to the V2. I was very impressed with the D1/Modi 3 combination, and happen to have this same gear at home but hadn't thought of using it (didn't want to use anything that I had to plug into wall power, since that's not convenient for where I listen on my Macbook).
He said that if he was paying for his own IEM now as a poor college student, and didn't already have so many good IEM, that he would consider the Opera near or at the top of the list if his budget allowed, but on his current budget that the Sonata are the ones of which he'd least regret spending his precious money.
I certainly agree that the Opera has a lot to offer, and while expensive at $799 they are cheaper than most of their competition. They definitely deserve a listen and consideration when looking for a good wired IEM, especially one that can also be tuned so easily to your tastes through your choice of tips, cables, DAC, and amplifier. If I was asked to critique the Opera and recommend any improvements, I'd be left stumped, other than to recommend making a custom molded version as well.
Last edited: