My 12 Year PDA Journey
It all started back in 1996. I had been using Week at a Glance organizers for many years, but was sick and tired of losing post it notes that I ended up adding to pages because I was running out of room. Also, the prospect of having to copy info (like contacts, etc.) over to the next years version was a pain. I never got into Franklin Covey, because it was too expensive for a poor college student's budget and not to mention not very pocket friendly.
So, when I first saw and held a Palm Pilot I was hooked. Other PDA types and PIM's (Personal Information Managers) were difficult to enter information into it, or required a computer to enter info. Plus I wanted something that would have alarms to remind me of appointments (something paper based planners could never do). I also wanted an established system (operating system) rather than a proprietary one off product that would be completely redesigned and useless when it came time to upgrade.
So I made the leap, and the Palm Pilot became my first Planner that "never ran out of pages". In fact, I still have some of my old entries from my original Palm Pilot in my current Sprint Touch Pro Pocket PC.
So here's the progression of my 12 year journey so far:
Pictured from left to right.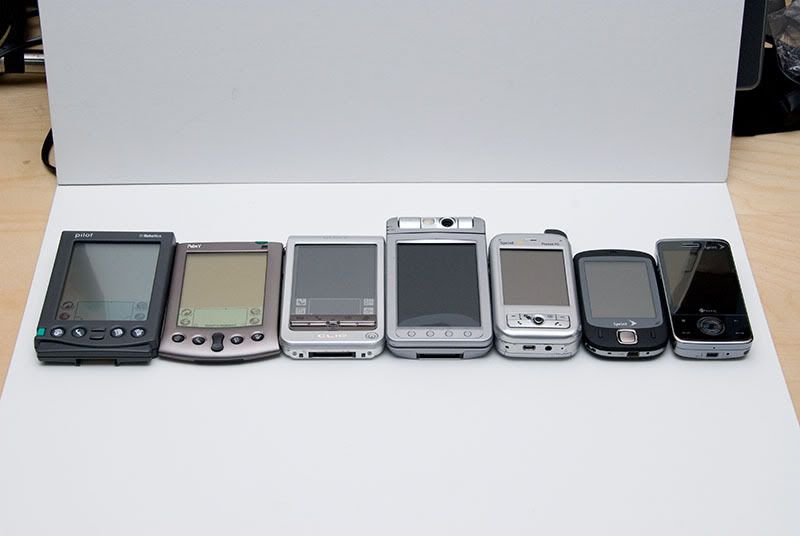 Palm Pilot, Palm V, Sony Clie PEG-T615C, Sony Clie PEG-NX80, Sprint PPC-6700, Sprint Touch, Sprint Touch Pro
The Palm Pilot was decidedly utilitarian in design. A bit of a plastic brick. When the Palm V was released, I bought it the week it came out. I was running out of memory space, and the Palm V had larger capacity. Yet it was smaller, far nicer Industrial Design with a solid Aluminum body. My gadget lust was fulfilled. The Palm V served me very well for several more years.
The Rise of Industrial Design Styling
Fast forward a bit. Palm had released several different generations of Palm Pilots. Now simply called "Palm" and they were no longer owned by US Robotics or 3Com. They were venturing into Color screen products, which were tempting, but there was no compelling reason for me to buy them. I would just be able to see my Calendar and Contact info in Color with majorly reduced battery life. Sorry, Palm. No sale. Even the offshoot company Handspring didn't tempt me with their ugly Palm cousins. I briefly flirted with the infamous Fossil Watch Palm PDA. But it's absurdly short battery life put an end to that.
Sony Raises the Bar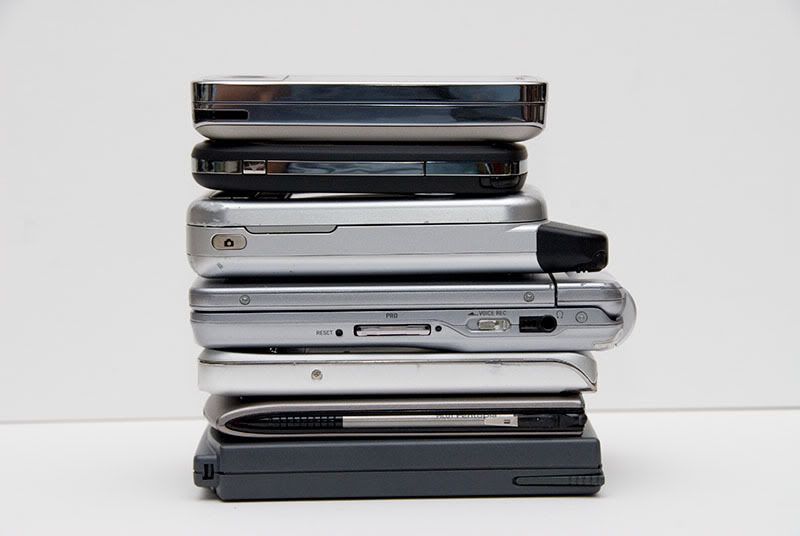 Enter Sony and their Clie line of Palm PDA's. Sony breathed much needed life into the stagnating Palm system. They revamped everything, from the hardware to software. Adding their own front end OS on top of Palm OS. All the while, keeping the core PIM apps, like Calendar, Notes, and Contacts, untouched. My first Clie was PEG-T615C, one of their first color screen Palms. It had a slick design, and added a couple of improvements. But it wasn't until the PEG-NX80 appeared that Sony forever changed the PDA scene. It was the first Palm to go beyond the 320x320 screen. It was full color, 320x480 (same resolution and size as the current iPhone, yet many years earlier). Also, Sony made a true convergence device. Something we take for granted today, but it was hot stuff back then. A 1.3MP camera, headphone jack (a real one) for listening to music. And the addition of a full QWERTY keyboard. Ironically, Sony also introduced the single best text entry system (far better than Palm's Graffiti) called Decuma. It is the best and quickest handwriting recognition system I've ever used in a PDA to this day. It's really sad that they could not market their innovative system to the public. When Microsoft integrates their Tablet Input Panel handwriting recognition from Vista (and Windows 7) into their future Windows Mobile OS's, the need for a QWERTY pad will be a thing of the past for me.
Rise of the QWERTY Pad and Cellphone Convergence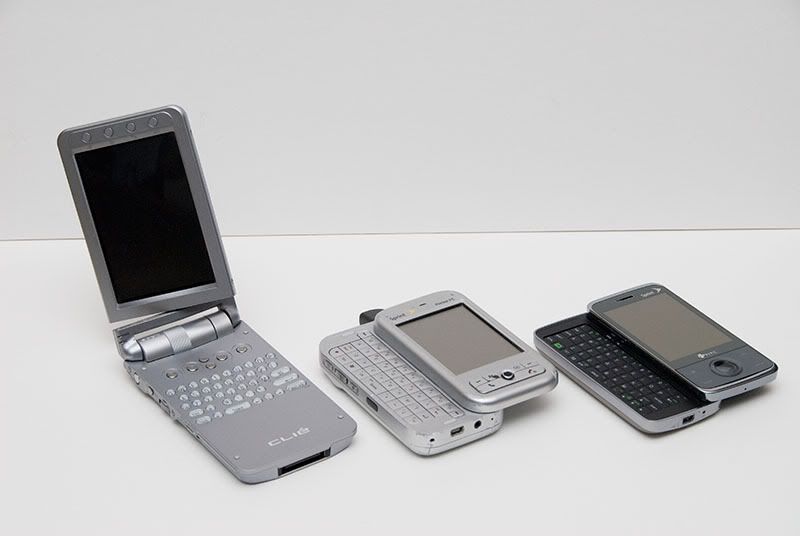 Sony finally abandoned Palm, as Palm was heading for PDA Phone territory, and Sony's partnership with Ericsson would conflict with their relationship with Palm. So Palm ended up creating the Treo line of PDA Phones, while Sony made a lot of mediocre phones with their Sony Ericsson partnership. I bought my first cellphone in 1999. It was with Sprint and my first phone was the Motorola StarTac. It wasn't until nearly 2006 that I got a PDA Phone. Palm Treo's had existed for a few years already, but I had no reason to buy one. Text messaging and Data plans were too expensive back then, so the need to integrate a phone and PDA into one device was not all that compelling for me. It wasn't until a special cellphone plan called the Sprint Employee Referral Offer (SERO) came to be. I had been out of my contract for a long time with Sprint, so the SERO plan was too good to pass up. My first choice was obviously a Palm Treo, but it was clear to me that Palm really did not have a bright future after the horribly conceived Ergo Audry and Foleo. But in the end it came down to only one killer app kept me from sticking with Palm and jumping ship to Windows Mobile.
Laptop Tethering.
It was well known that Windows Mobile had built in ability to be used as a cellular modem for use with a Laptop. And with typical Microsoft fashion, it was easily accessible and required some tweaking to get it to work. Tempted by the prospect of unlimited internet on my laptop wherever I could get a cell phone signal, I made the leap. I signed up for Sprint SERO plan and bought a PPC-6700 (I affectionately call "The Brick".) Small for a PDA, but huge for a phone.
I fell flat on my face at first. Going from Palm to Windows Mobile would probably be the same as a Mac user of many years suddenly jumping to a PC. It was alien to me, even though I was a very experienced Windows PC user. Windows Mobile was just a different animal. Palms were like Macs in that they were rock stable only when you didn't step outside of Palm's very small sandbox. Windows Mobile opened up a huge playground with nearly endless possibilities for me. Windows Mobile was far from perfect, and was very frustrating at times for me. But over time, I got used to it and found ways to customize it to my liking. Handwriting recognition was a joke. It was a huge step backwards from the Decuma system on my Sony Clie NX80. I hated all the onscreen input panels so much, I ended up just using the QWERTY pad all the time.
HTC Picks Up Where Sony Left Off
HTC is to Microsoft as Sony was to Palm. It was a sad day when my PPC-6700 died. Sprint replaced it with a 6800 Mogul, which was very unstable. I didn't like it at all. I ended up taking a leap of faith and getting an HTC Touch. HTC had actually been the manufacturer for my beloved PPC-6700, and they were taking an entirely new direction, thanks to the arrival of the iPhone. An iPhone killer it was not, but AT&T's overly expensive data plans could not even come close to competing with my Sprint SERO plan. So, I stuck with Sprint.
The Touch was the first Pocket PC I used that had their own OS user interface on top of the base Windows Mobile. Just like Sony did with Palm long ago. It was a big success. It was easier to use, and very stable. My experience was completely opposite from my initial experience with the PPC-6700. The Touch was almost 100% usable out of the box, with little to no tweaking or hacks necessary. But it had only one crucial flaw. The Lack of a QWERTY pad or decent on screen text entry method. If Decuma were available for Pocket PC, I'd be using it in a second. But alas, I struggled through many different on screen text input programs.
So, this week marks my transition to my latest PDA Phone. The Sprint Touch Pro, made by HTC. While it's not perfect, it raises the bar yet again. Full QWERTY pad and a glorious VGA 640x480 screen. The new TouchFLo3D interface is very slick and huge improvement. HTC has pretty much covered up nearly all of the native Windows Mobile OS. And now with having a full QWERTY pad again, texting and emailing is no longer a chore.
I look forward to what the next decade of my PDA Journey brings me.
-Ed