Joined

Feb 2, 2004
Posts

661
Likes

20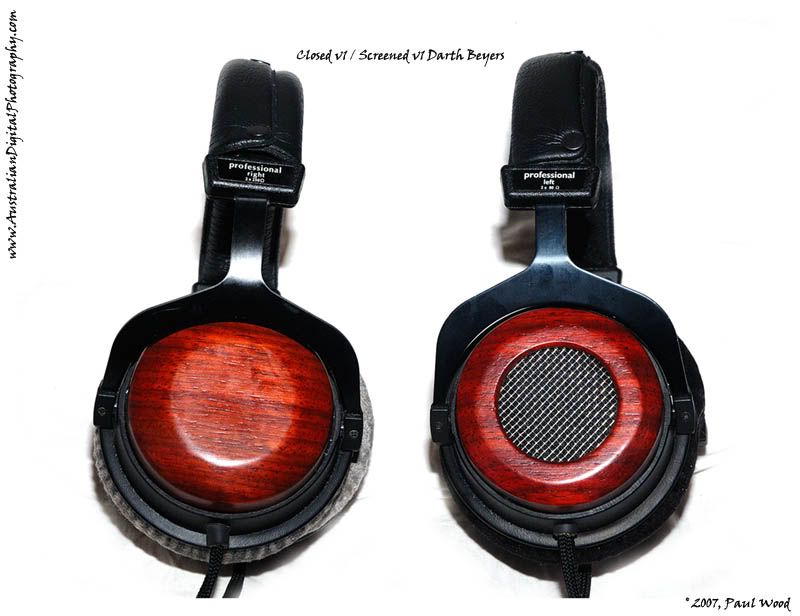 Well today I got my very own pair of v1 Screened Darth Beyers. Apparently they aren't your 'standard' version of screened Darths but ones with a smaller opening. I've been listening to them for around two hours now and have been comparing them with my v1 closed Darths.
Now I'm not all that good at writing reviews or describing what I'm hearing. I'm also not uber experienced with different equipment like some of you guys so take this comparison for what it's worth. I do however know what I like 
My equipment is as follows:
FLAC encoded music on my PC HDD
Wireless squeezebox2
Optical cable into my modified Lite DAC-AH (CAA Mod)
Into my Xin SuperMacro III v4
The music I've been listening to during the last few hours includes: Tool, A perfect Circle, Machine Head, System of A Down, Grimfist, Pantera, Greenday and others that I can't remember.
So with all that in mind, here are my thoughts.

Asthetics
Both of the phones look very similar apart from the screens on the open version. The cup depth and angles are almost identical. The black pads on the screened version look much better against the dark red wood in my opinion.
Sound
The sound difference between the screened and closed versions is dramatic.
Soundstage is MUCH wider and also deeper I think. There is much more air around all the instruments and it's now much easier for me to close my eyes and imagine a spot in space where the instrument is.
Bass
is pretty much why people buy these phones in the first place. It's very hard to measure, but the bass in the screened darths is just as present and 'loud' as in the closed ones. However it does have a different sound to it. I'm not exactly sure how to describe it but the words 'smooth' and 'natural' come to mind. There is a much less 'boxed in' feeling to the bass notes and less reverb. There is maybe slightly less physical impact but to my ears it sounds much more pleasing. On bass heavy tracks they can still make my ears rattle
Midrange
in the screened darths sounds very similar to the closed version in my opinion. The extra soundstage definitely helps separate the vocals from the rest of the instruments which makes for a more entertaining performance. Everything still sounds smooth and nice. Certainly no complaints here!
Highs
are maybe very slightly rolled off compared to the closed version. It's hard to pinpoint much difference at all really, it's more of a 'feeling' that they are slightly more subdued than in the closed version. Hard to say if it's better or worse. To my ears it sounds great.
Overall I really like the sound of these screened Darths. I had no qualms with my closed versions but after hearing these I'd say they will be going on the FS forums in the not too distant future. In my very humble opinion the screened Darths are a big improvement in almost every aspect of the sound.
If you guys have any questions or want any more info please feel free to ask me. I'll do my best to answer them as best I can
I wish I could write a better review for you.
Thanks for reading
Paul