Joined

May 6, 2005
Posts

2,671
Likes

27
So, I thought I'd just post a few impressions from our Short-notice Mini-Meet we had in North London. First of all, I'd like to offer a big thank-you to Vic for hosting the meet and keeping us all going with regular coffee.
So who made it down to Crouch end then? Well, there was Vic, Justin (Doctorjuggles) and Myself. As you can see, the short-notice nature of the meet meant that it was kind of under-attended, but that meant that we each had lots of time to hear each other's gear.
The gear that made it was as follows
Me
HD 580's
SR-60's
E2c's
Cmoy
Millet Hybrid
Creative Zen Xtra

Justin
HD 650's
ATH-A900LTD
E5c
ANT Amber
5G iPod.

Vic
ATH-W5000 (Raffinato)
Lavry DA10
Xin Supermini
MF xray v3
iRiver H140 (FLAC)
So, one of the main things I wanted to hear was the 650's vs. the 580's. I am thinking of making this upgrade when moneys allow, and so I was interested in hearing the differences. I compared them from Vic's iRiver, and my millet. The 650's have a very similar sonic signature to the 580's, but just many things are tightened up. The bass is just that bit deeper and more punchy whereas the 580's can be a bit uncontrolled. The other comparison that was cool was seeing just how the senn pads squish over time and become less firm. My older pads were much more squashable than Justin's newer ones, showing how the foam changes over time. However I found both 'phones still very comfortable.
Next I tried out some amp comparisons. I used my 580's for this because I know how they sound, and it is unfair to change too many variables at once. This was the first time I had heard my gear out of a decent solid state amplifier apart from my Cmoy, and I was interested to hear the differences. The amps were the A.N.T. Amber and the Lavry's Headphone out. Both amps gave my Senns a bit tighter bottom end, and had much more speed than my Millet, which in comparison seemed a little laboured. However I felt that at places the midrange sounded a little flat, so I guess I need my tube warmth for vocals, however on electronica such as "The Notwist" this more defined sound was better. From speaking to Justin, who just sold his Earmax, I recon this level of tube-ness is about right for me, as he found the Earmax to be a bit sluggish whereas my Millet sat a bit more in the middle. This was good to know, as I can now stop drooling over the beautiful earmax, and save my wallet from some more torture. The DA10's headphone out was really nice, however I didn't get on very well with the crazy digital volume control. The ANT amber was just a little bit tighter all round, with what seemed like more accurate separation, but considering the Lavry is mainly a DAC, the headphone out was pretty exceptional.
Next I got a listen to both of the Audio Technicas. I listened to both of these out of various amps and I really enjoyed the way they sound. The best closed can I had heard prior to the meet was my HD201's and both of the cans were an order of magnitude more lovely. I was impressed by the funky wings on the top, which look like they are going to flop about and not hold the cans on your head, but in fact are really well engineered, and hold the cans at a really comfortable position. The A900's seemed to do this a bit better than the w5000's, which hung a bit further away from your ears. The w5000's were better when pushed a bit closer to your ears, which tightened up the soundstage and the bass a little bit. This prevented me from enjoying them as much as I otherwise might have done, because I really liked the resonant qualities that the wood gives to the sound, which the A900's lack a bit of. The w5000 lived up to it's name, raffinato, being a rounded and refined can, but the a900 seemed to have more immediacy and a more engaging sound to my ears, and I ended up preferring the A900's.
At some point around here, we broke for a couple of refreshing beers and a bit of food (Vic using his expert local knowledge to get us a seriously nice Kebab). And we got straight back to some serious listening.
The most profitable part of my day was listening to Justin's e5c's, he was kind enough to bring a multitude of spare tips so we could try them out. Having just sold my RS-1 to pay for some better portable audio, I was about 1 day away from pulling the trigger on some custom UE5c's, but hearing the sound from Justin's told me 2 things. 1) I was going to be more than happy with the sound from these, and 2) I needed to hold more money back for a source/amp upgrade. Going for the UE5c's would have left my bank balance in need of some serious TLC, and I would have been gutted to have spent that money only to be confronted head-on with horrid CPU noise from my DAP. Although my Cmoy was a bit too hissy, Vic's Xin Supermini gave some really nice clear sound (even with the bass boost setting on, as Vic seems to love his BASS with a capital BASS) and showed me what they were going to be capable of. This was great to hear, and stopped me from spanking all of that money on the ultimate ears and leaving me in a precarious audio situation.
Before we left, we did a bit of speaker listening as well, through Vic's sublime Unison Unico Amp and Totem Arro speakers. These are gorgeous speakers, and a lot of envy went on here, but I'll leave that for elsewhere, this is head-fi after all. I must also mention that we listened to his home cinema as well, especially Vic's monster sub. Remember me saying that Vic loves his bass? Well this thing, even at less than a quarter, was enough to start knocking things off shelves and stripping the wallpaper. Serious amounts of air movement!
Right, I think that's enough of my impressions. This was my first head-fi meet, and I thoroughly enjoyed it. Lots of great sounds, and even better company. I look forward to the next one!
PICS!!!!!!!
Justin's camera beasts mine, so I'm sure he'll post some better pics, but here's a selection of mine anyway…
Here is the table as we started, a next of remote controls, and a couple of cans.
Here's my millet, hangin' out next to the Lavry, like a star-struck fan, and the iRiver on top, like a groupie hanging off him…
The raffinato and my millet… mmm.. eye candy…
The battle of the shures… e2c and e5c. Similar size, but completely different shapes.
The other AT's, also eye candy, and mighty fine too.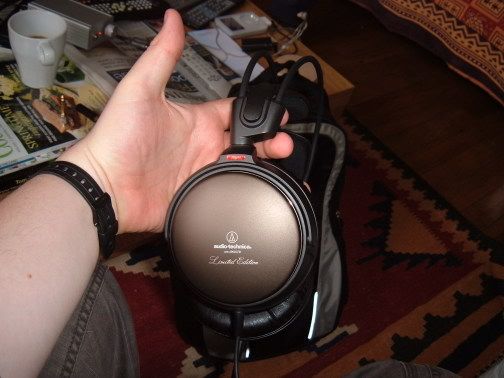 The meet table got more interesting after a nice lunch…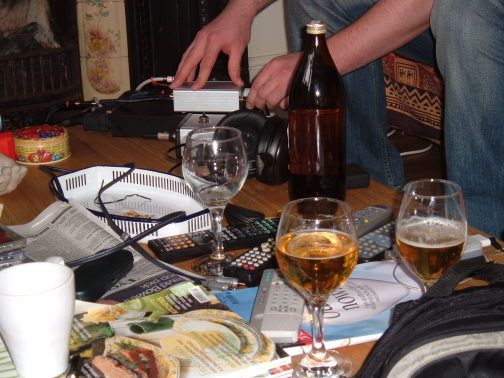 And finally… THE BEAST!!!… also one of Vic's very pretty Totems, with a much better spousal acceptance factor!!!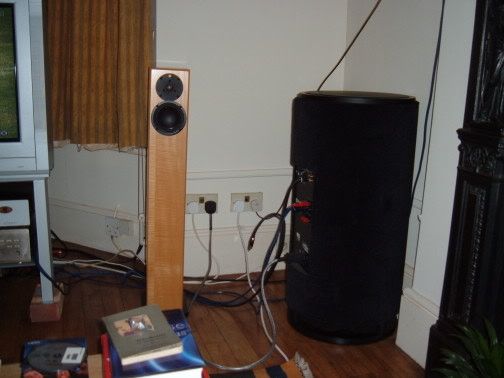 Right, that's all folks, hope to see a few of you at the next meet!
Stew