Voltron, has taken over lead on this meet so here is the info from his post yesterday regarding the location. Thanks Al!
Date/Time:
Saturday February 27th from 9:30am to 6pm
Location:
DoubleTree Hotel, 835 Airport Blvd., Burlingame, California, United States 94010-9949
San Francisco Hotels - Hotels near San Francisco Airport - Doubletree San Francisco Airport
We have a different room but it is very similar in size to the larger meet room from August. It also opens onto a courtyard that we can use as a talking area so as to minimize the chatter while people are trying to listen to gear. Here is the floor plan and we have the Tiburon/Sausalito rooms:
Please post whether you want some table space and what gear you are planning to bring if you have not already done so. We will post this information and a gear list in the first and second posts of the thread for easy reference. Make sure you ping your Bay Area pals who were at the last meet or other meets or have always said they wanted to go to a meet. Depending on the number of attendees, be prepared to pony up $10-20 to cover the room expense. It isn't mandatory, but I'm not planning on footing $800 for myself.
Two vendors -- HeadAmp and Eddie Current -- will be attending the meet, and others are possible as well.
Here is the layout for the room, which has been shifted back to the same large room we used at the last meet: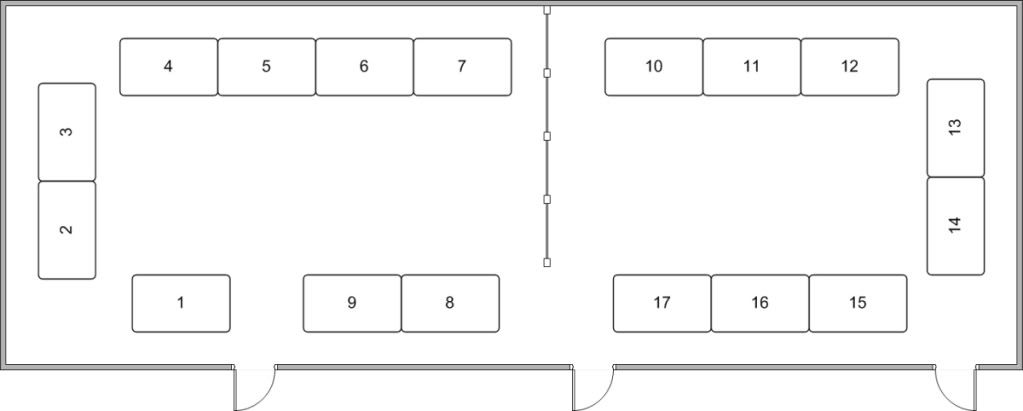 As you can see, there were 17 tables, but I think we can squeeze in at least 1 more given that I do not believe we will be dividing the rooms. If we run out of room then we will have to decide whether to get more $pace or just share these tables as economically as possible.