Joined

Mar 31, 2010
Posts

797
Likes

48
OK - SERIOUSLY THIRD BUT DEFINITELY FINAL PRICE DROP $360 thats $1350 to now AUD $990 + I will cover AUS post (and its heavy!) + I will cover all pp fees. I need it, so someone will do very well.
SUIT NEW BUYER
LISTED BTWICE BY MISTAKE -
LOTS OF INTEREST - GET IT WHIE IT LASTS AS I SELL MY STUFF CHEAPLY FOR QUICK SALES. BUT THIS ONES RIDICULOUS.
THIS GETTING A BIT CRAZY, THE UNIT'S NEW, QUALITY BRAND, EXECPTIONAL SOUND AND I"M SELLING IT FOR NEARLY HALF ITS RRP. DOESN'T MAKE SENSE. IAM ACTUALLY SELLING IT AS THOUGH I HAVE USED IT FOR A YEAR.
SO IF IT DOESN'T GO VERY QUICKLY, I'M TAKING IT OFF THE MARKET AND ENJOYING IT MYSELF.
Don't forget this is has an independent fully balanced hi-end class A amp as well.
GOOD LUCK!
I bought this beautiful beast about a year ago, had to go into hospital before I had a chance to open it.
I'm now out - need to pay hospital fees so with INTENSE regret, I have to sell it. Ive owned a lot of oppo equipment so I know there build and sound quality. Anyway,
Here it is, I opened it to test it, it was perfect, listen for 10 mins and was pretty blown away. The fully balance SABRE ESS9018 DAC is musical and tight and the full balanced class A head amp has authority and fidelity for days.
Anyone who knows this unit, knows it literally does everything, and does it with dear I say reference quality.
Blu tooth, remote, just balanced DAC or just balanced amp or both amp and DAC together, or even just preamp (which is excellent), and a very high quality usb input. It has every input output you can imagine and I'm sure I'm forgetting many things buts thats it in a nutshell. It weight matches it quality.
Still has the plastic on the front and in factory box.
SUIT NEW BUYER.
PRICED TO SELL QUICKLY
AUD $990 + I pay AUS post & I will cover all PayPal fees myself to help the sale the further.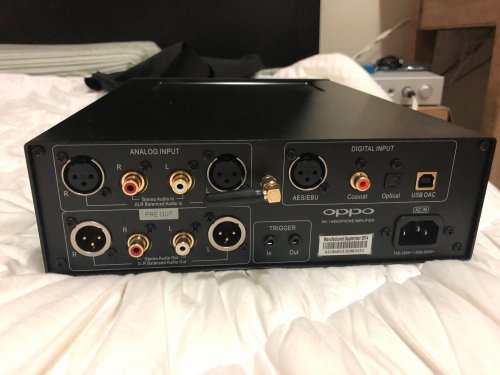 Last edited: