Joined

Jun 10, 2007
Posts

1,053
Likes

10
Blah!
Okay, just when I felt that my building skills were getting to be useful, I run into this. I'm building Doug Savitsky's "L'espressivo" somewhere between version 1 and version 2. On his site, he recommends upgrading the CCS if anything else is upgraded. Anyways, I've built the CCSs and now I'm trying to set them to 25mA using a trimpot in series with a 10 ohm resistor.
Here's the basic schematic.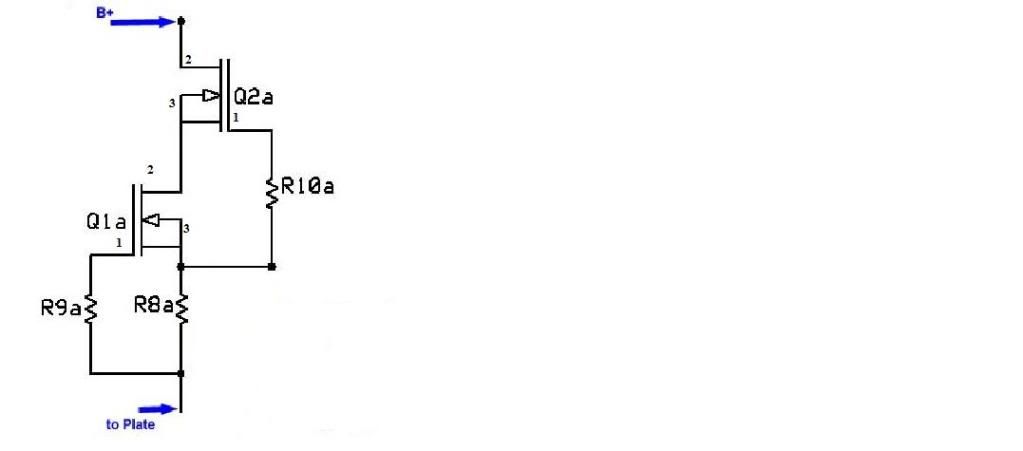 Anyways, I can't get a reading on my multimeter when I connect the positive terminal of a 9V battery to the B+ in and then put my multimeter on the 200mA setting and place it in series with the "Plate" out and the negative terminal on the 9V battery. I've even tried reversing the polarity of the battery, just in case something is wrong with the battery. No matter what I do, I get a boring old reading of 0.00mA. I even borrowed a multimeter from my school, and it gives the same reading.
Now here's the strange part, to me at least. I can put a green LED in between the Plate out and the negative terminal and it will light up like a candle. Not only does it light, though, but it puts out enough heat to lead me to believe that it is being driven close to its maximum current rating (around 25mA).
I'm at a loss. In the picture above, I've numbered the Source, Drain, and Ground of the CCS chips. This is the only thing that I can think of being possibly incorrect. I must have connected the wrong terminal to something.
Here is the datasheet for the chips I'm using.
The numbers in the schem above correspond to the pin numbers I believe are correct.
Let me know what you think is wrong. I can post pictures, give a better description, chase groundhogs for you, anything, just help me figure this out.
Thanks,
Tri