post-15924239
Oct 17, 2020 at 9:26 PM
Thread Starter
I would like to post an update with pictures for a thread I started a few months ago. If you would like to see that thread then here you go:
https://www.head-fi.org/threads/explain-like-im-5-please.930273/
but in summary, I had only ever owned a pair of Sony MDR XB500s and ATH-M50s without any other additional equipment and I was asking for help regarding amps and studio monitors etc as I was building out a new setup in my new home.
A few months later and I have finally put together what I think meets my needs. It is no small thanks to the great advice and recommendations from folks within that thread as well as throughout the forum. A special thanks to
@pbui44
,
@ScornDefeat
, and
@StarTreker
for all your help. It made the process much easier to comprehend and more enjoyable.
I will spend more time discussing the audio components of my setup and what worked and what didn't work. In addition to that, the pictures will also include the overall setup and if you have any questions for what things are or where I got them from I'd be happy to answer but I didn't want to clutter the post with too many irrelevant details.
And finally, if you have any further recommendations or tips to improve my setup (without purchasing any more expensive audio equipment

) then I'd be glad to hear it. I may or may not have things connected optimally (I think I do though). In going through this post, I will also do my best to share with you what I think of the product from a person who is NOT an audiophile, just an audiophile wanna-be. So, without further ado:
The full setup:
What you're looking at here is the entire setup: My computer, Ultrawide monitor on an arm, Logitech mouse and keyboard, a touch lamp, two edifier monitors, a Schiit Stack (magni+modi), ikea plant, and digital clock all sitting on an Ikea kitchen countertop supported by the Mikey drawers also from Ikea.
This is a build I had in mind for a very long time and I basically kept a running list of these things and I would swap things in and out of that list as I learned more (especially with regards to the audio pieces). My overall idea was to have as CLEAN of a setup as possible. The hardest part was coming up with an inexpensive solution to what is likely going to be a jungle of wires. Each of the tech components above requires power sources, connections between each other, and other miscellaneous cords that made figuring out how to tuck them out of site challenging. For instance, the PC to the monitor had several cords and the DAC/AMP combo also created a lot of clutter. The solution was to find a way to route these wires underneath the desk instead of tangling them up or coiling them up and using twist offs. So, I borrowed some ideas from other folks with this build and added my own twist on it.
I bought two (and eventually 3 but its not pictured) angled beams from home depot. I spray painted them black and then drilled them into the desk with sheet metal screws. This created an opportunity for two things:
1.) To provide additional support for the Ikea counter top so it does not sag over time
2.) Allow me to run cords and wires and zip tie them to the beams and maintain minimalism.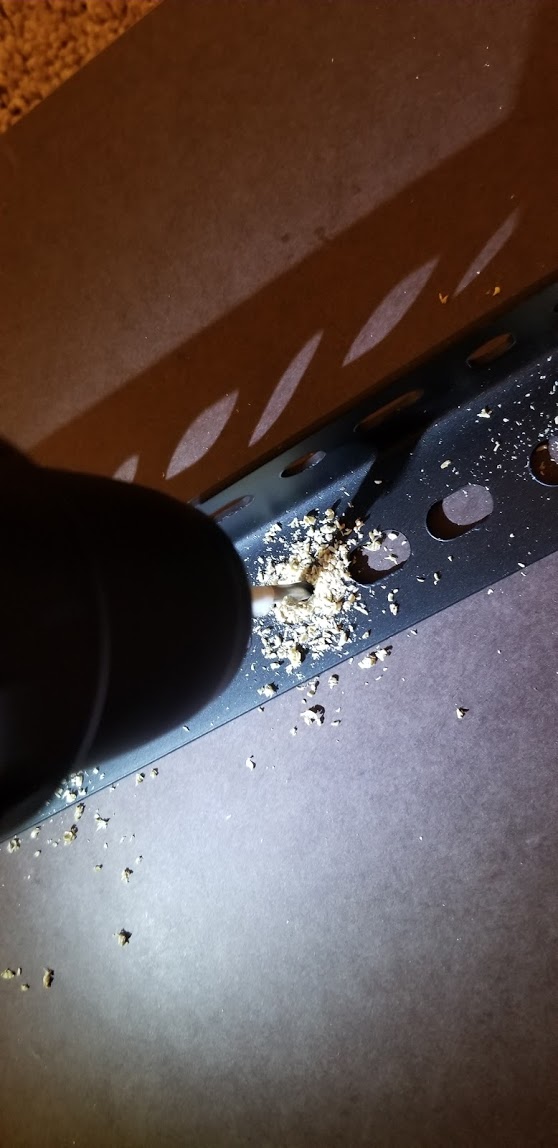 This as the hardest part of the setup but once completed made putting together the rest of the setup very straightforward.
Alienware 34'' Ultrawide Monitor:
Not much to say here, this monitor has been pretty amazing for both productivity and recreation. The screen real estate is great for having an internet tab open, Tidal, and a word document if I'm working on something. It is mounted with a single side arm mount.
Desktop Computer:
Not much to say here either (at least not on this forum!). This is a computer I continuously work on.It has a core i7-9700k, RTX 2070 Super, NZXT AIO CPU cooler, 16 GB Trident Z RAM.....and a whole bunch of other hardware/mods that are outside the scope of this forum.
Massdrop HD6xx:


Alright, so now we are getting to the relevant stuff. I spent quite some time researching which headphones I wanted to get. This process has been ongoing for roughly 2 years or so as I was really happy with my ATH-M50s and never felt the need or desire to upgrade. But as a frequent visitor to this site, I was always intrigued by what an amp/DAC could really to my phones. Therefore, for a long time I only considered getting an amp/dac. My research eventually led me to conclude a few things:
1.) The ATH-50s would not see a benefit great enough to offset the cost of an amp/dac and
2.) Audio equipment is a deep rabbit hole that can easily lead you to spending hundreds/thousands of dollars for diminishing returns.
I decided I would do my best to find the sweet spot between performance, my needs, and price. The Sennheiser name was known to me even before joining this forum and the 650s were long hailed as "one of the greatest headphones." So I always wanted to try one and see how they would compare to my M50s. The Massdrop version HD 6xx went on sale and after having already read about them and watched dozens of YouTube videos gushing praise over them I decided that I would jump in.
The headphones themselves are extremely well made. They are made of plastic but the quality feels very solid, smooth, and pleasant to hold. As for looks, I can't say that they are exactly the nicest looking cans but I do like the look of the drivers. Since I use this at home I really didn't care for how they look anyways. Comfort-wise they fit great and felt snug on my head and ears without cramping my ears. No complaints there.
What about the sound? Well....the first time I put them on the first thing I noticed was how "warm" these sounded. I am generally very ill equipped to describe in words what things sound like but I can confidently say that this is an accurate description. That overly warm sound initially really put me off. In comparison, my M50s sounded very cool-toned and bright and level. This led to an unpleasant first 1 hour of listening to the headphones as I felt I had lost something from the M50s. I used the headphones for about a week. I bought a subscription to Tidal and started listening to both new music and old favorites. After a while I stopped being able to notice the warmth of the sound and I began to notice how the music presented itself to me in layers (part of this is the audio source from Tidal being very good). I was able to separate the drums from the synthetic beat from the vocals. They no longer all sounded like they were coming from the same place. I suppose this is what you call "separation." The other thing that became apparent was the clarity of the sound. This was most noticeable in tracks that I was very familiar with, such as
Blackheart by Two steps from Hell
. Having heard this song so many other times I knew when all the instruments would hit, the vocals etc. With the HD6xx, the clarity was so good that certain sounds, such as the vocals that appear at around 47 seconds sounded so different, so....detailed as compared to before. Suddenly, I began to enjoy music I've listened to dozens of times before because I was catching new things: a new guitar string, a small squeak, or a small instrument in the background I never noticed before.
Listening to
Good Riddance (Eurydice Solo) by Darren Korb
I could hear the musician's fingers sliding across the guitar strings (great song btw, check it out). I fell in love. The HD6xx make the music I'm listening to feel
alive
if that makes any sense. As if I were there.
One week into this experiment I tried my M50s again and... oh boy. They are still GREAT headphones and I will keep them. But my initial reaction to the M50s after an extended break was: "Why does the sound.....sound so
thin
?" And that's when I realized, that "warmth" in the HD6xx I was detecting at the beginning was really my brain adapting to the fullness of sound that is now present. There is actually more information coming into my ears than the thinner, brighter sounding M50s. The m50s are still enjoyable in a different way because they have very clear bass, they are probably more accurate, and they make the music sound like its in front of you but the 6xx makes the music surround you like a bubble and the bass is more all encompassing. I think for me the bass is the hardest to put into the words. For instance while listening to
Acid Rain by Lorn
, the large THUMPS that begin at around 20s sound absolutely incredible on the 6xx, not so much on the M50s. I have not gone to the M50s since then because the 6xx really just sounds so majestic. So, thank you to those who pushed me in this direction. These headphones are AWESOME.
Schiit Magni3+/Modi 3 (AMP/DAC):
So, also after much research and a lot of painful reading and learning I decided that the Schiit Magni 3+ and Schiit Modi 3 were the best options for me. This was based off multiple reviews and a heart to heart with myself that even with this setup I wasn't likely to notice much of a difference or detect any changes. The way I have this setup is the following:
PC to Modi 3 (via an optical cable), from Modi 3 to Magni 3+ (via RCA cable), from Magni 3+ I have two outgoing connections: 1.) My headphones or 2.) My Edifier monitors via RCA cables. The Magni 3+ is set to high gain. My pc volume is set to max (100) and I control volume via the knob on the magni 3+.
So overall, I am happy with the setup. I think of all my upgrades this one is the LEAST profound but that's probably because I'm just not experienced enough. I often cannot tell if the DAC is doing anything at all. I sometimes think there is less noise and more clarity but other times I think its just placebo effect. When listening to
Strobe by deadmau5
, I have noticed the synthetic sounds sound cleaner but I have not been able to reproduce this observation in other places. The AMP on the other hand has noticeable effects. While the tone, sound signature and other characteristics are not drastically different the sound IS much louder, fuller and I can turn up the volume without any kind of distortion, and if I'm not mistaken that is the point of an AMP. Very happy with this little Schiit stack and plus it looks kinda cool sitting there. I don't regret getting the DAC either because I'm sure its doing something, I just don't have the ears to detect it. After looking back on the recommendations and my own research I think I landed in a good spot because I'm just at that point where I've reached my limit as to what I can hear so for 200$ for the Schiit stack, hell yes why not.
Edifier R1700BT Studio Monitors:


Of everything in my setup, these things were the most pleasant surprise. So much time was spent reading about amps/dacs/headphones that expectations were high and thankfully were met (and exceed by the HD6xx). However for monitors I had no expectation and I quite frankly didn't care too much. Luckily, a fellow forum member (shoutout to
@StarTreker
) was super helpful and recommended the Edifier R1700BT. They sound AMAZING. They sound so good I honestly have trouble deciding whether or not I need to put on my headphones or just let the speakers do their work. As mentioned earlier these receive an audio signal from my Magni3+ via RCA cable. I have the treble, bass adjusted to the above settings and the volume knob turned up about 3/4th of the way to max (these settings are constant and I don't change them). I then use the knob on my Magni 3+ to adjust volume.
I have yet to turn these things up all the way because they can be heard with crystal clear clarity everywhere in the house. In fact, while playing Microsoft Flight Simulator the amount of air being moved by these monitors is so large that it feels like wind is blowing on your face while flying the small propeller engine planes ( an accidental positive side effect). I do not really use the bluetooth functionality so I could have done without it. On an interesting note, I actually do think that the DAC may be doing something here as the Edifiers sounded slightly clearer when hooked up to the dac vs when not. A really solid recommendation and once again thank you
@StarTreker
for this and your other recommendations.
Few final things:
For music I am almost exclusively using Tidal. I feel that in order of priority for reasons why my music now sounds good this is probably at the top second only to the HD6xx. The least (subjective opinion here) influential part of my build is the DAC. Am I satisfied with the whole setup? YES. Is my music hardware journey over? I rarely say this about tech/equipment type stuff but yes I think that aside from maybe trying out different headphones in a few years I probably won't go further than this.
Well that about wraps up everything I had to share with you. I hope that someone out there who is looking to create a similar setup gets some inspiration/tips from what I've done and can create something that suits their needs/wants. If you have any questions, I'm happy to answer!
Last edited: