Joined

Jun 26, 2020
Posts

16
Likes

10
Location
I just want to preface this with a little paragraph.
I literally do not know what I am doing. I read a little on how planars work, that's the information I've started with. I've seen the
DIY planar thread
and have taken some inspiration from that to design my own set of drivers, and the headphones around them. Other than the information I've gotten from
innerfidelity
and that thread linked earlier, I have nothing else. So. Let's fail miserably at this. My initial design goals simply was "make a planar driver" but those have now evolved into "make a set of headphones with planar drivers, and do it on a budget*". I say budget, but, this would require a 3D printer and those can be decently expensive unless you sink a lot of time into it.
So, I started with an initial circular design for the driver, to be mounted in a casing snugly and then having the earpads attach like Brainwavz XL pads on the AKG K612 Pros (which is what I'm using now). Dimensions were a 106mm diameter and 15mm thickness, with the active area being approximately 5200mm
2
. This design had no area to add in foam/wool/whatever for sound tuning.
Decided not to go with that design because I asked a question about using two 35mm magnets instead of one 70mm magnet and learnt that it would affect audio quality, so I scrapped that. I also realised that having both sides of the driver obstructed with a dense-ish grill like that wouldn't exactly be great for sound (I think?). So I pulled some parts and started messing with V2 of the design.
This time around I decided to ignore any form of symmetry from the front to the back of the driver, instead actually caring about what the structure could do for the sound. So I placed the plate that would end up holding the diaphragm closer to the ear, and shrunk the distance between the driver and the magnet structure plate thing. The diameter remained at 106mm, but the thickness ended up at 20mm, and with an active area of approx. 5350mm
2
. This time around, I added layers to allow for a 1mm thick layer of wool or felt or similar material to be seated.
I was more than happy with this design until I actually looked at it slapped together and realised, "that's a lot of layers". I would have to rely on my printer being accurate enough and have a good enough surface quality/finish way too many times for something like this. So I iterated and created a V2.1 with minimal changes other than removing unnecessary layers.
V2.1 was nearly identical to V2 but had much less layers for my printer to screw up on. I was mostly happy with this (having printed a V1 by this point, and now I was testing how to adhere any sort of diaphragm material to the designated holders).
However, because I am rather impulsive with my designs sometimes, I found myself watching a few youtube videos and I came across the Acoustic Research AR-H1. I loved the rounded rectangular design, the grill also fascinated me. I found that I immediately preferred that over what I had already designed. So I set about designing a V3, which so far is the design I've stuck with. With driver dimensions of 105*85*15.27mm (LxWxH) and an active area of approx 4440mm
2
, I found this one to be the most aesthetically pleasing really, and went forth with settling on this as my final driver design (for now).
V3 was mostly a reaction to seeing Acoustic Research's incredible looking headphones. I did decide to design the casing around the driver though, so I worked on this first. The separated parts that stick out some from the actual driver body are TPU pieces that'll be embedded into the PETG casing whilst printing, to allow the driver some vibration dampening from the headphone casing itself. I could also pack foam around the driver to make it more secure in case the screws aren't enough. I also did a little more research, coming across stuff like 'fasers' or whatever that I decided to implement on the coverings for the magnet array. Speaking of, I also decided to go with a single-sided magnet array mostly due to cost (I got quoted £300 for a set of 70*4*2mm magnets and I immediately thought nope, and I ended up finding 55*4*4mm magnets from a
German seller on eBay
which I plan on using 7 of per driver). Honestly, a fair share of the motivation for a new driver came from the fact that 70mm long magnets that were thin were nearly impossible to find anywhere unless I talked to some people on alibaba or whatever. And I wasn't a huge fan of that.
Now that I had an actual driver design that I might be happy with, I could start work on a case. My design goal was simple enough, something 3D printable that wouldn't take too long, and be decently sturdy. So I came up with this.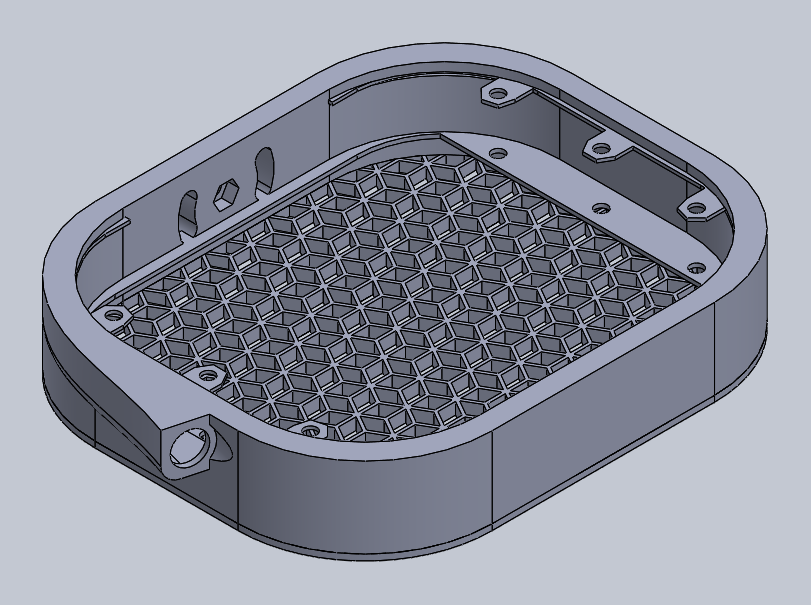 The casing is printed from Prusa's Prusament PETG in Galaxy Black, and I absolutely love its colour. The inner driver holders are printed in some generic TPU and are flexible to allow an assembled driver to be pushed into place. Wiring is run from the back of the casing (side with the grill), through the rectangular hole in the outermost driver mount, and down towards the little extensions where 3.5mm mono jacks are mounted.
After designing the casing, only then I realised that I should actually get myself some material for a diaphragm. So, after scouring the internet for much too long (how many listings for "aluminised mylar film" exist that aren't actually thin enough?) I finally found myself a
good source
, and I've bought myself 2 rolls of the 5 micron aluminised mylar. I'm sure I would've been pointed to them near-instantly if I made a post but.. That didn't cross my mind. This stuff, I'm going to etch with eBay-bought chemicals into a diaphragm design I have already created and test-printed. I'll post that when I do that.
Now, I still have plenty a ways to go. I need to design a hinge for each side (I'm going to have a look at the Dan Clark Aeon 2's, I absolutely love that hinge design), a way to make that interface with a headband, and, well, a headband. And I'm sure I'm missing a lot of things, but hey, I'm a 19 year old uni student with way too much time and enough ambition to drive stupidity like this. And sorry if this reads like it was typed without proof-reading, it's 4am and I'm sure if I don't do this now I wont ever.
Last edited: