Joined

Jan 22, 2010
Posts

152
Likes

11
I noticed they just dropped in price on amazon to $254 and an authorized dealer onecall had them even cheaper for $249+free shipping. Being the thrifty guy I am
I decided to offer them $200 using their "my price" option. I received an email promptly there after of $224.95+free shipping. Well needless to say my wallet is a bit lighter and they are being fedexed to my door as we speak.
I figure with the limited lifetime warranty and all the raving reviews of the foam/silicon tips. If these end up being more accurate/less bassy versions of the gold models then I'll be a happy camper.
MTPC(Monster Turbine Pro Copper) Impressions
After a long and tedious wait......pics are taken off my Droid so excuse imperfections. *Disclaimer*These are just impressions with relatively 5hrs of use. I will post final impressions next week after substantial burn-in.
Build Quality: I won't go too much into this as many have expressed their opinions on the great construction of these phones(Gold version is identical). They're built like a tank! All metal housings coupled with a fantastic cable that seems to lack any memory at all, makes the MTP seem like they will last a long life. The only quarrel I have is with the lack of strain reliefs in most obvious places(See pic below). Even the reliefs on the plug and below the phones are entirely too stiff. Microphonics are about average from what I've heard, but are completely eliminated when worn over the ear.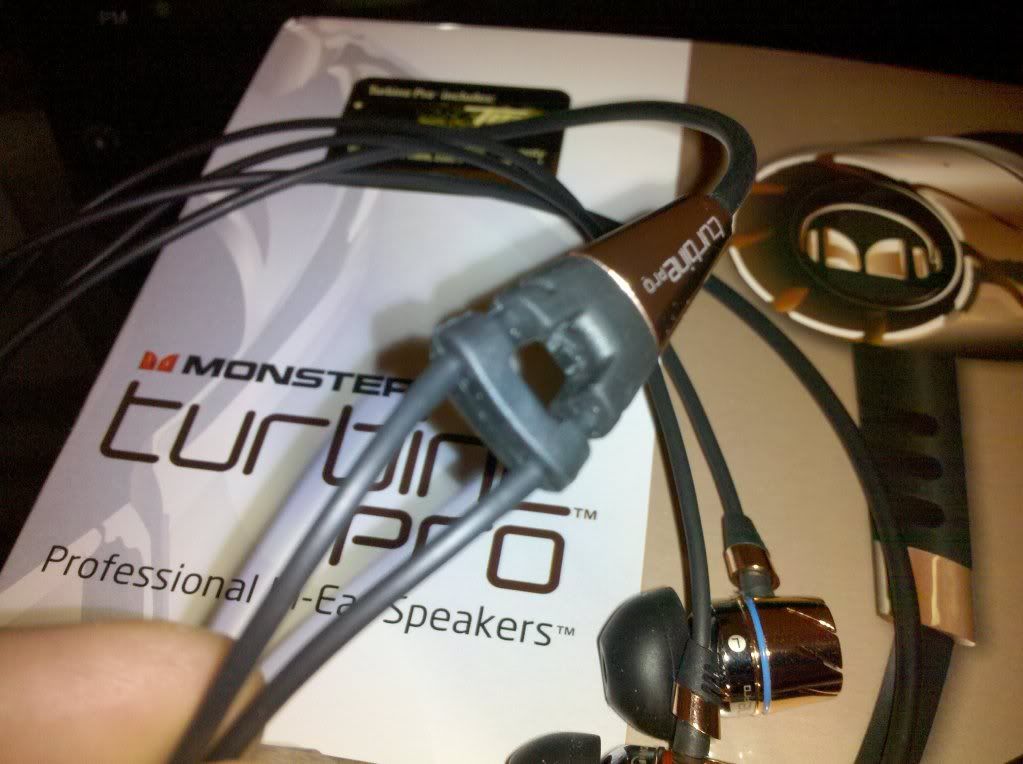 Accessories: For a retail price of $400 I'd expect Monster to throw in the kitchen sink and for the most part they don't disappoint. Again I won't go deep into something that has been discussed already. The included pouch is nice but I believe they should have included a larger case. The one given to Klipsch X-10 and Custom 3 owners is of much better usefulness. A 1/8'' to 1/4'' adapter is included as well.
Monster included a vast amount tips for your disposal. S/M/L silicons, M/L tri-flanges, black Comply T-400's and their new super tips. I was expecting the tips included with the copper version of these phones to be the silicon/foam hybrid tips I've been hearing about, to my disappointment they were the gel filled ones. Almost jinxed by average joe (j/k), these tips do not perform as well as I expected. It seems that there isn't enough movement/dead space in these tips to form a proper seal. If there was less gel in the tip I think these would work great but neither size yielded an air tight seal.
Sound Quality: This was done w/ 7g Ipod>High End ZY Cable>P3+>ALAC. Since the RE0 has become a staple iem that many head-fier's own, I think it would be easiest to do a quick comparison of the two.
Bass: Slightly forward, not bass shy like the RE0. Has great mid bass quantity and clarity but lacks the low rumble and reverb of bass monsters like my C710's. RE0 has faster attack and decay but the MTPC isn't far behind.
Midrange: This was by far the most enjoyable part of the MTPC. Neutral/slightly forward presentation but so smooth/warm. Makes the RE0 sound lifeless and sucked out for most male vocals. Detail is outstanding but seems to lack the micro detail of the RE0, still no slouch.
Highs: As much as I enjoy the high end control and sparkle of these phones, they still cannot match the extension and forwardness of the RE0. Every part of the high end is detailed and controlled but just a hair behind the treble king.
Soundstage/Seperation: Both were remarkable. Soundstage was very wide and coupled with the fantastic instrument separation, makes this phones presentation airy, open and inviting.
Burn-in impressions to come.
Added 2/23/10
With roughly 100hrs. on these now I can confidently say that Monster did by no means take their professional series phones lightly. With a limited lifetime warranty that screams serious dedication to a product, they seal the deal with seemingly indestructible build quality. Coming into a flooded market of high end universal fit monitors, the MTPC takes it's place among the top tier iems. Everything from the included accessories to the creation of new types of "super tips" begs the question "What does Monster have up it's sleeve next?". I personally am relieved to see a company that may still be frowned upon for it's overpriced interconnects take a step back and realize another market they can expand and profit in.
My overall experience with the MTPC has been stellar. Coming from another well constructed set of iems (CK10) these keep in my high expectations for durability. Being able to wear them down or up is another great aspect (I prefer up using phonak ear guides). After exhausting many tip combinations I ended up with the grey silicon PFE tips in primary use. These tips retain all of the great sound I get with the sony hybrids but also extend the treble forward. Creating a crisp, spacious and dynamic sound. Through extended listening sessions my belief is these iems benefit from a decent amount of burn-in. Bass becomes very tight and punchy, though still lacks reverb in its extension. This recession in the sub bass helps the mid bass stand out and retain neutrality in the MTPC. Never too pronounced, the full mid bass cuts off almost perfectly to the midrange. Instruments, female and male vocals are depicted with the utmost clarity and timbre. Every note and chorus line is the way music should be enjoyed, effortlessly and full of emotion. The slightly forward presentation of the mids helps with detail retrieval and subtle nuances in sound. With a little help from the phonak tips, treble becomes just as enjoyable as the rest of the frequencies. Fully extended and again slightly forward would be the best description of the high end. Sparkle and clarity with uniform treble control is to be appreciated with these phones. Not to be outdone, soundstage and seperation remain to be a large part of why the MTPC are a keeper in my book. On top of a neutral sound signature, the expansive feeling of being surrounded by drums, cymbals and vocals is nothing short of amazing. Each in their respective areas, none overpowering the others.
Among all this I have to ask "What does Monster have up it's sleeve next?"