post-14282831
Jun 4, 2018 at 3:45 PM
Thread Starter
Joined

Jun 20, 2001
Posts

10,894
Likes

4,731
One of the best DACs I have
ever
heard at
any
price is the
totaldac d1-single-mk2
. That totaldac happens to be a discrete R2R (discrete resistor ladder) DAC, and it is easily one of the two best DACs I've tried with the
Sennheiser HE-1
. The totaldac d1-single-mk2 is priced at €6400 (around USD$7800), and a significant part of the cost of the totaldac is in the resistors. If you buy only one of the totaldac's 0.01% VAR Bulk Metal Foil resistors from Vishay, it'll cost you around $15.
There are 100 of them in the totaldac.
If you're an enthusiast of (or interested in) R2R-type DACs -- especially the discrete resistor type -- then you know they do not come affordably.
For a little primer about R2R DACs, here's how Massdrop introduces the concept:
R-2R DACs are based on the fact that each bit of the binary sample represents a certain amount of voltage. Since each successive bit represents half the voltage of the previous bit, they use a resistor ladder to divide the reference voltage in half for each next bit. They need to use high-precision resistors to ensure that the division is as close to perfect as possible, and this is the main reason discrete R-2R DACs are so expensive.
Why am I quoting Massdrop? Because Massdrop is bringing an R2R DAC to the market, and not surprisingly they
are
doing it affordably. To do this, Massdrop is working with Airist Audio, who had previously released a discrete R2R DAC model of their own. I'd heard Airist's DAC at CanJam Socal a couple of years ago, and it sounded impressive and promising.
Massdrop and Airist Audio have developed a model called the
Massdrop x Airist Audio R-2R DAC
, and they're going to be dropping it very soon. It's housed in a chassis to match their new family of amps, and, like their amps, it's going to be affordable -- the most affordable discrete resistor ladder DAC I'm personally aware of at $350.00.
In the Massdrop x Airist Audio R-2R DAC there are two independent 24-bit ladders with 48 resistors for each channel. Further, from Massdrop:
The RDAC contains two PCB boards: the bottom board with power, USB, and different file-conversion technologies, and the top board with the resistor ladders, designed to have the shortest distance between parts for the cleanest results. The hardware includes a custom programmable logic device and augmented power regulation with voltage-stabilization circuits. There is a buffer/isolator stage to each bit on the R-2R ladders, while the output buffer stage boasts five op-amps per channel. Finally, the inputs, outputs, and USB/SPDIF conversion are all located on a separate PCB from the resistor ladders.
(Massdrop x Airist Audio R-2R DAC internal images above from Massdrop.com)
To try to do this well at only $350 is a rather ambitious undertaking. They sent us a pre-production unit to listen to, and we've only had a short time with it. While I have not used it with the Sennheiser HE-1 (what an interesting pairing that would be), I have used the Massdrop x Airist Audio R-2R DAC with the iFi Pro iCan headphone amp (one of my reference dedicated headphone amps) to drive both the Sennheiser HD820 and the final D8000. Early impressions are that the Massdrop x Airist Audio R-2R DAC has a warmth and smoothness to its sound that is forgiving and free of edge. Is it the totaldac for $350? No, of course not. But in seeking to achieve the rich, warm, natural sound that many R2R DAC enthusiasts attribute to well-executed R2R DACs, my early impressions are that Massdrop and Airist's ambitions may be more realized than I'd have thought achievable with a discrete resistor ladder DAC for only $350.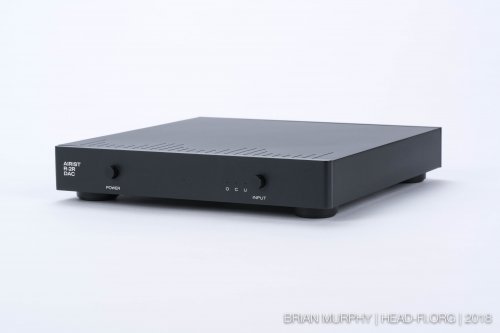 The dedication Massdrop has to affordably bringing some of the last things in hi-fi you'd expect to be made affordable is one of the reasons I find their approach to premium audio so refreshing. This Massdrop x Airist Audio R-2R DAC is just one of an increasing number of such examples from them.
NOTE: Since we have a pre-production unit, I'll hold more detailed discussion for a production unit, as I believe they've already made improvements since this unit we have here was made. When we get the production version, I'll say more, and I'll also post a host of measurements of the production version Massdrop x Airist Audio R-2R DAC.
Following is a link to Massdrop's drop page for the new DAC: