Joined

May 28, 2009
Posts

3
Likes

0
so i used to have one of those creative audigy x-fi xtreme audio notebook cards...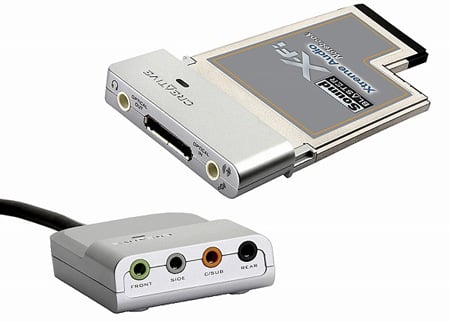 but i lost it....and now cant find the attachment for the card anywhere, i was going to call creative and see if i could custom order it but trying to get some input on other cards
i searched for 5 hours and came up empty handed...the sites that "supposedly had it got really bad reviews...saying that they did
the card needs to be 5.1 compliant.....
i've been looking at external solutions and here's what i came up with
Buy ESI Gigaport HD | Audio Interfaces & Convertors | Audio Interfaces | Musician's Friend
has anyone had any experience with this?
as for the creative nx
it seems that it sucks up cpu.......
in terms of a good sound card echo indigo io seems to get lots of good feedback
Amazon.com: Echo Indigo IO Stereo 24/96 Laptop Cardbus: Electronics
thoughts?
i plan on building a desktop with all the good stuffs from headroom later on but need something cheaper for the time being....
thanks