Joined

Apr 17, 2006
Posts

7,870
Likes

61
When you are used to listening to a simple DAC (such as the one found in the Opera), you appreciate it for what it has to offer but you know that there are much better out there. I just didn't quite realize how good until now, but that's to be expected when jumping from a DAC roughly worth $300-$400 to one that cost $5,500 (but can now be found used for around $2,400). And I typically try to avoid listening to equipment I can't afford, but when I saw him walking down the stairs with it to drop off here (along with an $800 Synergistic Research power cord), I wasn't going to send him back up with it.
My good neighbor/apartment building manager and audio buddy, George, decided it would be nice to let me borrow a DAC he no longer uses, the Audiomeca Enkianthus (which he replaced with a $13,000 one-box CDP/DAC/Upsampler/Preamp from Audio Arrow). He maintains that the Enkianthus was leagues better than the top-of-the-line Theta Digital DAC+Purcell Upsampler combination at the time. These items are so far outside of my price range that when he describes them as being inexpensive compared to top-tier $50,000 DACs, I can do nothing but grin, shrug it off, and say "okay."
It is a gorgeous piece of equipment finished with what looks like piano black, high-gloss, Formica laminated boards. It's a big boy, at least twice the size of my amp. It comes featured with phase inversion, 3 coax inputs, one AES/EBU input, one AT&T input, and a digital output. Just like the Cambridge Audio Azur 840c, it features Anagram Technologies' upsampling DSP to give you 24/192 (but the 840c is newer and goes up to 24/384). Even though the unit is about 5 years old (originally released February, 2003), it sounds every bit as good as it looks. Any preconceived notions I had about analog's potential over digital went out the window when I plugged this baby in.
Here's a pic I found on the web: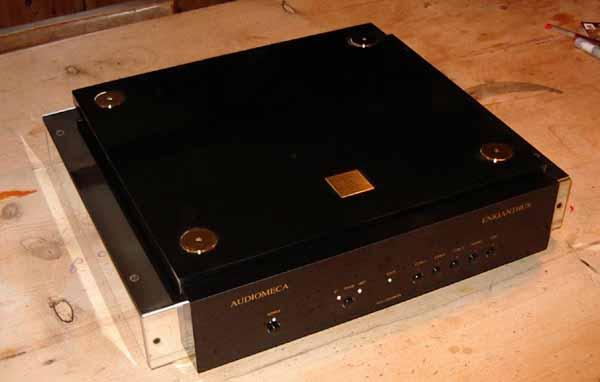 And here's a review with more pictures.
The resolution and detail from one end of the spectrum to the other are extremely resolving. The airiness and space around the instruments are eerily lifelike. Tonal color is spot on. Silky smooth highs, organic mids, and ultra-tight bass; you know the usual descriptors. The bass actually has a lot more detail when the phase is inversed, but other sonic attributes take a beating. I'll just leave it simple and say it sounds amazing, but it should at that price point. Actually, the only thing really limiting it's potential is the Opera (and, sad to say, I've outgrown), which is not capable of resolving much bass detail, just bass quantity.
I just wanted to know if anyone else has heard this piece and if so, kindly share your thoughts.