post-13815459
Oct 29, 2017 at 10:47 AM
Thread Starter
Joined

Jan 26, 2005
Messages

104
Reaction score

7
Joined

Jan 26, 2005
Posts

104
Likes

7
Hi,
not sure whether anyone still remembers this gem of amplifier, but I was one of the few ones here in the forum who actually built a fully working KG Dynamight. It was done as a side project during my electrical engineering studies in 2007, but I eventually lost interest in headphones around 2010. Since then, the amplifier is basically unused.
The specs are:
- fully balanced
- either passive or active cooling (fans glued directly to heatsinks)
- balanced stepped attenuator
- encapsulated transformers (2x Avel Lindberg 40/3022, 1x forgot the manufacturer)
- matched transistors, 1% resistors
- high quality capacitors (can't remember the manufacturer anymore)
- 2x balanced input, 2x unbalanced input
- 1x balanced output, 1x unbalanced output
- 1x spare input (thought about adding a DAC but never did it)
- massive Neutrik power cord
- wired for 230V, but should be also working with 110V as the transformers have a center tapping
- not too light (around 17kg without the power cord)
Think the build quality can be seen in the pictures, when I built it I was just going for the best (except silver wires, because I can't hear any difference). The label on the front of the amplifier can probably be removed with acetone but it never bothered me much, thus I left it as is. Included with the amplifier comes also a metal remote control for input selection and volume control which I couldn't find right now (only the plastic counterpart). Will search for it the next days.
Asking 600€, will ship worldwide. Please be aware that the amplifier is quite heavy (almost 20kg), thus worldwide shipping will be around 50€. As an alternative, the amplifier can also be listened to and picked up in Augsburg, Germany.
Best regards,
Thomas
P.S. neither the small headphone amp in the middle of the first picture nor the K1000 in the other picture is included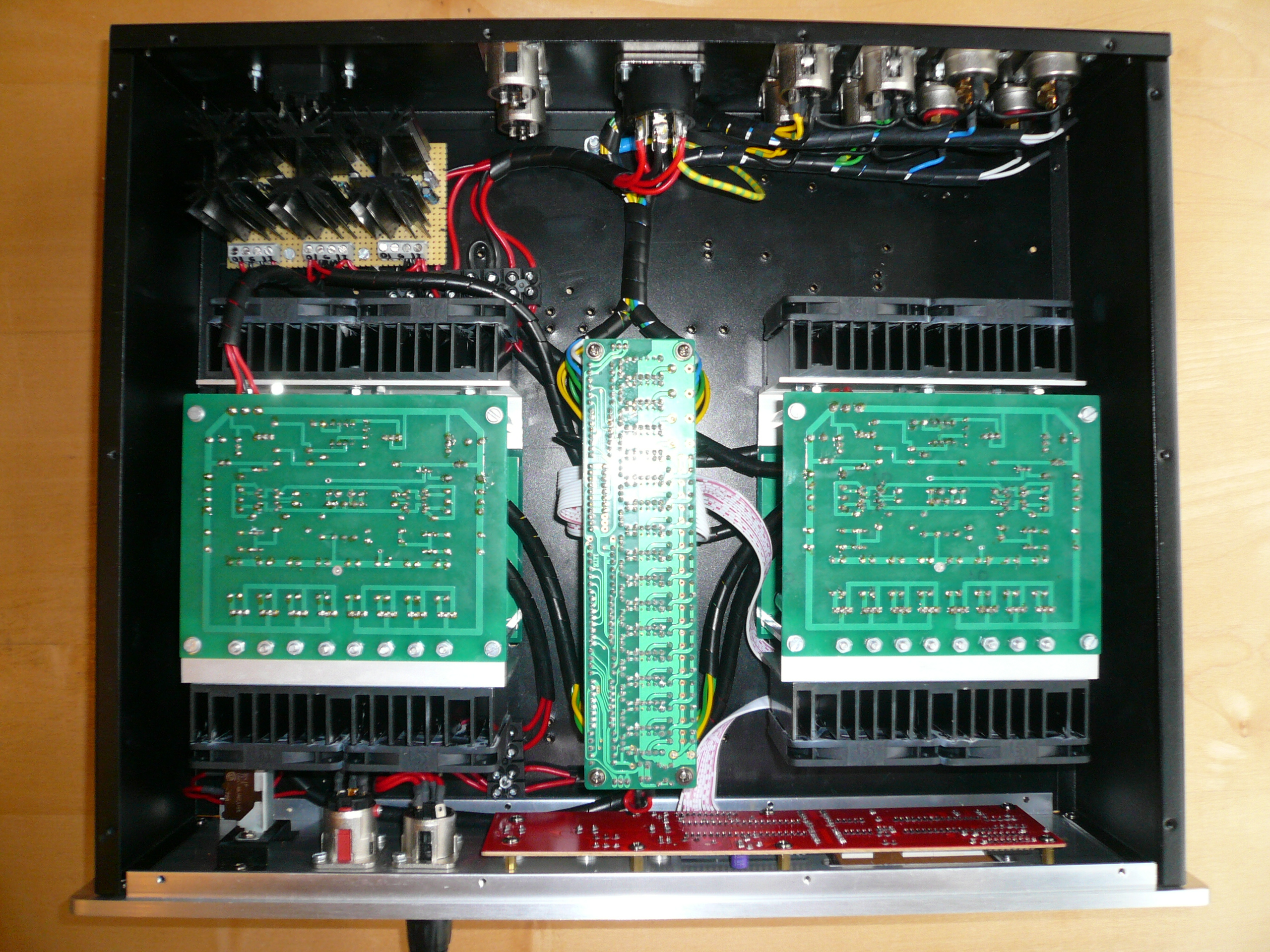 Last edited: