post-9561577
IEM Reviewer Extraordinaire
Joined

May 11, 2004
Messages

19,633
Reaction score

8,688
Location
ClieOS
IEM Reviewer Extraordinaire
Joined

May 11, 2004
Location
Posts

19,633
Likes

8,688
Website
Someone asked me to post the mod, so I thought I'll make it into an independent thread instead of putting it somewhere inside a X3 discussion.
Basically the mod is as simple as it gets: open the X3 up, disconnect the battery, desolder the AD8397, solder in the AD8620, and put everything back.  
The goal is to remove the warmness from the AD8397 and replace it with something that sounds more neutral. AD8620 has been one of my personal favourite on portable amp, so it is my first choice. Another candidate will be OPA2209. Both will never be able to match the current output of AD8397 - however, realistically speaking, both already have more than enough output for
typical
headphone anyway (* = won't be suitable for low impedance, low sensitivity, hard-to-drive 'phone). From experience, OPA2209 probably won't sound as neutral as AD8620, but it should be a good middle point between AD8620 and AD8397 - as alternative for those who find AD8620 too bright to their taste. Another side benefit of the mod will be a likely extended battery life, since both opamps draw less power than AD8397.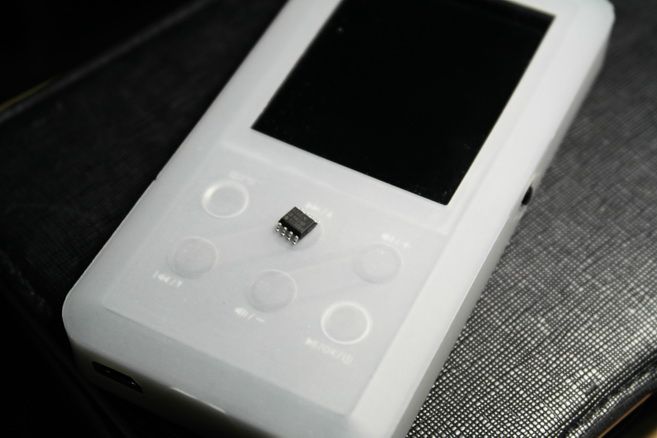 AD8620 on top of X3, just for size reference.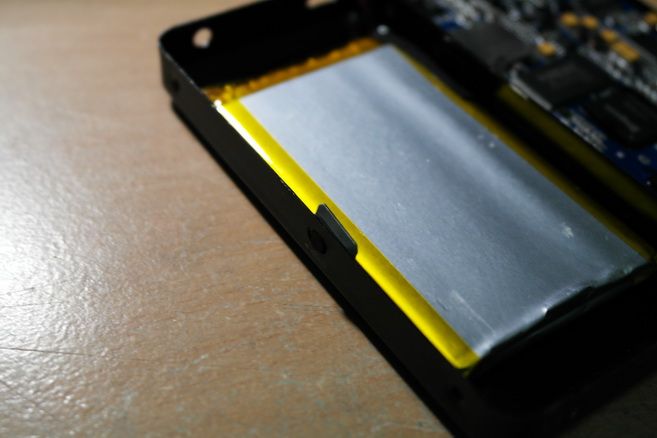 Be careful on the hold switch (just next to the silver battery). You need to see how it comes off so you will know how to put it back.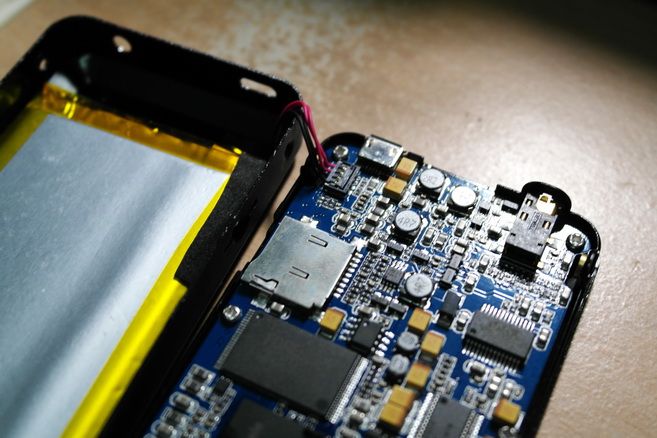 Pull the battery connector out before any mod.  
The stock AD8397, just under the yet-to-solder AD8620. Do check the orientation carefully before desoldering / soldering!  
Done. Put everything back together now. If X3 shows some error on headphone connection, that means you have weak solder joint and you should retouch them with the iron.  
Note: Desoldering SMT is far harder than soldering. If this is your first SMT project, I seriously think you should practice on other thing first. The way I do is pretty much destructive to the original opamp, as I heated and pry a leg at a time, so they either break off or bend out of shape completely. I am sure there are far more elegant and least destructive way of doing it, just search youtube and you should find quite a few of the tutorials. I am however too lazy to bother, as I have some spare AD8397 around and don't need to save this one.  
The result is as I have expected, a much more neutral and detail presentation. I can almost compare it to the X3's line-out + O2. Well worth the effort as this finally brings out the transparency of the player than is somewhat hindered by the AD8397's warmness. Now the new X3 is a proper AK100 killer.