post-10584207
May 27, 2014 at 10:31 PM
Thread Starter
Joined

Nov 12, 2012
Messages

2,145
Reaction score

1,086
Location
Joined

Nov 12, 2012
Location
Posts

2,145
Likes

1,086
Impossible to find.  Just bought from Tube Museum a few months ago.  Less than 50 hours usage.  Exquisite detail and sound signature.  Like a private seat in the recording studio.
Dead black quiet.  Don't miss this rare opportunity and steal of a price.  Scroll below for details.
Ship to continental USA only.  Shipping is $8 (USPS Priority, includes tracking).  I'll eat the PayPal fee.    
(Also available:  Valvo EZ80 NOS Pair (French made) - $49 + $8 shipping
                        Brimar EZ80 NOS Pair O-Getter (UK made) - $49 + $8 shipping
                        Brimar EZ81/CV5072 NOS Pair Military Print 1966 (UK made) - $69 + 8 shipping)  
TubeMuseum
BID ONE (1) FOR THIS ESOTERIC 1959 RARE NOS TESTED MATCHED PAIR for your WOO WA2 or COUNTERPOINT
!
6V4 EZ80
PHILIPS SITTARD FULL-WAVE RECTIFIER TUBES "D" GETTER 1959 ESOTERIC TUBES!
Sittard
(Dutch pronunciation:
[ˈsɪtɑrt]
;
Limburgish
:
Zitterd
) is a city in the Dutch province of
Limburg
, which is the southernmost province of the
Netherlands
. On the east Sittard borders on
Germany
(municipality
Selfkant
, in
North Rhine-Westphalia
). It has some 48,400 inhabitants (including those of neighbouring villages Munstergeleen, Limbricht, Einighausen and Guttecoven). Sittard is part of the municipality of
Sittard-Geleen
. The city centre is located at 45 m above sea level.
Tube Museum Quality
VERY VERY RARE
NOS 1959

PHILIPS SITTARD
"PHILIPS MINIWATT LOGO"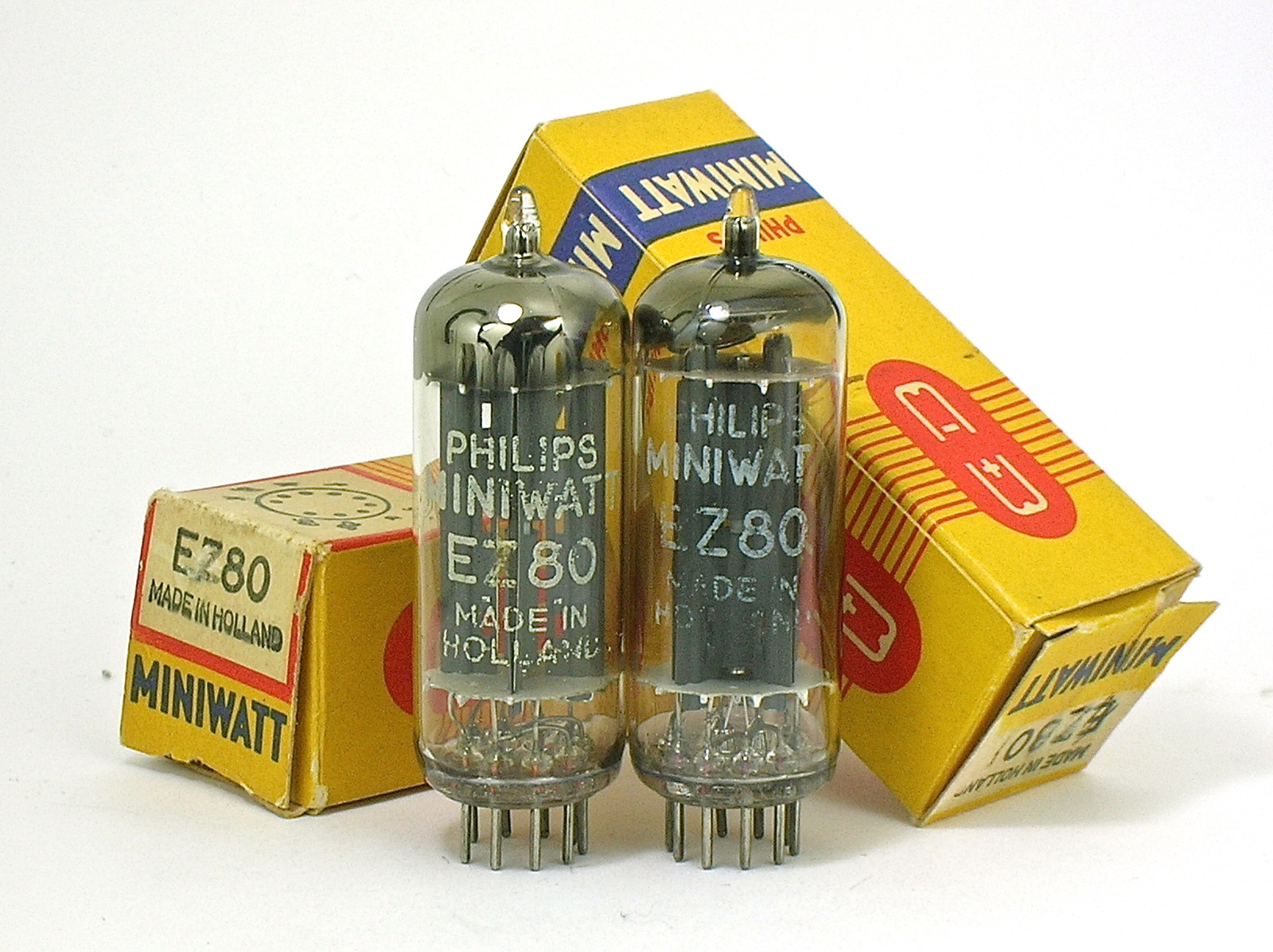 PROFESSIONAL D-GETTER RECTIFIER
BALANCED MATCHED PAIR
Recommended for AMR CD-77 CD PLAYER - Counterpoint - Woo WA2
 ​

EZ80 = 6V4
PAIR
VALVE
AUDIO

TUBES
PHILIPS EZ80 = 6V4!

The oldest PHILIPS SITTARD "D" GETTER EZ80 TUBES were finest Professional rectifier tubes PHILIPS or any manufacturer ever made! THESE HAVE BEEN HORDED BY PROFESSIONAL AUDIOPHILES AND ARE NEVER SEEN ANYMORE, ESPECIALLY NOS! THESE ARE THE BEST SOUNDING, BEST MADE and MOST VALUABLE and RARE out of ALL the 6V4 Amp and Audio tubes. You won't find other Extremely RARE PHILIPS SITTARD "Tube Museum Certified" tubes around - that's because they are kept and treasured by those who know which the BEST EZ80 tubes are!

MATCHING NETHERLANDS "SITTARD" CODES: kCO Y9J and kCO Y9L
Actual Select Premium Audio Tubes /Valves
Would you feed yourself without knowing the ingredients? Of course not, so don't feed your preamp a tube not knowing the complete specifications! Here we have an excellent example of the finest EZ80 low-noise tube.
>100% mA & Gm    
TESTS BETTER THAN 100% of Hickok NOS
100% Emissions
Actual tube was tested on the State-of-the-Art Tube Museum Certified Tube Test System
CERTIFIED

ULTRA-LOW-NOISE SPECIMENS
TubeMuseum tested tubes

takes the guesswork out of the process of selection delivering you the best Audio tubes that there possibly can be.