I was going to moan about the lack of deliveries when my Hiegi foams and Colarad C01 dropped through the door. I'll try the foams out on my BK this weekend.
The only foam combination that completely satisfied me, actually it's perfect for me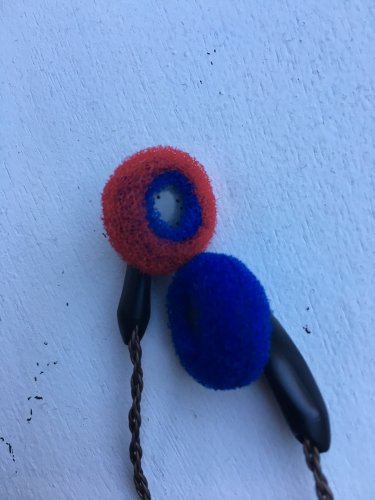 Now I have to explain that this took surgical precision to create but if your not quiet satisfied with your stardust try this out.
This is an example using other foams, for the masya I used both original monk thin foams.
On the left is a foam cut into a donut
and on the right is a foam cut into a donut AND into a flat disk, so it has no foam to wrap around the earbud, just sit on the front.
The idea is to put the disk inside the donut then put both on the earbud. This way you get a double thickness foam without the loss of clarity associated with dense heigi foams, you also don't lose that great seal from the thin foam because it's still only one foam wide, the extra depth of the layered foams also give a better seal improving the SQ.
I'm using this combo on ALL of my earbuds now because of how effective it is.
...it's just a b€&@! to fit without a tweezers and patience. It won't always work on first try but once it's fitted I have not noticed it falling out ever.
Try at your own curiosity... they need to manufacture foams like this to buy, normal foams are never 'right'.