post-14464043
Joined

Mar 11, 2010
Messages

5,905
Reaction score

2,219
Location
Joined

Mar 11, 2010
Location
Posts

5,905
Likes

2,219
Note:
This post will be updated regularly with the latest information and commentary. Changelogs summarizing the edits will be posted periodically. Please keep in mind that the information presented in this post is a mixture of information provided to me from DUNU, as well as bits and pieces of information that I've pieced together from various internet sources such as Weibo, Baidu, etc.
Last Update: 2018/12/17
​
This is the
DUNU DK-4001
, a flagship, five-driver hybrid IEM. It is dubbed
極
, which translates roughly to '
extreme
'.
The DK-4001 is not a newly announced earphone; DUNU has been working on their hybrid flagship IEM for nearly four years, since before they released their popular Titan series earphones, the DN-2000J, and DK-3001. It has always been the goal for them --- to release a flagship level universal IEM that can compete with the highest-end models around. Heading the DK-4001 project is Mr. 'Andy' Zhao, DUNU's longtime senior acoustic engineer.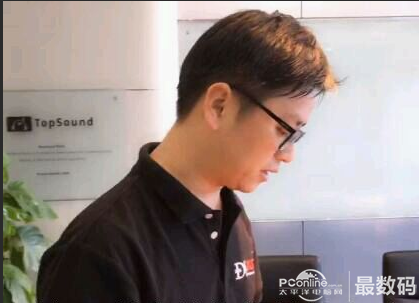 It's been a long time coming, over 3 years, and the DK-4001 has seen a lot of major changes, such that whatever was posted about the DK-4001 prior to August 2018 probably isn't valid anymore.
Back in 2015, while I was visiting DUNU headquarters, I posted
this picture
on these forums:
​
It was their very first prototype. Truth be told, it sounded pretty terrible --- super strident and piercing. But there was a ton of detail in the mids. It's the kind of thing you'd expect to hear if it were a very early work in progress, and early it was. They were still working on the DK-3001 then, and that prototype was way closer to the finished version they released early this year.
Over these past few years, they gone back to the drawing board and made a ton of changes. The DK-4001 now even looks a little different; the round backplate is a different design, and the cables are different. but the real changes are far more than skin deep, and this is what I really appreciate about DUNU as a company --- they're willing to iterate and improve with each generation of in-ears.
​
New Changes
Housing
Like the Falcon-C,
the housings are now the Zirconium 'liquid metal' alloy, instead of 316L stainless steel
, boasting several fold improvements in yield strength, hardness, and weight.
Additionally, DUNU states
the housings are actually smaller, lighter, and less angular
than the ones on the DK-4001.
Transducer Diaphragm
The round backplate still harbors a 13 mm dynamic driver, but instead of liquid crystal polymer (LCP) or carbon nanotube (CNT) coatings,
this driver is Beryllium-bonded via a physical vapor deposition (PVD) process
--- similar to what Campfire Audio offers on the Lyra II and Dorado. Beyond audio, PVD is a process that is used in a large number of thin coating applications; for instance, Apple uses a specialized PVD process to colorize the stainless steel frames on the iPhone and Apple Watch. However, while the process is in widespread use, it has to be adapted specifically for a singular purpose, e.g. driver coating.
In short, a substrate material (e.g. a transducer diaphragm) is placed opposite the material intended to be coated, which is in this case Beryllium (but can be any kind of material, and many other types of transducers are coated the same way, including DUNU's own titanium, LCP, and CNT coated diaphragms; even other exotic diaphragm materials like graphene diaphragms, are often made the same way). A magnetic field then guides an inert gas like Argon to displace the Beryllium and deposit onto the substrate surface along a thermochemical gradient in a process called sputtering.
For a layman's explanation of the PVD process, check out these videos:
As stated on their website,
DUNU have a arm of driver development, dedicated specifically in the R&D of thin film (4-6 micron level thickness) and metal-bonding techniques
. With DUNU having had a terrific track record with their diaphragms (titanium on the Titan series, LCP on the DN2000J & DK-3001, and CNT on the Falcon-C), this Beryllium PVD diaphragm is promising.
Part of what has taken DUNU a while to develop Beryllium coating is
safety
. Beryllium is known to cause pneumoconioses (
chronic lung disease
as a result of microscopic foreign body deposition) in exposed workers (usually in the aerospace industry, where Beryllium classically has been used most heavily), depositing in the lungs and causing granulomatous fibrosis. Thus, learning how to safely handle Beryllium raw material (assuming it's in powdered form of some sort) without running up exorbitant costs was part of the learning curve for DUNU.
Furthermore, DUNU have also informed me that
the Beryllium PVD diaphragm is bonded on both sides
to ensure better vibrational characteristics. The dual-sided coating also factors into the high cost of the DK-4001. By contrast, the yet-to-be formally announced
Titan 6
has a
single-sided coating of Beryllium
and will thus be sold at lower cost.
Spiral Bass Reflex Pathway
As I've been looking at their renders and marketing material, I find there are a number of small, but notable details about the DK-4001. First, check out this back plate:
​
It appears to be a
bass reflex spiral
of some sort, exiting into rear vent. I'd been wondering why the back casing had been changed (with a large silvery vent no less), but I didn't know the insides were this sophisticated. I also feel the back plate now looks more attractive than the ones on the DK-3001.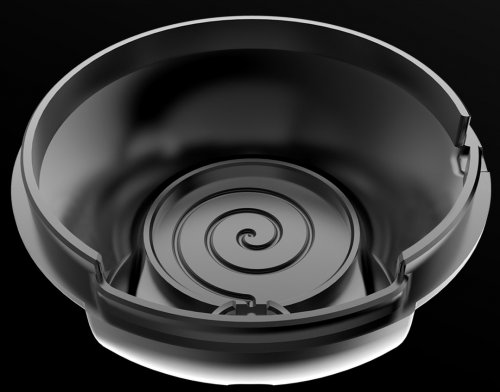 ​
As many of you may know, a properly designed bass port is essential for crafting the right kind of bass response. I'm sure the length and diameter of that spiral path has been carefully considered. DUNU have informed me that
the spiral path is designed to bolter bass frequencies under 80 Hz
. It would be great if DUNU could show us the difference in bass response between a DK-4001 with just a simple bass vent, and one with the spiral reflex design.
Then, check out the machining on the exit ports, and this cutaway diagram:
​
The four Knowles BA units will have their own independent outputs. Because the beryllium-coated dynamic driver handles frequencies all the way from the lows to the upper midrange, the balanced armatures handle the treble and upper treble together. DUNU have stated that the four BA units are two identical SWFK-31736 units, meaning the DK-4001 is effectively a
two-way earphone with 4 BA super-tweeters for treble and the Beryllium-coated dynamic driver
for everything else.
Putting it all together, we can see from this exploded view of the DK-4001 that it is a very impressively constructed IEM by any measure. We've got the rear plate with the bass reflex spiral and grooves for mounting the circular PCB, the Beryllium-coated 13 mm dynamic driver, the four BA drivers, the independent tubing outputs, the less angular (compared to the 3001) inner plate, and the meshed stem with a friction lip.
I don't usually care to post basic specifications, but the DK-4001 has a
sensitivity of 112 dB at 1 kHz
on nominal drive, with an
impedance of 32 ohms
. These numbers are considerably different from those presented on the DK-3001, so while the two bear some passing resemblance, they are completely different earphones.
Modular Cable Plug System
Then, there are those new, thicker (and twisted) cables. The material itself is composed of
alternating strands of 7N copper and silver
, with the raw casted metal sourced from Furutech, but the real hero feature is the
modular, swappable plug system
.
​
DUNU are not the first to implement such a system (DITA Audio and MEE Audio come to mind), but it seems DUNU are including a set of
cables that enable the user to quick-swap out the ends
to fit 3.5 mm TRS unbalanced, 2.5 mm TRRS balanced, 3.5 mm TRRS balanced (this is based around a new '3.5 mm PRO' standard that a Chinese audio association has set, and is agreed upon by
numerous Chinese companies
), and 4.4 mm Pentaconn balanced plugs:
DUNU states that they are
including this swappable plug cable system with the DK-4001
, and will
also be available as a standalone product
later on.
As is expected per DUNU, the DK-4001 includes a wide array of tips:
SpinFit tips paired specifically for the DK-4001, Comply T-500, and DUNU's own silicone ear tips that have been developed and paired for the DK-4001
.
​
According to DUNU, this is the final packaging for the DK-4001; the modular cable is displayed proudly with the earphones, along with some steel plaque of some sort (some kind of serial number thingy, perhaps?). The second layer includes Comply foams, the bespoke SpinFit tips, and DUNU's own silicone tips, as well as a new lambskin case, and other standard accessories, such as a cleaning brush, 6.3 mm adapter, and airplane adapter.
Value coup! Well, okay, not sure about that --- the DK-4001 is
not
going to be cheap,
currently pegged at $880 USD / 5999 CNY
.
Despite how much effort DUNU has put in with the DK-4001, though, and considering the general trend of IEM pricing heading toward the thousands, this flagship is facing
stiff competition
. As a point of reference, another notable Chinese flagship hybrid, the Fidue A91 Sirius, is similarly priced at $899. The AKG N5005, a benchmark of audiophile hybrid prestige (since its predecessor debuted as one of the first IEMs priced above $1000), is surprisingly affordable at $999. There are also many more models in the same price range, hybrid or not, that will invariantly be compared to the DK-4001.
Global orders are set for the end of December 2018 (delayed because of difficulties in the production process)
, while pre-orders in Mainland China occurred at the end of September.
Disclaimer & Backstory
Because I live within 30 minutes of their corporate headquarters, I have had an ongoing, friendly engagement with the folks from DUNU. I've reviewed number of their products, including the DN-2000J, and the Titan 1/3/5/es models. Back in 2011, I was a young head-fier constantly on the lookout for cool products, and they were a young company looking to establish a name for themselves. I tried the Trident and Tai-Chi and thought they were the definition of mediocre. I met their PR guy and told them their earphones sounded middling. Fast forward a few years, and DUNU have improved a lot, introducing items like the DN-1000 and DN-2000. I again met them, and found that they were rapidly gaining momentum with their product lineup. By then, I was a veteran head-fier who was very active and involved in the forums. So, I decided to speak with them at depth, and I toured their headquarters. I have time and time again been impressed by how they have consistently improved with each subsequent product release, but by no means do I give them a free pass. I always try to provide them with candid criticism. So yes, I do have a positive bias toward them, but in the case I do get to listen/use the DK-4001, I will always provide my opinions with frank candor.
Last edited: